Skydiving great-granny continues 100th birthday celebrations by swimming with great white sharks
On Saturday Georgina Harwood took part in a skydive above Cape Town
Jack Simpson
Tuesday 17 March 2015 10:48 Comments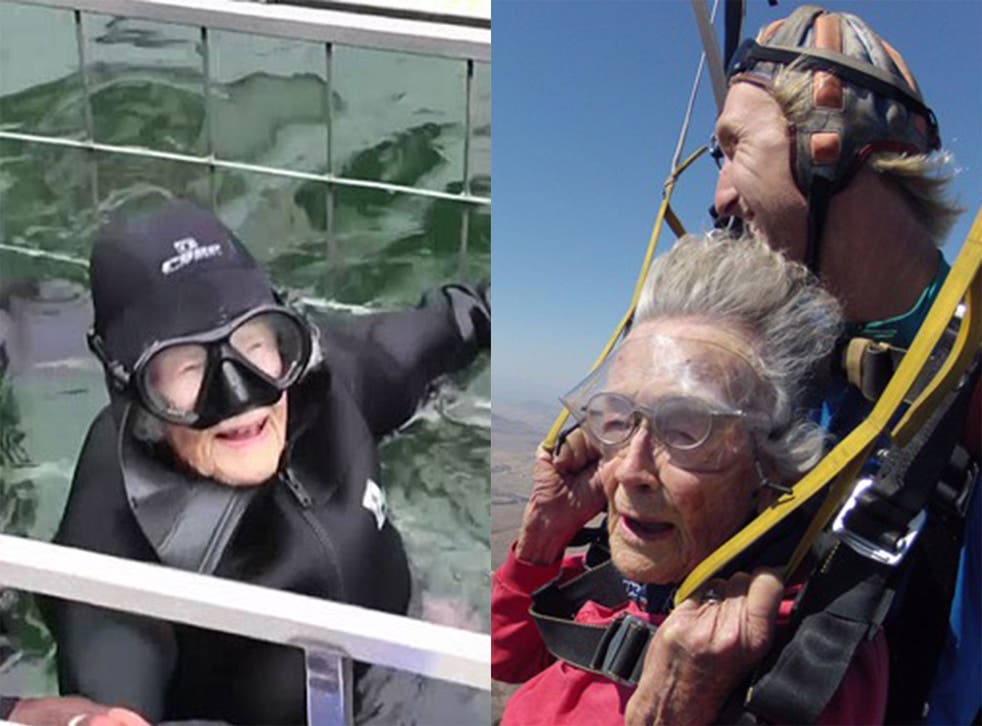 Just two days after launching herself out of a plane thousands of metres above Cape Town, adrenaline junkie and centenarian Georgina Harwood took to the waters on Monday to cage dive with great white sharks as part of 100th birthday celebrations.
Harwood, who was born when Lord Asquith was Prime Minister of Britain and King George V was on the throne, turned 100 on 10 March and has celebrated ever since with a number of thrill-seeking endeavours.
On Saturday, Harwood took part in a skydive above Cape Town, before rounding it off with a celebratory glass of red wine.
After the jump, Harwood told local media: "It was wonderful, it was exhilarating
"I'm trying to think of adjectives to add but it's difficult - there are so many. It was special."
Harwood hopes to raise more than 20,000 South African rand (£1,087), which will be enough to buy 35 new lifejackets for volunteers.
So far she has raised 9,000ZAR (£450) – enough to buy 16 new lifejackets.
To donate, visit her fundraising site here www.givengain.com
Register for free to continue reading
Registration is a free and easy way to support our truly independent journalism
By registering, you will also enjoy limited access to Premium articles, exclusive newsletters, commenting, and virtual events with our leading journalists
Already have an account? sign in
Join our new commenting forum
Join thought-provoking conversations, follow other Independent readers and see their replies