Somalia hotel attack: At least 13 people killed in explosion at Mogadishu hotel
Reports said al-Shabab fighters drove a vehicle packed with explosives into the gates of the Jazeera Palace hotel in the Somali capital
Alexander Sehmer
Monday 27 July 2015 07:23 Comments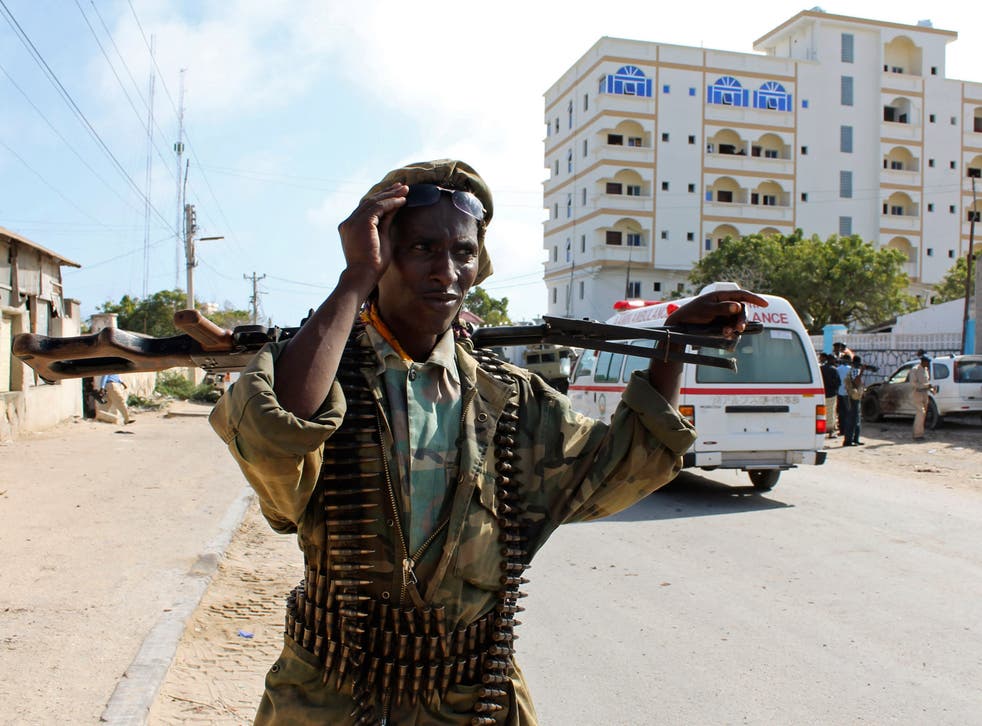 At least 13 people are feared to have been killed following a blast at a hotel in Mogadishu.
Reports said Islamist fighters in Somalia drove a vehicle packed with explosives into the gates the Jazeera Palace hotel close to the airport in the Somali capital.
The hotel is popular with foreign diplomats.
Reuters quoted a first responder as saying that at least 13 people were killed and an ambulance worker as saying that eight people had been wounded.
Sporadic gunfire was heard shortly after the blast.
Al-Shabab claimed responsibility for the attack.
"It is a response to attacks and helicopter bombing against al-Shabaab by AMISOM and the Somali government," Sheikh Abdiasis Abu Musab, the group's military operations spokesman, told Reuters.
AMISOM is the African Union's force in Somalia. It has been battling al-Shabab fighters alongside the Somali army.
The attack comes as Barack Obama, the US president, is wrapping up his trip to neighbouring Kenya.
In two other attacks, both carried out on Saturday, the group killed a legislator and his bodyguard, and an official from the prime minister's office.
(Additional reporting by agencies)
Register for free to continue reading
Registration is a free and easy way to support our truly independent journalism
By registering, you will also enjoy limited access to Premium articles, exclusive newsletters, commenting, and virtual events with our leading journalists
Already have an account? sign in
Join our new commenting forum
Join thought-provoking conversations, follow other Independent readers and see their replies