More than 100 people starve to death in 48 hours in drought-hit region of Somalia, government warns
Prime Minister Hassan Khaire announces 110 people have died from hunger over past two days in southwestern Bay region alone, amid warnings of full-blown famine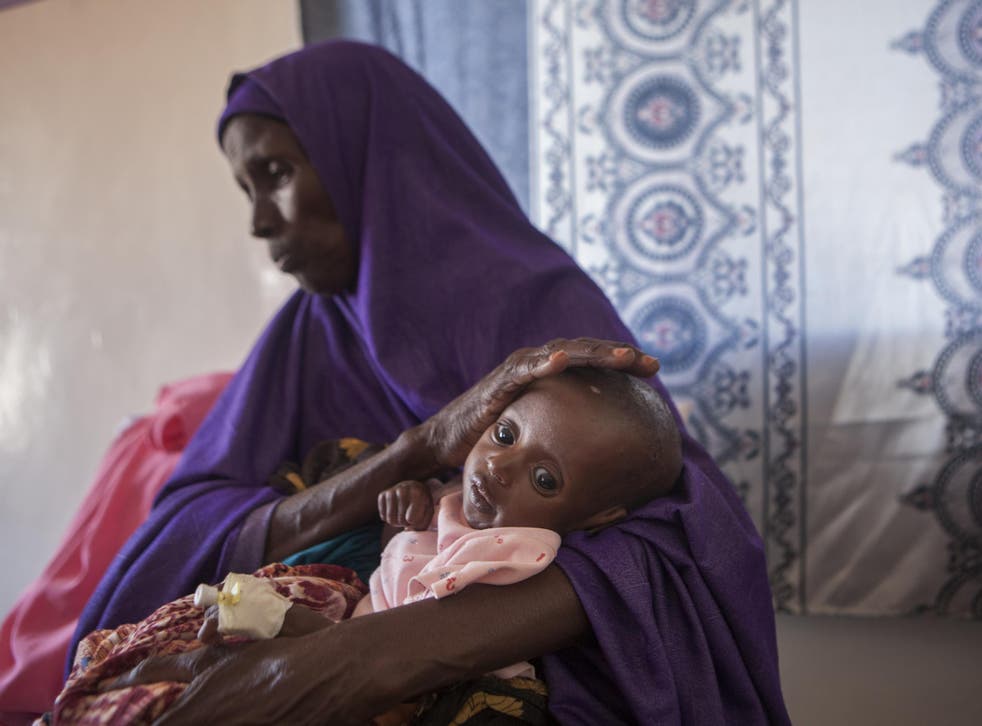 More than 100 people have starved to death in a single region of Somalia within 48 hours due to a severe drought, the country's prime minister has said.
In the first drought-related death toll announced since Somalia's government declared a national disaster on Tuesday, Hassan Khaire told the nation's drought committee 110 people had died from hunger in two days in the southwestern Bay region alone.
It comes amid warnings of potential for a full-blown famine, with the UN estimating that five million people in the country are currently in need of aid.
Thousands have been arriving in Somalia's capital Mogadishu over recent days in search of food aid, with 7,000 internally displaced people having recently checked into one feeding centre.
Somalia was one of four regions singled out by the UN secretary-general in February for a £3.6 billion aid appeal to avert catastrophic hunger and famine, along with northeast Nigeria, South Sudan and Yemen — all countries connected by a thread of violent conflict.
Last month, Save the Children warned Somalia was at "tipping point" and that the intensifying food crisis was on track to become "far worse" than the 2011 famine, which claimed 260,000 lives.
The NGO claimed that while 12 million people in the area were likely to be affected — with 50,000 children alone facing death — the nation was in danger of being forgotten due to donors being pulled in too many different directions.
Around 363,000 acutely malnourished children "need urgent treatment and nutrition support, including 71,000 who are severely malnourished," the US Agency for International Development's Famine Early Warning Systems Network recently warned.
The government has meanwhile said the widespread hunger "makes people vulnerable to exploitation, human rights abuses and to criminal and terrorist networks."
There is the additional threat of cholera and other diseases due to lack of clean water in many areas, UN experts said, with some deaths from cholera having already been reported.
The UN humanitarian appeal for Somalia this year is £703 million, which is required to provide assistance to 3.9 million people, while the UN World Food Program recently requested an additional £21 million plan to respond to the drought.
Surviving Somalia: Photographer Ed Ou visits a food project as famine strikes in the East African nation

Show all 11
The death toll comes amid warnings that 100 million people worldwide are facing acute malnutrition and risk starving to death.
Dominique Burgeon, director of the emergency division at the UN Food and Agriculture Organisation (FAO) said the number of people at risk would continue to grow, costing millions of lives, if humanitarian aid is not paired with more support for farmers.
The British Government allocated Somalia £100m of humanitarian funding last month, including emergency food and safe drinking water for one million people.
Priti Patel, the International Development Secretary, visited the country in January. She said: "Our message to the international community is clear – they need to act now and urgently, before it is too late to help stop innocent people starving to death."
Register for free to continue reading
Registration is a free and easy way to support our truly independent journalism
By registering, you will also enjoy limited access to Premium articles, exclusive newsletters, commenting, and virtual events with our leading journalists
Already have an account? sign in
Register for free to continue reading
Registration is a free and easy way to support our truly independent journalism
By registering, you will also enjoy limited access to Premium articles, exclusive newsletters, commenting, and virtual events with our leading journalists
Already have an account? sign in
Join our new commenting forum
Join thought-provoking conversations, follow other Independent readers and see their replies