South African police use rubber bullets and tear gas as anti-immigration protesters clash with foreign nationals in Johannesburg
Violence flared days after Zulu King Goodwill Zwelithini said that foreigners should leave the country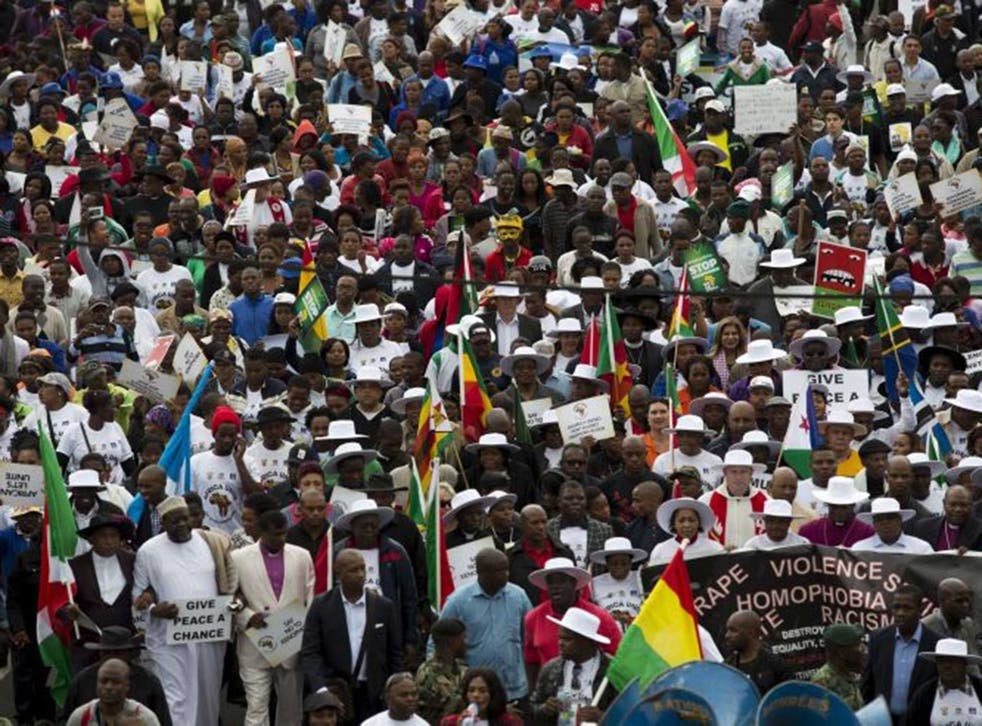 South African police have used rubber bullets and tear gas to disperse anti-immigrant protesters in Johannesburg, as President Jacob Zuma called for a halt to a wave of violence directed at foreigners.
Around 200 protesters, shouting that they wanted immigrants to leave, had pelted passing vehicles and police with rocks in an eastern suburb of the city, triggering the show of force.
At least five people, including a 14-year-old boy, have been killed in the unrest ,which started two weeks ago. The violence started in Durban, a major port on South Africa's Indian Ocean coast, where more clashes broke out as thousands took part in a peace march in the city. Only a few streets away from the march skirmishes broke out between foreign nationals, locals and police.
Violence flared days after Zulu King Goodwill Zwelithini said that foreigners should leave South Africa. He has since said his comments were misinterpreted and denies fuelling the attacks.
Addressing parliament in Cape Town, Mr Zuma reiterated his condemnation of the violence calling it a "violation" of South Africa's values. "No amount of frustration or anger can ever justify the attacks on foreign nationals and the looting of their shops. We condemn the violence in the strongest possible terms. The attacks violate all the values that South Africa embodies."
Mr Zuma also said the government was taking steps to secure its porous borders and making progress in setting up a border management agency, announced last year and scheduled to be up and running in 2016. The Foreign Ministry of China, a major trade partner, said Chinese-run shops had been damaged in Johannesburg. The Chinese consulate lodged a protest with the police and asked that they ensure the safety of Chinese people.
Johannesburg was the epicentre of anti-foreigner attacks in 2008 that killed more than 60 people as locals vented frustrations over various issues, particularly the high level of unemployment that continues to plague Africa's most advanced economy.
South Africa has erected safe camps for fleeing immigrants whose shops were looted and burnt in Durban. More than 2,000 foreigners have fled to the camps, erected on sports fields around the city, in recent days – with many afraid to return home, according to aid organisation Gift of the Givers.
South Africa, with a population of about 50 million, is home to an estimated 5 million immigrants, from African countries including Somalia, Ethiopia, Zimbabwe and Malawi, and from further afield, including Pakistan and China. The governments of Malawi and Zimbabwe have begun efforts to repatriate citizens affected by the attacks.
High unemployment, officially around 25 per cent – although economists say in reality much higher – widespread poverty and glaring income disparities have been blamed for periodic outbreaks of anti-immigrant violence.
The Minister of International Relations Maite Nkoana-Mashabane will meet diplomats from several African countries to discuss the government's efforts to protect immigrants, her office has said.
Reuters; AP
Join our new commenting forum
Join thought-provoking conversations, follow other Independent readers and see their replies