South African President Jacob Zuma congratulates Robert Mugabe on his landslide victory in Zimbabwe elections
But win provokes criticism from the UK and US, as Australia's Foreign Minister calls for election re-run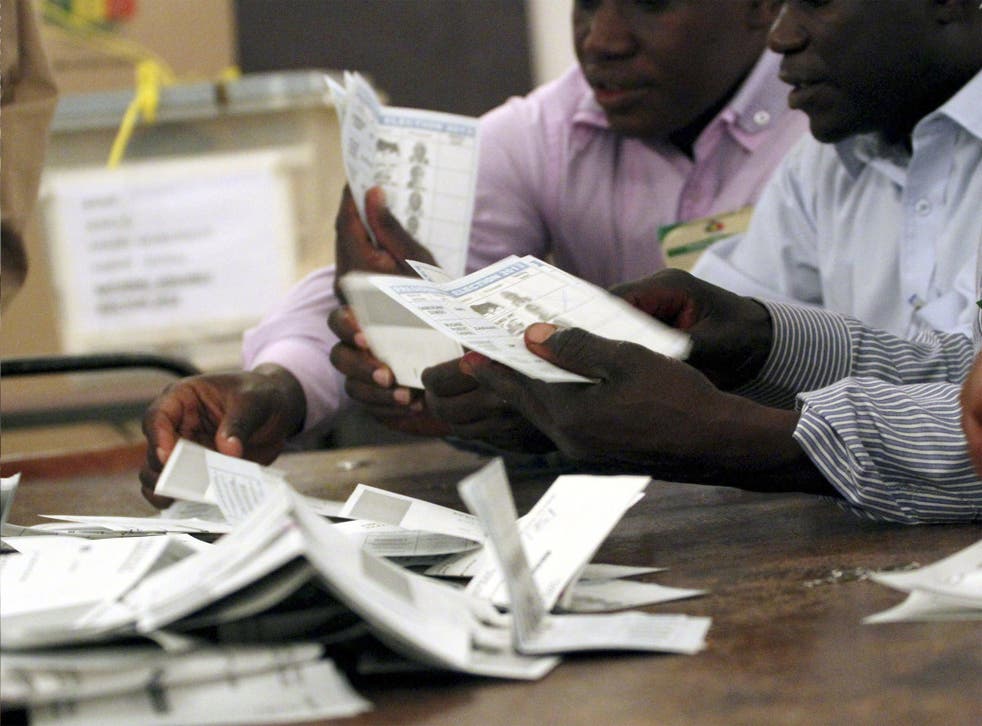 South African President Jacob Zuma has congratulated Robert Mugabe on being re-elected as leader of Zimbabwe.
Mr Zuma described elections on Wednesday as "harmonised" and extended his "profound congratulations" to Mr Mugabe for winning in a seventh term in a "successful vote".
A statement from South Africa's Foreign Ministry said: "President Zuma urges all political parties in Zimbabwe to accept the outcome of the elections as election observers reported it to be an expression of the will of the people," it said.
However, Mr Mugabe's win has provoked ripples of concern across other parts of the globe, with Australia becoming the latest country to call into question the results of the presidential and primary polls.
Australian Foreign Minister Bob Carr called for a re-run of elections.
"These appear to have disenfranchised large numbers of voters and raised doubts about the credibility of the election results," he said in a statement.
"Given our doubts about the results, Australia calls for a re-run of the elections based on a verified and agreed voters roll."
The US Secretary of State questioning the validity of Mr Mugabe's landslide election victory.
John Kerry said the voting process was "deeply flawed" because of irregularities in the voters' roll, unequal access to the parties for state media, a lack of political reforms as mandated by the constitution, among other issues. He cited "the balance of evidence," although the United States was barred from monitoring the vote.
"The people of Zimbabwe should be commended for rejecting violence and showing their commitment to the democratic process," Mr Kerry said.
"But make no mistake: in light of substantial electoral irregularities reported by domestic and regional observers, the United States does not believe that the results announced today represent a credible expression of the will of the Zimbabwean people."
The 89-year-old Zanu-PF leader won 61 per cent of the vote, compared with 33 per cent for Movement for Democratic Change opposition leader Mr Tsvangirai, who had been prime minister in a tense power-sharing deal with the president. Mugabe will now officially be given another five-year term in office after holding power for over three decades.
Mugabe seemed set to strengthen his hold over Zimbabwe after the state Election Commission said yesterday that his party won 158 of the 210 parliament seats. That gives it a two-thirds majority in the legislature - enabling it to amend a recently-approved constitution that provides for democratic reforms.
Mr Tsvangirai rejected the results as fraudulent, calling for fresh elections following what he described as "political theft". He urged a peaceful response to the alleged rigging by Mugabe's ZANU-PF party, which has the muscle of the security forces to deter any groundswell of street protests.
In a press conference, he claimed his MDC party possessed evidence of rigging by Mugabe's party in the polls and would challenge results from Wednesday's voting in court.
"People of Zimbabwe must be given another chance to participate in a free, fair and credible election. They have been shortchanged by a pre-determined election," he said. He added that his party would not "participate in any government institutions" in protest but stopped short of saying it would boycott its reduced seats in the Harare parliament.
Mr Kerry's comments echoed the Foreign Secretary William Hague's, who commended Zimbabwe for holding peaceful elections but said: "We have grave concerns over the conduct of the election." He warned that reported "irregularities" questioned the credibility of the election, adding: "We will need to examine what has happened and consider further reports from regional and local observer missions."
Additional reporting by agencies
Join our new commenting forum
Join thought-provoking conversations, follow other Independent readers and see their replies