South Sudan clashes: At least seven dead and 40 injured in ethnic violence at UN base, Ban Ki-Moon says
UN officials say the conflict erupted between members of the Shilluk and Dinka ethnic groups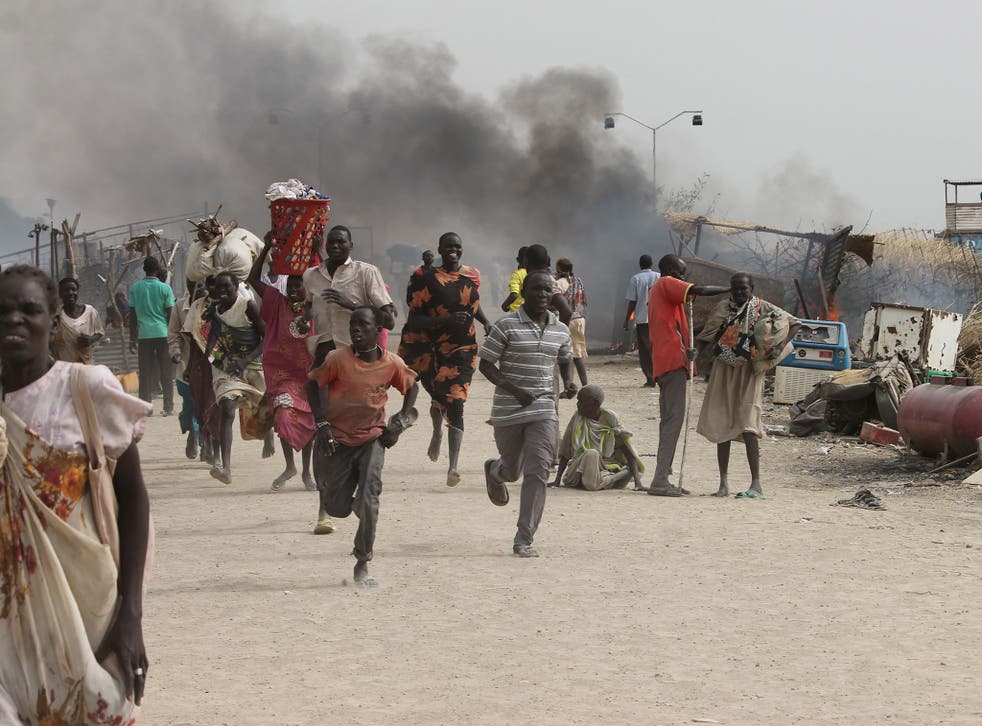 At least seven people are dead and 40 more are wounded following clashes between youths sheltering in a UN compound in South Sudan, UN Secretary-General Ban Ki-Moon has confirmed.
The UN's peacekeeping mission in the country said fighting between members of the Shilluk and Dinka ethnic groups began on Wednesday night using small arms, machetes and other weapons at a compound in Malakal in the northeast of the country.
The conflict between President Salva Kiir and his former deputy, Riek Machar, has dissolved into fighting along ethnic lines.
Approximately 200,000 refugees have been sheltering in eight UN-controlled "protection of civilian" sites after South Sudan descended into civil war in December 2013.
Over 47,500 people are believed to live inside the Malakal base.
Jacob Nhial, a resident of the compound told AFP that a young boy was injured in the crossfire.
Thousands on brink of starvation in South Sudan

Show all 8
He said: "They used Kalashnikovs and machine guns... the situation is still tense, people are hiding".
The UN Mission in South Sudan (UNMISS), which is charge of the compound, said in a statement: "UNMISS police in charge of maintaining order within the protection sites immediately intervened with tear gas to disperse the crowd. Casualties were brought to the international NGO clinic in the site.
"UN troops have increased perimeter patrolling while physically securing areas in the vicinity of the Protection of Civilians site. UNMISS is also engaging with local authorities in Malakal to de-escalate the situation."
UNMISS currently have more than 12,000 peacekeepers in the country - which formally seceded from Sudan in 2011 - half of whom work on the UN sites.
In April 2014, 58 people were killed after gunman opened fire on civilians inside a UN base in the town of Bor in the south of the country.
Tens of thousands of people have been killed during the two year conflict with nearly 3m people believed to be at "acute" risk of starvation.
Additional reporting by Reuters
Join our new commenting forum
Join thought-provoking conversations, follow other Independent readers and see their replies