South Sudan declares famine in two regions with at least one million lives at risk
'There is only so much that humanitarian assistance can achieve in the absence of meaningful peace and security,' says World Food Programme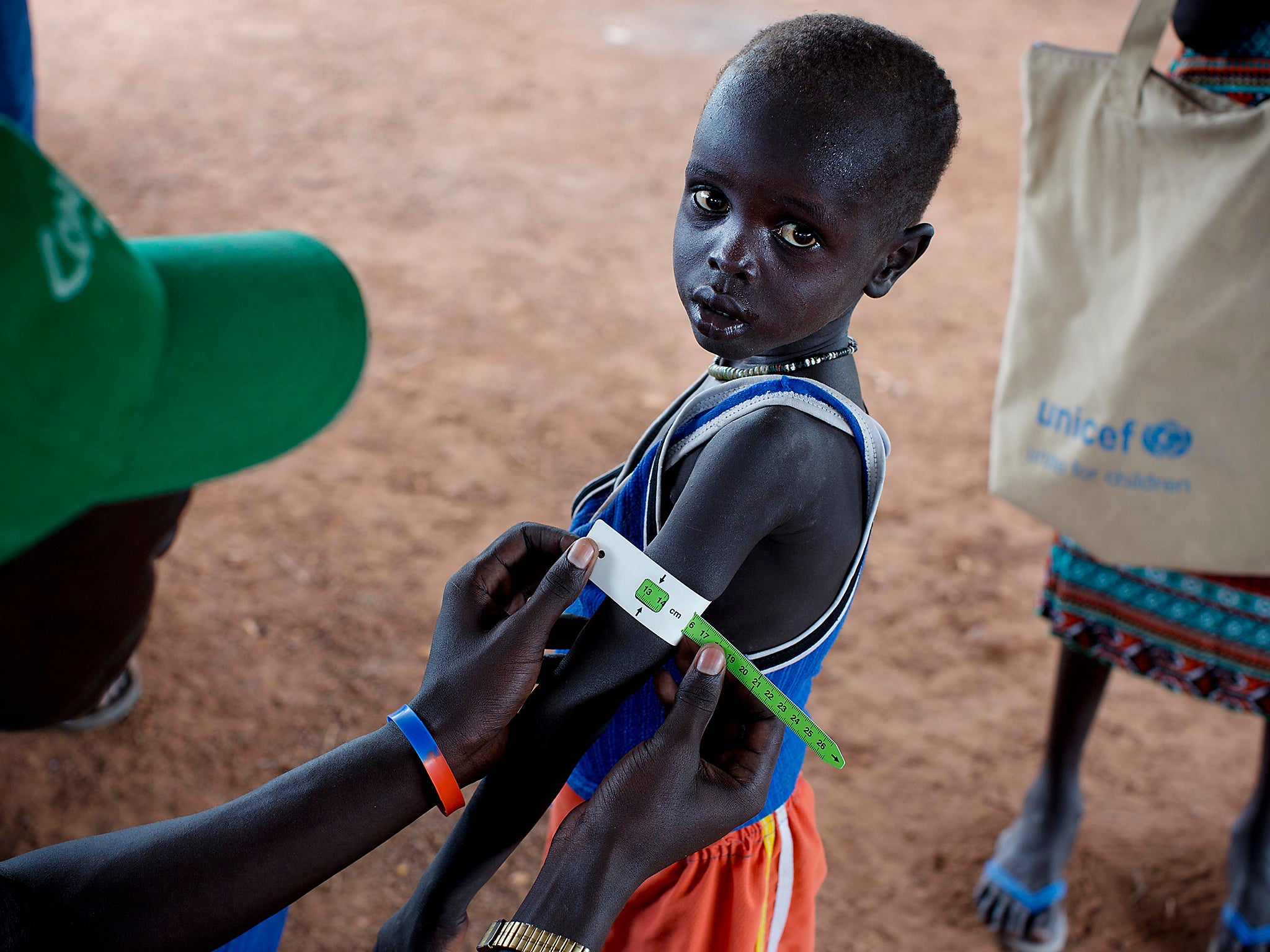 Famine has been declared in two counties of South Sudan by the government and three UN agencies. They say the disaster is the result of prolonged civil war and an entrenched economic crisis that has devastated the war-torn East African nation.
The official classification of famine highlights the human suffering caused by South Sudan's three-year civil war and even as it was declared President Salva Kiir Mayardit's government was blocking food aid to some areas, according one UN official.
More than 100,000 people in two counties of Unity state are experiencing famine and there are fears that it will spread as an additional one million South Sudanese are on the brink of starvation, an official report from the UN's Food and Agriculture Organisation, Unicef and the World Food Programme said.
Thousands on brink of starvation in South Sudan
Show all 8
"Our worst fears have been realised," said Serge Tissot, head of the UN's Food and Agriculture Organisation in South Sudan. He said the war has disrupted the otherwise fertile country, forcing people to rely on "whatever plants they can find and fish they can catch".
Roughly 5.5 million people, about 50 percent of South Sudan's population, are expected to be severely lacking access to food and at risk of death in the coming months, the report said.
If food aid does not reach children urgently "many of them will die", said Jeremy Hopkins, head of the Unicef in South Sudan. More than 250,000 children are severely malnourished Mr Hopkins said, meaning they are at risk of death.
It is not the first time South Sudan has experienced starvation. More than 70,000 people died during a famine in 1998, but a UN official blamed the country's politicians for the latest humanitarian crisis.
"This famine is man-made," said Joyce Luma, head of the World Food Programme in South Sudan. "There is only so much that humanitarian assistance can achieve in the absence of meaningful peace and security."
Perhaps nowhere else has civil war caused such a drastic decline in South Sudan's food security than in Central Equatoria state, according to the report.
Traditionally South Sudan's breadbasket, Central Equatoria has been hit by fighting and ethnically targeted killings that began in July last year and have displaced more than half a million residents and disrupted agricultural production. As a result, more than a third of Central Equatoria's population is now facing crisis or emergency levels of hunger, the report said.
South Sudan's widespread hunger has been compounded by an economic crisis as well. The country is experiencing severe inflation and the value of its currency has plummeted 800 percent in the past year, which has made food unaffordable for many families. When the Associated Press visited the western town of Aweil in September, the price of food had risen tenfold in the previous 12 months.
Although it is not as significant as the effects of war and inflation, some of South Sudan's hunger crisis could be the direct result of government action.
South Sudan: Soaring inflation sends prices skyrocketing
South Sudanese government officials have blocked or placed constraints on the delivery of food aid to areas of the country, according to a UN official who insisted on anonymity because they did not have authorisation to speak to the media. On Monday, the UN agencies said that unimpeded humanitarian access "is urgently needed".
Tens of thousands of people have died since civil war broke out in December 2013, and the UN warns that South Sudan is at risk of genocide.
UN officials have contested that hunger in South Sudan is even more shocking because of the country's fertile land conditions. During her farewell briefing in November as head of the UN mission in the country, Ellen Loj said that South Sudan has the resources and climate to feed itself.
"When I am flying up country I am always surprised to see all that fertile land and there is not anything," Ms Loj said. "You could feed yourself plenty and I hope peace will come to South Sudan."
International Development Secretary Priti Patel said: "This is an urgent and severe crisis, with almost half the population in desperate need.
"Almost 5 million face the daily threat of going without enough food and water and 3 million people have been forced from their homes because of ruthless violence and widespread use of rape.
"The UK will not look the other way while people of South Sudan suffer: the Government of South Sudan must put an end to ethnic violence, allow humanitarian access and deliver long-lasting peace."
She added: "The international community now needs to step up alongside Britain to stop famine spreading and help support stability in South Sudan and the region, which is firmly in all our interests."
AP
Join our commenting forum
Join thought-provoking conversations, follow other Independent readers and see their replies