Former ally of Robert Mugabe to set up rival party in challenge to Zanu-PF
Ms Mujuru, who was sacked as Mr Mugabe's vice president in December, is said to be preparing to stand against Mr Mugabe for the presidency in 2018
Alistair Dawber
Friday 10 April 2015 17:12 Comments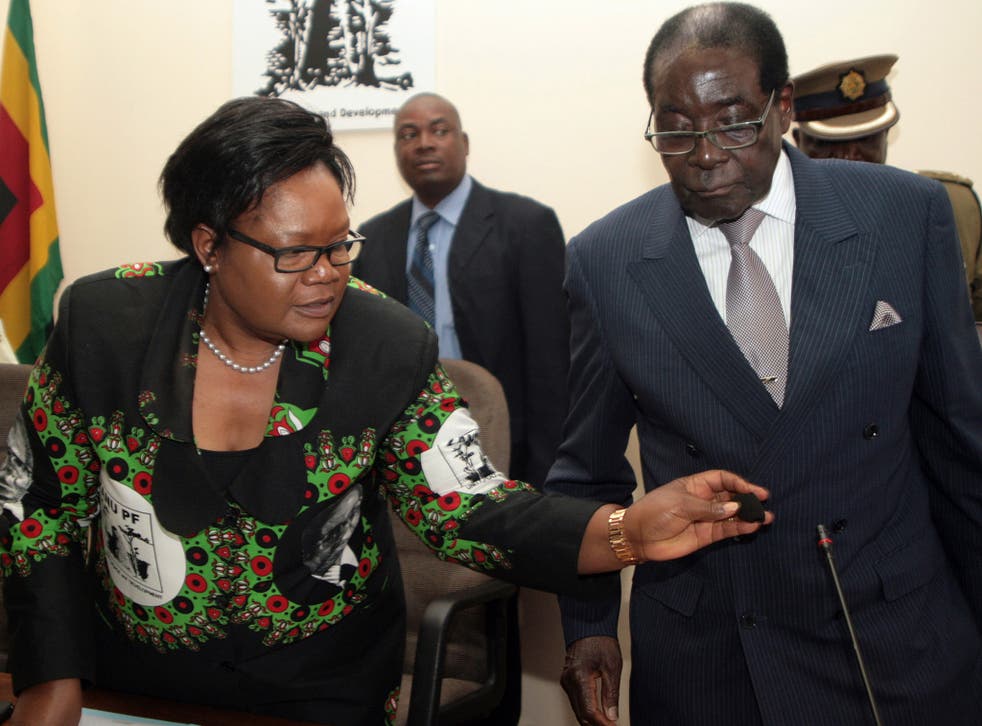 Joice Mujuru, previously a staunch ally of Robert Mugabe, has launched a broadside against the ageing Zimbabwean president days after she was reported to be setting up a rival party to challenge the governing Zanu-PF.
Ms Mujuru, who was sacked as Mr Mugabe's vice president in December, is said to be preparing to stand against Mr Mugabe for the presidency in 2018. Despite the fact that he will be 94 by the time Zimbabweans next go to the polls, he has insisted that he will run.
The name of the new party, according to Zimbabwe's Daily News, will also be Zanu-PF, but rather than PF standing for "Popular Front", a reference to Zimbabwe's independence struggle, Ms Mujuru's splinter group will use the initials to mean "People First".
The state-controlled Zimbabwe Broadcasting Corporation said Ms Mujuru was "plotting to unconstitutionally remove the president".
Ms Mujuru is yet to comment directly, but another sacked cabinet minister, Didymus Mutasa said that she was a leader around whom Zimbabweans could rally. "There is no doubt that the person that will take Zimbabwe from the current political and economic mess is [Joice] Mujuru. The government has failed…"
She was formally expelled as a member of the original Zanu-PF last week, when the party's ruling politburo found that she and her late husband, General Solomon Mujuru – a hero of the Zimbabwean independence movement – had tried to assassinate Mr Mugabe.
Robert Mugabe: Zimbabwean independence leader in pictures

Show all 29
The former vice-president gave short shrift to the allegations. Ms Mujuru said that Mr Mugabe should devote less time to plots against his 35-year rule and more to reviving the country's battered economy. "It's a shame and surprising that the politburo spent long hours discussing me and less on the economy," she said.
"It shows that they care less about the welfare of the people who voted them into power but more about protecting their positions. Given the prevailing economic hardships and looming food crisis, the [politburo's] silence on these matters is deafening."
The campaign against Ms Mujuru appears to have begun, with allies of Mr Mugabe making bizarre claims about her. On Wednesday the president of Zimbabwe's tribal chiefs, Fortune Charumbira, told Zanu-PF supporters that droughts in the country were caused by Ms Mujuru practising witchcraft.
Ms Mujuru was the most senior woman politician in Zimbabwe's ruling party, and draws significant support from among traditional Zanu-PF support. Seen as a moderating influence, she was earmarked as a potential successor to Mr Mugabe.
Emmerson Mnangagwa replaced Ms Mujuru as vice-president in December and is now considered to be in the box seat to assume the presidency after Mr Mugabe. A former head of Zimbabwe's internal security force, and a former defence minister, Mr Mnangagwa is nicknamed "The Crocodile" because of his ruthlessness.
On a state visit to South Africa yesterday, Mr Mugabe appeared to quash growing speculation that his wife, 49-year-old Grace, could succeed him, although on same trip, Mrs Mugabe, who is the country's minister for women, refused to rule out the move.
Reports in Zimbabwe have suggested that Ms Mugabe could be suffering from colon cancer, but she appeared to make light of the suggestion, joining South Africa's president, Jacob Zuma on the dance floor at the official dinner. "I'm dead" she joked. "I'm a corpse."
The visit is Mr Mugabe's first to Pretoria since 1994. Several Zimbabwean newspapers have suggested that the perilous state of the economy has forced the president to go with a "begging bowl". Finance minister Patrick Chinamasa denied that officials were there to plead with their South African counterparts.
A law passed in Harare insists that foreign-backed subsidiaries operating in the country must be 51 per cent-owned by black Zimbabweans. It has been criticised for putting off foreign investors.
Register for free to continue reading
Registration is a free and easy way to support our truly independent journalism
By registering, you will also enjoy limited access to Premium articles, exclusive newsletters, commenting, and virtual events with our leading journalists
Already have an account? sign in
Join our new commenting forum
Join thought-provoking conversations, follow other Independent readers and see their replies