Gorilla poacher sentenced to 10 years for killing Uganda's beloved ape Rafiki
We are protecting wildlife at risk from poachers due to the conservation funding crisis caused by Covid-19. Help is desperately needed to support wildlife rangers, local communities and law enforcement personnel to prevent wildlife crime. Donate to help Stop the Illegal Wildlife Trade here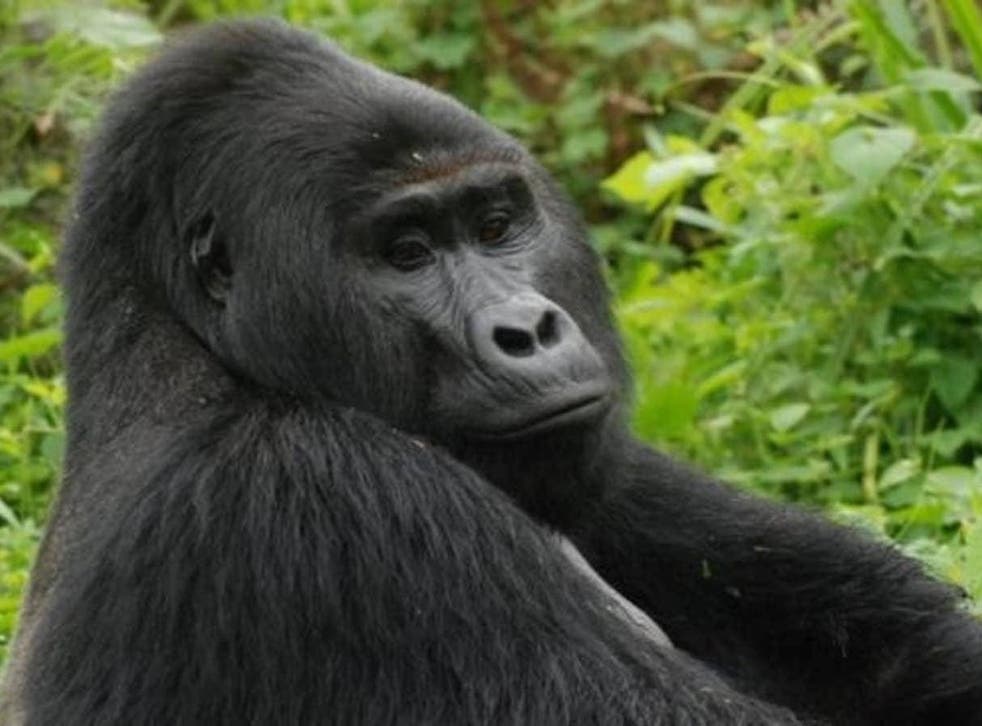 A member of a gang of poachers arrested for killing a mountain gorilla which had become a great favourite among both tourists and local people has been jailed for 11 years in Uganda.
Rafiki, a 25 year old silverback and leader of a clan of 17, was the first gorilla to die at the hands of humans for almost a decade. His loss has been seen as a grave setback to the long and painstaking conservation campaign to pull the great apes back from the edge of extinction.
Bwindi National Park, in the west of the country, the habitat of the 'Nkuringo Group' of gorillas, had been shut during the coronavirus pandemic and wildlife protection groups have reported more than 300 incidents of poaching during the months of lockdown.
The absence of foreign tourists, who pay around £500 each for a permit to visit the gorillas, and spend money in local hotels, restaurants and markets have been a huge blow to the livelihood of people in the area.
Rafiki died last month after a spear was thrust into his stomach, fatally damaging his internal organs. Four men were arrested after an investigation by the Ugandan Wildlife Authority (UWA). Felix Byamukama had pleaded guilty to the killing of the gorilla as well as a duiker antelope and a bush pig after entering a protected area. The other suspects remain in custody, awaiting trial.
Byamukama had initially claimed that he had used the spear in self-defence after the gorilla attacked him. A search of his home led to the discovery of hunting weapons including snares, spears and bells for the collars of hunting dogs. He was also found to be in possession of illegal bush meat. Wildlife rangers dismissed the claim that Rafiki could have initiated the attack. He had never shown hostility towards humans, they say, pointing out that was the reason behind his name, which means 'Friend' in Swahili.
Executive Director of UWA, Sam Mwandha, welcomed the court's decision saying: "Rafiki has received justice. We are relieved that Rafiki has received justice and this should serve as an example to other people who kill wildlife.If one person kills wildlife, we all lose, therefore we request every person to support our efforts of conserving wildlife for the present and future generations."
Byamukama was tried at a local rather than a wildlife protection court where, under Uganda's stringent laws, poaching can carry a life sentence as well as heavy fines. But prosecution and conviction have often proved to be difficult in the past with the poachers working in professional gangs becoming adept at hiding evidence.
Rafiki's family were often seen outside their home area. Anna Behm Masozera, director of the International Gorilla Conservation Programme, a coalition of regional conservation groups, said this made it "a symbolic group in regard to co-existence with people". She told the magazine National Geographic: "The death and the circumstances surrounding it are significant. He was the only mature male in this iconic group. Park managers across the mountain gorilla range are indicating higher than normal human activities, many illegal."
There are just over a thousand mountain gorillas left in existence. As well as violence from poachers, they may risk coronavirus infection in contact with humans.
Gladys Kalema-Zikusoka, a conservationist working with the great apes in Uganda, said: "It would be a total disaster: gorillas are very close knit, and they live in a family group. They're always together and they're always grooming each other. If one gorilla gets it, the rest are going to get it. Also, the gorillas have the same ACE2 protein receptors like humans which mean that they can easily get Covid-19 in the same way that humans can get it, and they would experience similar effects as humans."
A former British Army officer who has been involved in training anti-poaching units in East Africa said: "What happened was very sad, such a waste of a life of a magnificent creature. The one good thing is that the Ugandan authorities investigated and carried out arrests quickly, but the pandemic and its economic consequences continue to fuel poaching in lots countries I am afraid."
Register for free to continue reading
Registration is a free and easy way to support our truly independent journalism
By registering, you will also enjoy limited access to Premium articles, exclusive newsletters, commenting, and virtual events with our leading journalists
Already have an account? sign in
Register for free to continue reading
Registration is a free and easy way to support our truly independent journalism
By registering, you will also enjoy limited access to Premium articles, exclusive newsletters, commenting, and virtual events with our leading journalists
Already have an account? sign in
Join our new commenting forum
Join thought-provoking conversations, follow other Independent readers and see their replies