Strathmore University: Terror drill using live bullets leads to panic and injuries at Kenyan university
Kenyan police have reason to take drills seriously - almost eight months ago al-Shabaab militants stormed a university campus, killing 147 people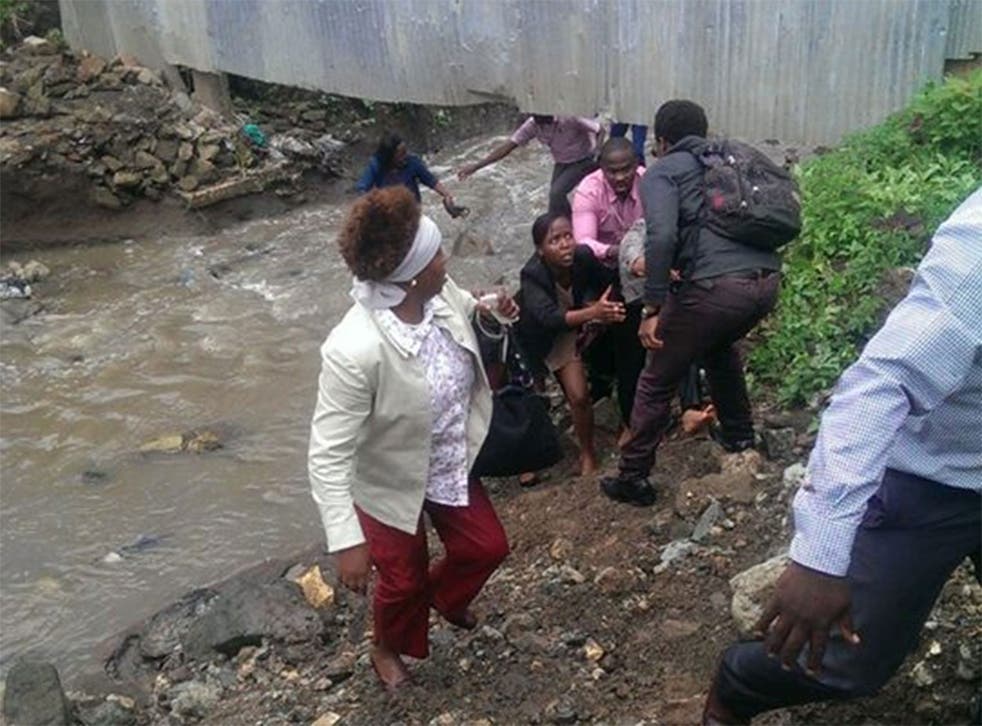 Police have used live bullets in a major terror drill at a university in Kenya, sparking panic across the campus and reportedly leaving some students injured in the rush to escape.
Reports of gunfire at Strathmore University in Nairobi spread on social media before the authorities were able to confirm the incident was a test.
Images posted to social media showed some of the university's 5,000 students climbing out of windows and hanging from frames, while others waded through a stream to get away from the perceived danger.
The chaos started at around midday local time (9am GMT), and witness reports of gunfire on the campus even went out on international newswires.
"Do not panic!" local radio station Nation FM tweeted. "A terror drill is being conducted at Strathmore University."
Others pointed out that the authorities had warned a "mock terror drill will be carried out" in posts on Facebook on Sunday night – but the message was clearly missed by many.
"It was a mock exercise," Japheth Koome, the police commander in the capital told Reuters later. "We wanted to check on alertness of emergency services."
Kenya has every reason to take terror drills seriously. In April, a group of al-Shabaab gunmen stormed a campus at Garissa University College in the east of the country, near the border with Somalia.
In pictures: Kenya Garissa University shooting

Show all 10
At least 147 students were killed, as terrorists freed Muslim students and took Christians hostage before the siege was broken by armed police.
In 2013, Nairobi's Westgate mall made headlines around the world when it was targeted in another al-Shabaab terror attack.
The mall re-opened this summer, but it remains scarred by the four-day siege which saw at least 67 killed. The death toll from that attack, like many other details, remains in dispute.
Join our new commenting forum
Join thought-provoking conversations, follow other Independent readers and see their replies