'It's a luxury to go to The Hague': Sudanese dictator Bashir faces trial verdict – but victims fear he'll evade justice
A Nation on the Edge: Victims of the Darfur conflict fear the judiciary is still populated by ousted president's former allies and believe the corruption trial is a distraction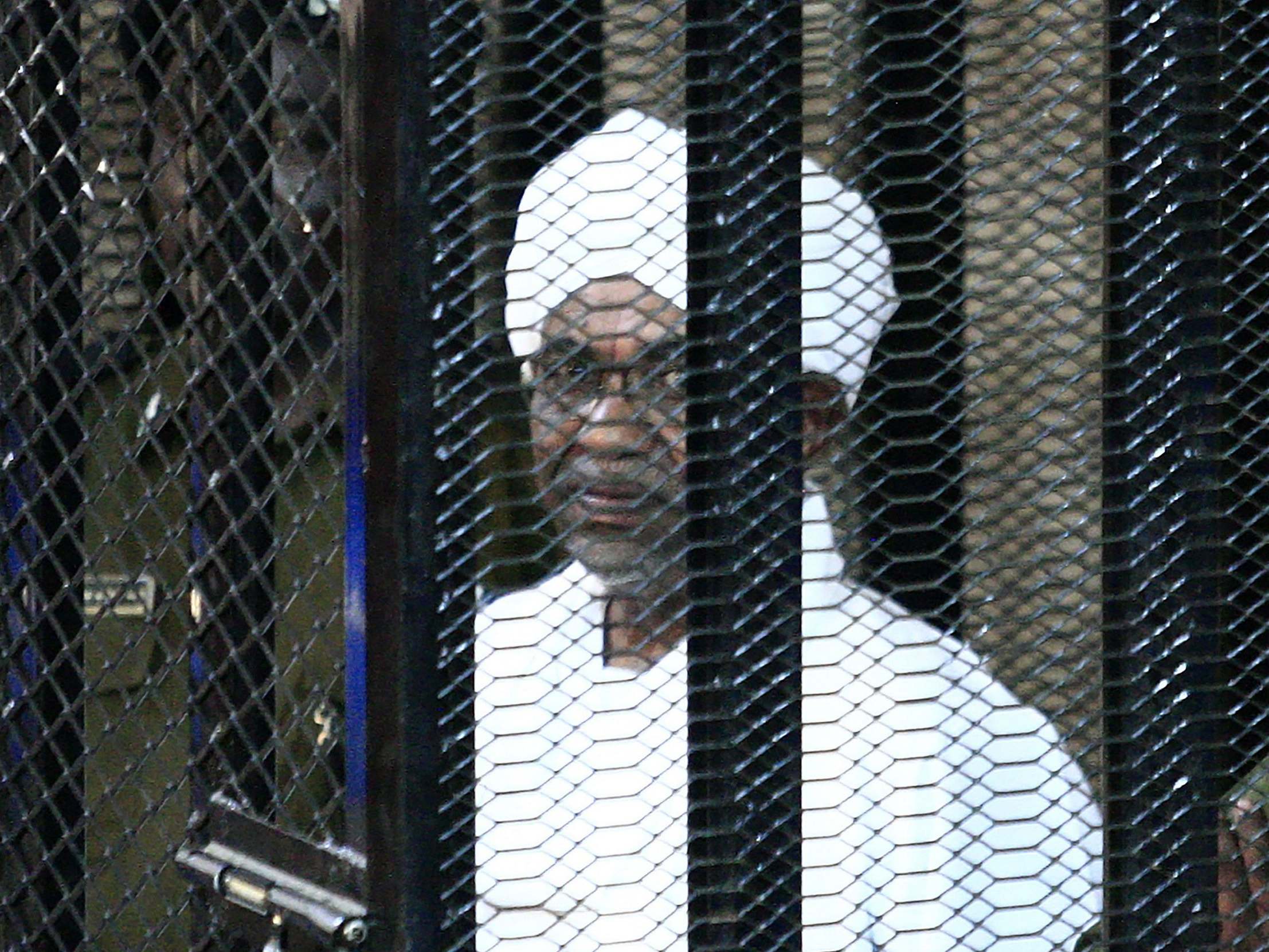 The verdict of the first trial of Omar Bashir is set to be delivered on Saturday, but civilians are concerned that they will be denied justice as Sudan's ousted president evades the International Criminal Court (ICC).
In the corruption case, 75-year-old Mr Bashir is accused of illegally acquiring and using foreign currency, after sacks of euros, dollars and Sudanese pounds amounting to £100m were found at his home.
If found guilty he could face more than a decade behind bars. It is just the first in a slew of possible legal proceedings against the former leader, who ruled the country for 30 years, until he was ousted in April.
In May he was also charged with involvement in the killing of protesters, and was summoned last Thursday for questioning over his role in the 1989 military coup which brought him to power.
The ICC issued arrest warrants against him in 2009 and 2010 on charges of war crimes, crimes against humanity, and genocide in the war-torn Darfur.
The women at the front of Sudan's political protests
Show all 12
But the country's new authorities, formed following a power-sharing deal between civilian leaders and the military, have yet to raise a case against him for the crimes in Darfur. The military have said they would not extradite him to The Hague.
Victims of the Darfur conflict told The Independent they fear that the judiciary is still populated by Bashir's former allies and believe the corruption trial is a distraction.
Attorney Wail Ali Saeed, of the Sudanese Lawyers Democratic Front – an alliance gathering evidence about state crimes including Darfur – said a guilty verdict in the corruption trial would set the tone for the rest of the cases.
"Normal citizens are frustrated that Bashir is on trial only for corruption, but legally talking other cases [like the killing of protesters] have been opened. He is behind bars which is positive," Saeed said. "I want to emphasise the case of Bashir is political. We have a fragile compromise between the military and civilians. It is very hard to send him to ICC. We are facing a challenge to achieve justice in this political context."
But in Darfur, community leaders among those forced from their villages in the fighting, said they have little faith in Sudan's legal system given the government is led by military figures that they accuse of instigating the violence in the war-torn region.
"We have seen no practical change in Sudan since the revolution, the same power structures are still in place," said Sadiq Abdalla Mokhtar, 52, a tribal leader from Tawila where attacks on villages are ongoing.
"There is no justice, it is not enough to just try Bashir for corruption.
"As his victims we should have the right to say how and where he is tried, and to us that is only the ICC."
Bashir, a former parachute brigade commander in the 1970s, stormed to power in 1989 following a bloodless-Islamist backed coup.
He later became the chairman of the ruling National Congress Party (NCP), which was dissolved by the post-revolution authorities last month.
During his 30-year brutal reign, while the career soldier weathered ICC arrest warrants and the US listed Sudan as a state sponsor of terrorism there were multiple uprisings, including one which led to the secession of South Sudan in 2011.
But he was finally toppled by the army on 11 April, following months of demonstrations triggered by an acute economic crisis.
Post-revolution, the country is being led by an 11-member sovereign council, including six civilians and five members of the armed forces, under the leadership of army chief Gen Abdel Fattah al-Burhan.
His deputy is Lt Gen Mohamed Hamdan Dagalo, or Hemedti, who is head of the feared Rapid Support Forces (RSF) that have been accused of instigating the violence in Darfur on Bashir's behalf.
That has triggered concerns about the rigour of the legal proceedings against the ex-president.
The civilian-led government in interviews with The Independent assured that "justice will be served", admitting the ICC issue was ''complicated".
"There are some people who say it is a luxury to go to The Hague and should be in our prisons, which are backwards," said Faisal Islam Salah, Sudan's information minister and government spokesman.
Prime minister Abdalla Hamdok repeatedly dodged questions about Bashir's possible extradition, saying it will be "decided by our institutions".
"Justice has to be seen and served to the satisfaction of the victims. We are not going to leave any stone unturned on this," he added.
The corruption verdict is the first faced by Bashir, who has repeatedly professed his innocence.
The corruption case hinges on $25m of funds Bashir admitted he had received shortly before his ouster from Saudi Arabia's de-facto ruler Crown Prince Mohammed bin Salman (known colloquially as MbS).
Bashir said it was given to him by MbS for spending outside the Sudanese state budget, and that most of it went on donations.
Speaking to The Independent, Bashir's brother Mohamed Ahmed al-Bashir dismissed the charges against him as "conspiracies and revenge". He said the ex-president "has not done anything wrong" and still believes he has the support of the people which will ultimately see him freed.
"It is all conspiracies, fabrications and revenge accusations that will never stand up in front of the real law, or a true court," he said, at a protest in Khartoum against the detention of former regime figures.
"He expects that what is going on will not take a long time, and he will be released soon by the will of the people".
He dismissed the 2009 and 2010 ICC arrest warrants against his brother as an attempt by Europe "to colonise Africa".
Mohamed Bashir, whose other brothers Abdullah and Abbas Hassan al-Bashir have also been arrested, described how the former president was stunned when he learned he had been pushed out of office by members of the security forces.
"He did not expect this from his officers, those who take oaths of loyalty to him, and those who were close to him, who received positions from him," he said.
"But he treats this as something from God".
The ex-leaders' lawyer Mohamed Aly said he believed his client would be acquitted, adding it was normal for leaders to have large sums of foreign currency
"What happened against him is simply a military coup," Aly added.
"Under the law he should be president".
Read the first part in Bel Trew's A Nation on the Edge series, here: 'Isis will be small fry': Sudanese PM warns country will implode unless US sanctions are lifted; and the second part here: 'It's like Bashir is still here': Inside war-ravaged Darfur where deadly violence is killing the revolution
Join our commenting forum
Join thought-provoking conversations, follow other Independent readers and see their replies