Sudan opposition rejects military's call for snap elections after 35 civilian protesters killed by army
Opposition leader calls deadly attack on protesters 'systematic' and 'planned'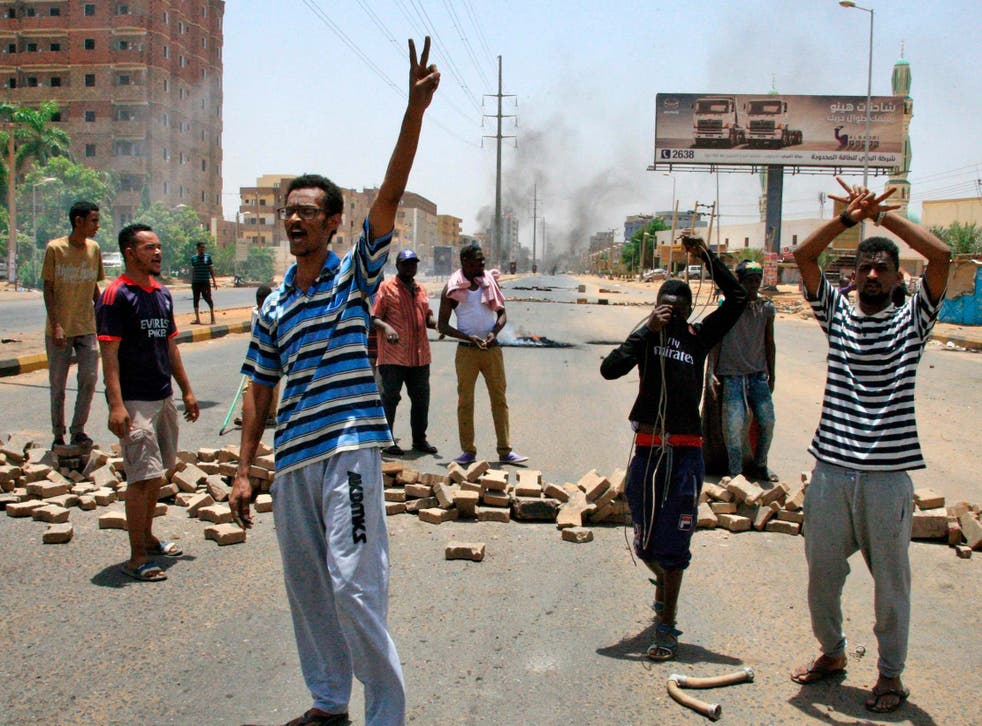 Sudan's opposition coalition has rejected a plan by the country's military to hold elections within nine months, a day after security forces killed at least 35 protesters in the capital Khartoum.
Monday marked the worst bout of violence since Omar al-Bashir was ousted in April after three decades of authoritarian rule.
Security forces stormed a protest camp outside the defence ministry in central Khartoum, unleashing volleys of gunfire and burning down tents.
Soon after, the military cancelled all agreements with the main opposition alliance and said an election should be held within nine months.
However, Madani Abbas Madani, a leader of the Declaration of Freedom and Change Forces opposition alliance, said a civil disobedience campaign would continue to try to force the council from power.
Gunfire heard as military moves in on protesters in Khartoum

Show all 10
Mr Madani said the opposition rejected all that the head of the transitional military council (TMC) General Abdel Fattah al-Burhan said in his statement
"What happened, killing protesters, wounding and humiliation, was a systematic and planned matter to impose repression on the Sudanese people," he added.
The Sudanese Professionals Association (SPA), the main organiser of the protests, accused the security forces of a "massacre" when they raided the camp.
The TMC has denied the accusations and said security forces were pursuing "unruly elements" who fled into the protest site, leading to the shootings.
In a televised address in the early hours of Tuesday morning, Gen Burhan, the council leader, said the opposition coalition was equally responsible for the delay in coming to a final agreement.
The council had decided to cancel all agreements with the protest groups and called for elections within nine months, which he said will be organised under regional and international supervision.
"Gaining legitimacy and a mandate does not come but through the ballot box," Gen Burhan said.
He also announced a government would immediately be formed to run the country until elections are held.​ Gen Burhan said he regretted the violence and it would be investigated.
Sudan's protest movement holds mass rally in Khartoum following last month's overthrow of President Omar al-Bashir
The security forces' operation on Monday drew international condemnation.
Jeremy Hunt, the British foreign secretary, called the attack "outrageous" and added: "It will not help Sudan build the future the people are demanding.
"The military council bears full responsibility for this action and the international community will hold it to account."
Additional reporting by agencies
Join our new commenting forum
Join thought-provoking conversations, follow other Independent readers and see their replies