Sudan protests: Violence breaks out and 'tear gas fired' as tens of thousands march against army rule
Largest protests seen since deadly security raid on protest camp three weeks ago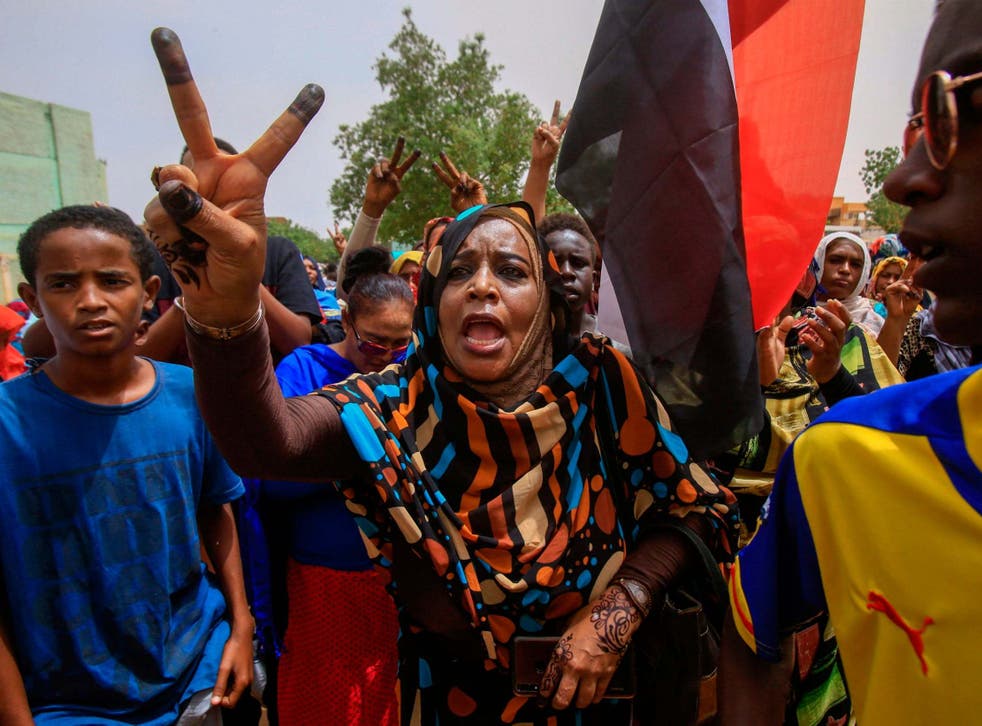 Tens of thousands of people took to the streets of Sudan's capital Khartoum on Sunday demanding the ruling military hand power to civilians.
Security forces fired tear gas at protesters in the city, according to AFP, while an opposition group claimed an activist had been killed at demonstrations elsewhere in the country.
The Sudan Doctors Committee said a protester in his 20s was shot dead in the northern city of Atbara. The same group said another protester was wounded in Khartoum.
General Mohamed Hamdan Dagalo – deputy head of the ruling military council – said three troops from the paramilitary Rapid Support Forces group were injured during the protests in the capital.
Demonstrators in Khartoum waved the Sudanese flag and chanted "civilian, civilian" and "blood for blood" in the largest protests seen since a deadly raid by security forces on a protest camp three weeks ago.
World news in pictures

Show all 50
Opposition groups said rallies were held in cities across Sudan after coalition body Forces for Freedom and Change (FFC) called for a million people to turn out the streets on Sunday.
Sudan's military rulers overthrew the autocratic president Omar al-Bashir on 11 April after months of demonstrations against his rule.
Talks between the government and opposition groups about a possible power-sharing deal broke down after the security services raided a sit-in protest outside the defence ministry on 3 June.
The ensuing clampdown killed at least 128 people cross the country, according to protest organisers. Authorities say the toll was 61, including three security forces.
The United Nations has said it has received reports that more than 100 protesters were killed and many more injured at the sit-in protest on 3 June.
Military leaders have denied ordering a raid on the camp and said a crackdown on criminals nearby had spilled over to the sit-in. The council has said some officers had been detained for presumed responsibility and it still intends to hand over power after elections.
General Dagalo said the generals want to reach an "urgent and comprehensive agreement with no exclusion".
He told a gathering of army supporters on Sunday: "We in the military council are totally neutral. We are the guardians of the revolution. We do not want to be part of the dispute. Our mission is to protect people and any peaceful revolution."
Civilians rushed into hospitals as Sudanese forces violently clear sit-in
Mediators led by the African Union and Ethiopian prime minister Abiy Ahmed have since been trying to broker a return to direct talks, putting a joint proposal forward.
The FCC opposition coalition said talks could only begin once the military had officially ratified the African Union-Ethiopia proposal.
Sunday's marches also mark the 30th anniversary of the Islamist-backed coup that brought al-Bashir to power in 1989, toppling Sudan's last elected government.
Additional reporting by agencies
Join our new commenting forum
Join thought-provoking conversations, follow other Independent readers and see their replies