Sudan's embattled ruler wins support from rivalling autocrats as anti-government protests rage
'This is an attempt to copy the Arab Spring in Sudan. These are the same slogans and appeals and the very wide use of social media sites'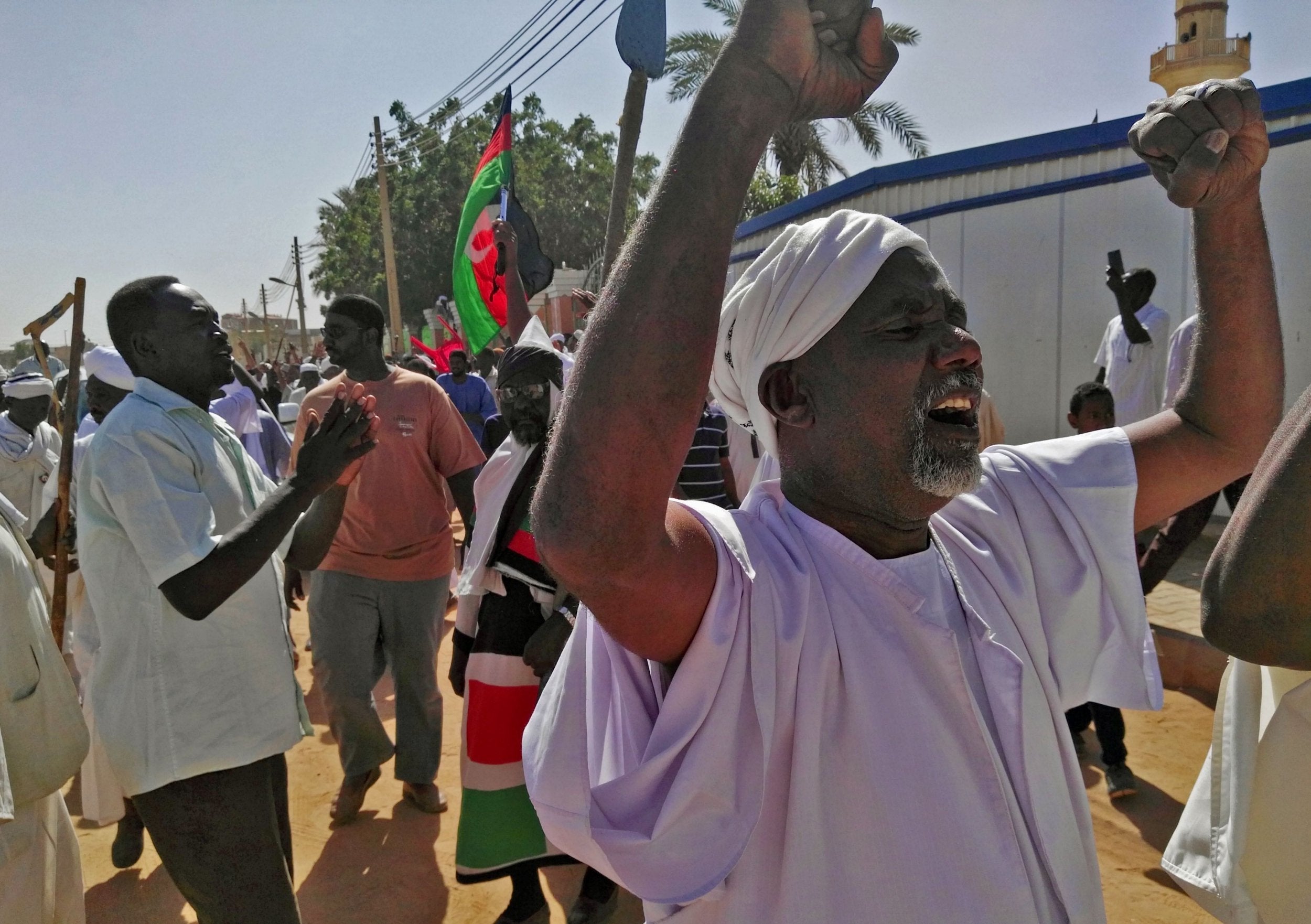 Autocrats, even those at odds with each other, have come to the aid of the Republic of the Sudan's embattled ruler, Omar al-Bashir, after a month and a half of continuing anti-government protests sparked by a hike in bread prices, and decades of corruption and repression.
The United Arab Emirates, which bankrolled the 2013 counter-revolution in Egypt and has backed dictators across the Middle East, has given $300m (£228m) in loans and more than 1.12 million tons of fuel to shore up the Bashir regime.
Analysing travel documents, Ukraine's security service announced last week that Russia has been dispatching officers of its GRU military intelligence agency to Sudan, while activists have accused mercenaries from the Kremlin-linked contractor Wagner of involvement in the crackdown.
In recent days Mr Bashir visited Qatar and Egypt, and is expected to travel to Kuwait, winning offers of diplomatic and financial support for his 30-year-rule. Saudi Arabia and Turkey, as well as Russia, have offered diplomatic and financial support to the regime, which is being challenged by peaceful demonstrators echoing democratic aspirations of the 2011 Arab Spring uprisings and demanding that Mr Bashir steps down.
More anti-government demonstrations were expected across Sudan on Tuesday afternoon, scheduled for Khartoum and other cities. The day has been dubbed the "march of the martyrs", marking the 14th anniversary of the massacre of protesters in Port Sudan
Speaking alongside Egyptian president Abdel Fattah el-Sisi during a visit to Cairo on Sunday Mr Bashir was defiant, blaming unnamed parties, the press and social media for destabilising his country.
"We do not claim there is no problem, but it is not of the size or dimensions that some of the media portray," he was quoted as saying: "This is an attempt to copy the Arab Spring in Sudan. These are the same slogans and appeals and the very wide use of social media sites."
Sudan has had a complicated relationship with regional leaders, and was for many years allied with Iran. But in recent years it has improved ties with Saudi Arabia, especially after dispatching military personnel to help in the effort against Yemen.
"Arab leaders are not sure what they'd like to see in Sudan but what they wouldn't like to see is anarchy on their doorsteps," said Ahmed Soliman, a specialist on Sudan and the horn of Africa, at Chatham House.
"They're more comfortable with a military regime than with the uncertainty of what would come next in any transitional period in Sudan."
Many democracy advocates had hoped the 2011 Arab Spring uprisings would weaken the region's ossified political class and inject some measure of pluralism into political systems dominated during the latter half of the 20th century by military dictators and absolute monarchs.
But the widespread support for Mr Bashir is the latest sign that the Middle East's informal brotherhood of autocratic and hereditary rulers was battening down the hatches against any democratic movement. Rulers appear keenly aware that the original Arab Spring uprisings were inspired by a month-long uprising that felled the leader of Tunisia, which like Sudan rests on the political and geographic periphery of the Arab world, and are determined to prevent a repeat.
The widespread regional show of support for Mr Bashir comes despite criss-crossing layers of hostility across the Middle East. Egypt and Sudan remain at odds over usage of the Nile River. Turkey and Qatar constitute an informal axis on the opposite of a number of regional issues to Saudi Arabia and the UAE. Russia is mistrusted, though courted by all countries of the region.
"It's a reflection of Sudan attempting to balance regional alliances at a time of heightened regional tensions," said Mr Soliman. "It shows that Bashir has been adept at balancing those relationships when it's become difficult to do so."
Qatar, which last year signed a $4bn deal for a Red Sea port in Sudan's Suakin, hosted Mr Bashir last week, granting him a meeting with the ruler Sheikh Tamim bin Hamad Al Thani in Doha, where the two discussed "the current economic crisis experienced by Sudan and Sudan's efforts to get out of the crisis, and the role of brothers in general, and Qatar in particular, to help Sudan", according to Sudan's foreign minister, Al-Dirdiri Mohamed Ahmed.
Saudi Arabia has also offered unspecified amount of cash. Saudi minister of commerce and investment, Majid Al-Qasabi, traveled to Khartoum last week to publicly assure that Riyadh "wouldn't hesitate in supporting Sudan at anytime".
Sudan was stripped of much of its oil wealth when the Republic of South Sudan seceded in 2011 after a decades-long civil war.
Russia and Turkey have offered assistance that includes fuel and wheat. Reuters reported Sudan's oil minister Azhari Abdel Qader as saying, in reference to the Russian and Turkish assistance: "We accepted it as a normal matter between friendly countries in light of the current circumstances that Sudan is going through."
Join our commenting forum
Join thought-provoking conversations, follow other Independent readers and see their replies