Women fueled Sudan's revolution, but then they were pushed aside
Male-dominated politics returns to Sudan months after Omar al-Bashir's removal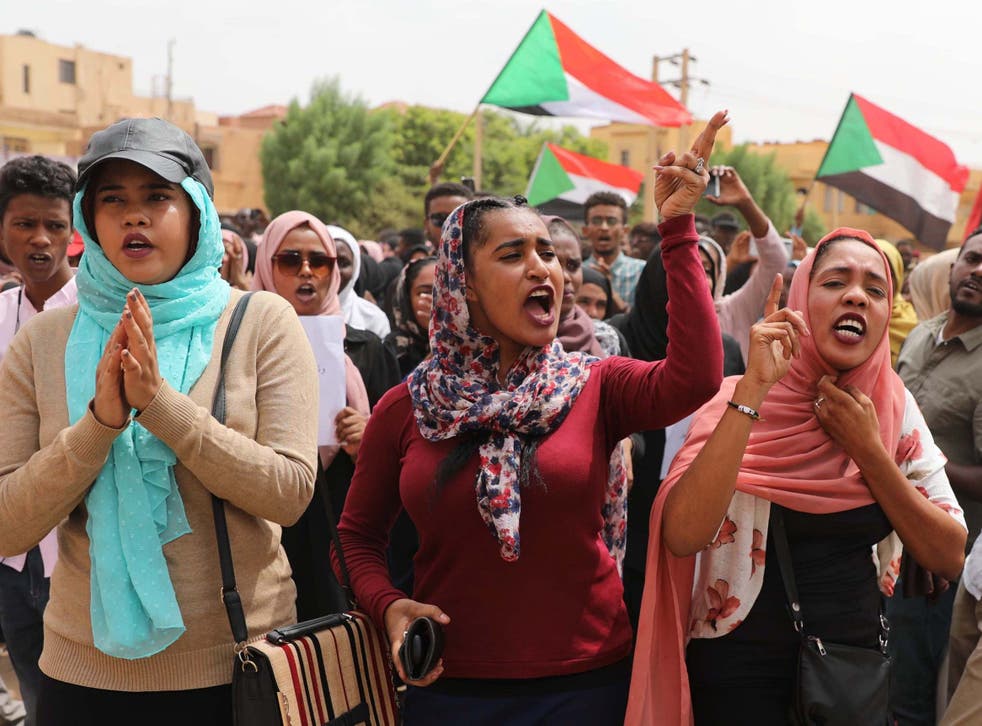 It was the iconic image of a woman protester that came to define Sudan's revolution, and women made up the majority of demonstrators – but activists complain that they have been almost entirely excluded from the new system.
For three decades, Omar al-Bashir enforced a raft of oppressive laws aimed at subduing women, apparently with the objective of satisfying the country's ultra-conservative Islamic forces, which propped up his regime.
Child marriage was allowed, marital rape was permitted, and women were not allowed to wear trousers in public.
It was perhaps unsurprising, then, that women made up a majority of demonstrators when popular protests swept the capital starting in December 2018, eventually leading to Bashir's removal on 11 April.
But politics quickly returned to being a boys' club, according to campaigners. Civil society groups and the country's military began to negotiate over the country's political future, and women have once again been pushed aside.
The women at the front of Sudan's political protests

Show all 12
Although they made up an estimated 60 to 70 per cent of demonstrators that took down Bashir, women are almost entirely absent from political leadership positions hashing out the country's future.
The high-wire negotiations have a familiar uniform of suits and ties on one side and camouflaged uniforms on the other.
"Where are the women?" jokes Sara Abdelgalil, one of the few top officials in the Sudanese Professionals Association (SPA), the group that organised the protests.
"For the last 30 years, women were invisible in politics and we didn't have women at the top of these organisations."
And the lack of female leaders in Sudan's democratic movement is not just a question of equality for the sake of equality, say women's activists, but will affect the quality of the transition and, ultimately, the success of the revolution.
The collapse of Bashir's rule was followed by negotiations between civilian groups and the army, aimed at reaching a power-sharing agreement.
But the civilian groups have fallen into vicious disputes, in part over the fact that the men at the negotiating table do not accurately reflect those demonstrators who catalysed the revolution.
Of the dozens of civilians who have participated in the negotiations, only one is a woman, Mervat Hamadelneel, about whom little is known.
There has been criticism that the leadership of civilian groups, called the Forces of Freedom and Change, has been more willing to compromise with the country's junta than the demonstrators they represent would like.
"The lack of diversity makes the negotiating team extremely closed-minded and they can't come up with the results that represent the revolutionary forces," says Hala Alkharib, the regional director of the Strategic Initiative for Women in the Horn of Africa.
"Most of the political parties who are currently negotiating on behalf of the Sudanese people did not invest on addressing the challenges of women, so women are not interested in joining."
At a neighbourhood forum on a hot Khartoum evening, there is a preview of Sudan's potential political future.
Samahir Mubarak, a 28-year-old pharmacist-turned revolutionary leader, lectures on a stage draped in Sudanese flags
Talks about Sudan's political future have dragged on in part because the junta has demanded control over the next government and wants immunity for the many crimes it is accused of, including a 3 June massacre that killed more than 100 people, and the rap-sheet of allegations during the genocide in Darfur.
The civilian negotiators are willing to accept that, but many protesters are not. Mubarak is one of the most prominent faces of Sudan's new political era, and she is considering a career in politics.
"We are hopefully going into a new democratic era. Political parties need to reorganise by involving more people, and there is no way you are going to get the votes of women if their views are not going to be represented," Mubarak says.
For the first time Mubarak can remember, a majority of speakers that night are women.
Civilians rushed into hospitals as Sudanese forces violently clear sit-in
Mubarak does not like to plan her speeches in detail, but prefers to feed off the energy of the audience in front of her.
"I rely on my instinct," Mubarak says. "I think it is genetic because my mum is good."
Mubarak believes that women will naturally rise up into political leadership positions in a new democratic era that rewards parties for broader membership. But others are taking a more immediate approach.
Protesters, largely women, demonstrated outside the SPA headquarters on Saturday to demand more representation in the country's political future.
Listening to Mubarak speak are a few hundred men in clean white jalabiyas. The robed men sit on one side in thin plastic chairs, and a handful of women sit on the other. This well-off neighbourhood used to be a staunch supporter of Bashir and his regime, but after Mubarak is done speaking she is crowded by admirers.
A group of boys tell her how the neighbourhood has transformed to support the revolution, and a woman asks her details for public demonstrations taking place the next day.
Mubarak appears to represent the revival of Sudan's female leaders who were decimated under Bashir's era. Perhaps Sudan's biggest feminist icon is socialist writer and thinker Fatima Ahmed Ibrahim, born in 1932, who became the country's first female member of parliament in 1965 and died in London in 2017.
Sudan's protesters paid homage to Ibrahim by putting her face on signs bearing the slogan "Our mother Fatima". Graffiti artists have tagged her image across Khartoum's crumbling walls.
Ibrahim "was determined and strong, even in high school", says Fatima Elgalil, a historian of women's rights in Sudan and a colleague of the former journalist.
Ibrahim challenged some of the repressive cultural and legal norms in Sudan, creating a viral magazine that compared women's rights in Sudan to other countries. But Ibrahim preferred to work in stages of change and did not challenge all of the country's oppressive norms at once, according to Elgalil.
"You must be flexible," Elgalil explains of Ibrahim's tactics.
But the generational gap of Sudanese feminists is evident as Elgalil speaks. Elgalil is 84 and her granddaughter Zeinab is 17. As Zeinab listens to her grandmother talk, she agrees with the objectives, but not the approach of working in gradual steps.
"When they grew up and fought in this regime, it was by being women who fit into society." Zeinab says. "But for us, living in this environment has been very repressive."
Zeinab recounts stories of a friend getting married at 15 and another friend's cousin being raped at 12 years old. She says that instead of working in steps like Ibrahim, the Sudanese feminist icon, young women are demanding a complete overhaul in women's rights during protests. "The fact that we are angry and going to fight is very weird for her generation because they took it step by step, but we say: 'We want to fight.'"
Register for free to continue reading
Registration is a free and easy way to support our truly independent journalism
By registering, you will also enjoy limited access to Premium articles, exclusive newsletters, commenting, and virtual events with our leading journalists
Already have an account? sign in
Register for free to continue reading
Registration is a free and easy way to support our truly independent journalism
By registering, you will also enjoy limited access to Premium articles, exclusive newsletters, commenting, and virtual events with our leading journalists
Already have an account? sign in
Join our new commenting forum
Join thought-provoking conversations, follow other Independent readers and see their replies