Sudan's President claims CIA and Mossad 'stand behind' Isis and Boko Haram
Omar al-Bashir says 'there is no Muslim who would carry out such acts'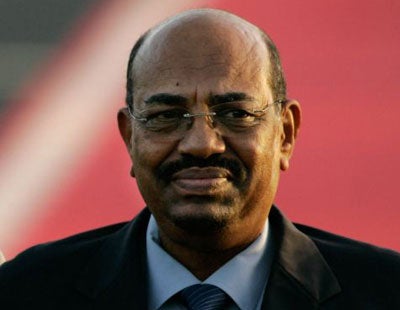 Sudan's President has claimed the CIA, America's intelligence agency, and Israel's Mossad are behind the Islamist militant groups Boko Haram and Isis.
Omar al-Bashir used an interview with Euronews to claim there was a connection between the American and Israeli intelligence organisations and both extremist groups.
He spoke after Isis released a video purporting to show the beheading of 21 Coptic Christians in Libya, an act that prompted Egypt to respond with air strikes avenging the massacre.
Al-Bashir told the broadcaster: "I said CIA and the Mossad stand behind these organisations; there is no Muslim who would carry out such acts."
Boko Haram abducted 300 girls from a school in Nigeria last year and recently claimed responsibility for the massacre in the north-east Nigerian town of Baga, warning in the video that the killings were "just the tip of the iceberg".
Isis militants have killed thousands during their bloody insurgency across Syria and Iraq.
He also cautioned against taking violent measures to fight militants, claiming it could lead to an even more severe extremist response.
In pictures: The rise of Isis
Show all 74
"Our policy has been largely successful, after we arrest these young people we bring a group of young scholars to engage in dialogue with them about their thoughts, and we succeed to bring a lot of them back from their radical ideas," he added.
His remarks come after the leader of Lebanon's Hezbollah group also claimed the CIA and Israel's Mossad are behind the extremist group, according to the Associated Press.
In January, Melih Gokcek, the mayor of the Turkish city Ankara, claimed Mossad was involved in the Charlie Hebdo massacre in Paris, committed by Islamist militants.
Explaining his conspiracy theory, he suggested Israel was behind the mass shooting because it wanted to "boost enmity towards Islam", the Financial Times reports.
The wide-ranging discussion also saw the President challenge a report by Human Rights Watch claiming more than 200 women and girls were raped by Sudanese troops in an assault on the north Darfur town of Tabit, which the group said happened on 30 October.
He dismissed the report as "a radio news item from Radio Dabanga which is hostile to us," and "opposition-run and Israeli funded", Euronews reports.
The full interview with al-Bashir will air on Wednesday.
Join our commenting forum
Join thought-provoking conversations, follow other Independent readers and see their replies