Tear gas fired as Pro-Morsi demonstrators clash with Egyptian security forces at Tahrir Square
Muslim Brotherhood calls for escalating protests ahead of Sunday's commemorations marking 1973 war with Israel
Adam Withnall
Friday 04 October 2013 16:29 Comments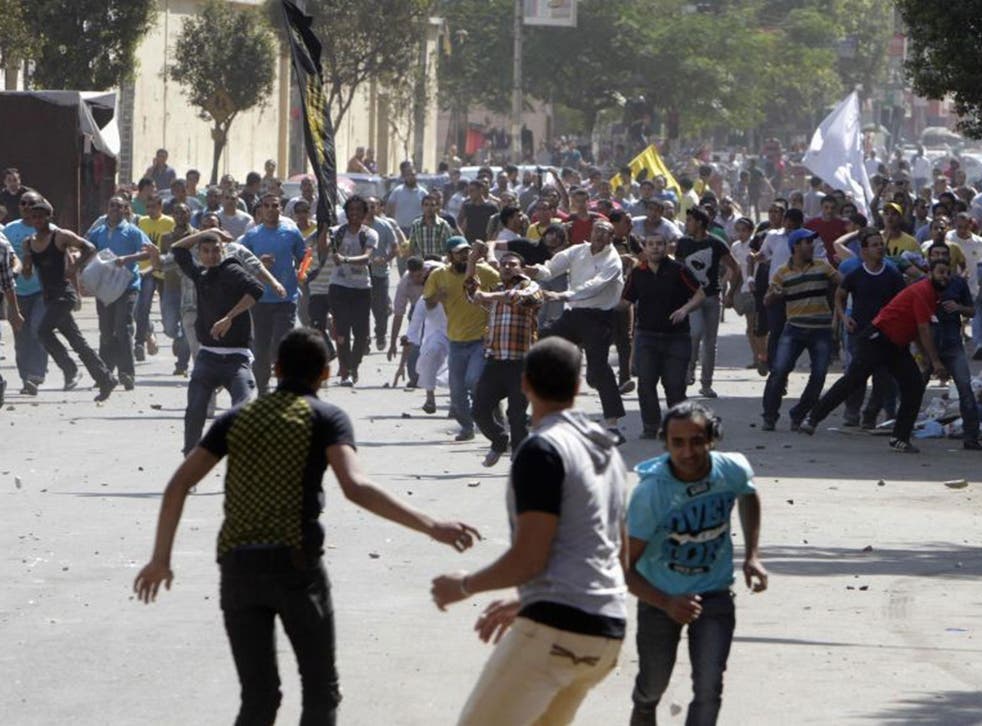 Egyptian security forces have clashed with protesters in Cairo's Tahrir Square, using tear gas, tanks and barbed wire to keep out Islamist supporters of the ousted president Mohamed Morsi.
The Muslim Brotherhood has called for escalating rallies to disrupt commemorative celebrations marking the anniversary on 6 October of the start of the 1973 Yom Kippur War with Israel,
Thousands of Islamist protestors made their way towards the square from several districts of the city, only to find the regular epicentre for public demonstrations closed off by an intimidating armed presence diverting away traffic.
The Morsi supporters encircled lines set up by riot police, and directed chants of "down with the murderer!" at General Abdel-Fatah el-Sissi, the man who led this summer's military coup.
As security forces fired volleys of tear gas to keep back the Tahrir Square rally, elsewhere in the city civilian groups from both side of the ideological divide clashed, with reports emerging of guns fired and rocks thrown.
A reporter for the Associated Press witnessed pro-Morsi protester being forced away by other Egyptians armed with sticks, bottles and stones.
Smaller rallies were held at a Defence Ministry building and the Rabaa el-Adawiyah mosque in eastern Cairo, where a protest camp was violently broken up on 14 August.
With people attending the Muslim Brotherhood-led demonstrations holding their hands up in the four-finger salute that has become a symbol for the ongoing unrest, it was clear that the protests came as part of a wider, increasingly violent campaign set to continue into the weekend.
Earlier in the day, at least two Egyptian soldiers were killed in an attack by suspected militants on an army convoy east of Cairo.
Register for free to continue reading
Registration is a free and easy way to support our truly independent journalism
By registering, you will also enjoy limited access to Premium articles, exclusive newsletters, commenting, and virtual events with our leading journalists
Already have an account? sign in
Join our new commenting forum
Join thought-provoking conversations, follow other Independent readers and see their replies