The condom conundrum: how to persuade Africa's prostitutes to practice safe sex
In the second part of his 3,000 mile odyssey through the heart of Africa's Aids epidemic, Jeremy Laurance discovers the elaborate strategies adopted to persuade sex workers to practise safe sex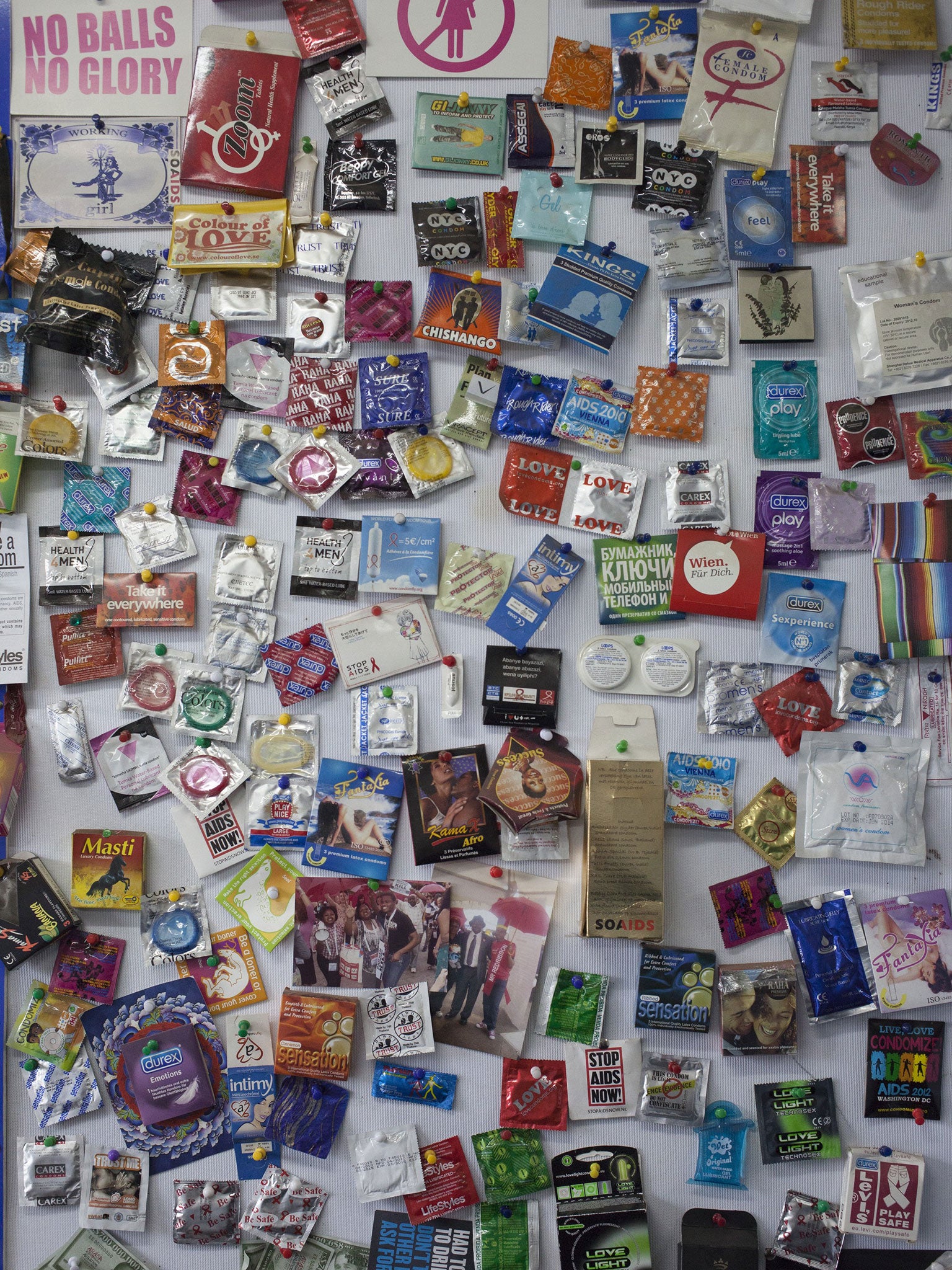 Day Two Nairobi, Kenya
Gloria Gakki should be in line to win $100,000 (£62,000). Her idea for improving the appeal of condoms meets the "grand challenge" launched by Bill Gates who earlier this year offered the prize to anyone who could devise a means of increasing their popularity. She is training sex workers to put condoms on with their mouths.
Read more:
The Ministry of Defence in Zambia could be a winner, too. It has designed a packet in camouflage colours and labelled it "Full Combat".
The problem with the condom has never been its effectiveness but its acceptability. Despite 30 years of research and the expenditure of billions of dollars, no one has come up with a better form of protection against HIV. But worldwide only 5 per cent of men use them.
It's like sucking a sweet with the paper on, its detractors say. You don't eat a banana without peeling it.
On the wall of Ms Gakki's office more than 100 different varieties are displayed – flavoured, ribbed, coloured – in their glittering packages. As prevention manager for the Sex Workers Outreach Project in Nairobi she hands out 1.5 million each year, more than any other organisation in Kenya. "If we didn't have condoms, Nairobi would be on fire," she said.
Condom use among sex workers in Nairobi has risen from near zero in the 1980s to approaching 100 per cent today. It has been achieved, she said, by "moving the focus from the professionals to the community that uses them".
But condoms have a fatal flaw – it is called trust. While their use in casual sex has hugely improved over the past 20 years, once couples are established they discard them. To continue implies mistrust.
In Livingstone, on Zambia's border with Zimbabwe and Botswana close to Victoria Falls, one in five of the population are infected with HIV. A border town with a mobile population, truck stops and cross-border traders smuggling fuel, alcohol and soft drinks it is a magnet for sex workers. Squatting in the dust with a group of a dozen sex workers, Abigail, 27, says she has three boyfriends. "They give you things. I don't use condoms with them. It is not possible."
In Johannesburg, a 2010 study found more than 90 per cent of sex workers said they used condoms with clients. But half said they dropped them with boyfriends and partners.
"They trust their boyfriends. That is what makes them vulnerable," said Maria Sibanyoni, the sex worker programme manager at the University of Witwatersrand.
In Kampala, Molly Businge, the chief nurse at the Kawaala Health Centre, crowded with hundreds of patients on a Monday morning, wiped the sweat from her forehead and flung her handkerchief onto her desk.
"If a man uses a condom, the women will ask him 'Are you sick?' If a woman uses one, he will ask her 'Are you having other men?' Most people have negative attitudes to condoms. There is very little use by couples," she said.
Even for those who want them, supplies are erratic. James Mamboleo, 36, a plumber, was lucky. He asked for a box while waiting for an HIV test at the Sokoni Centre in Nairobi and got it – contents: 144.
"How long will they last?" I asked, noting the alcohol on his breath. "Two weeks," interjected his friend, laughing.
"He is an African man," said Jane Thiomi, project leader at LVCT, a Kenyan HIV agency, smiling.
You do not see such largesse in Uganda, which has been plagued by shortages. Jennifer, a sex worker for 12 years in the Kisenyi slum in Kampala recalled the "condom crisis" a few years ago. "I used plastic bags. They were held in place with a rubber band," she said.
Last year, just 58 million condoms were delivered for free distribution in Uganda, barely a quarter of what was ordered. This year supplies have improved – but more than half of the 280 million ordered are still awaited.
Those most vulnerable – schoolgirls – are denied them. It is against the law to distribute condoms to under-18s. Vastha Kibirige, Uganda's condom czar, described passing a secondary school where a group of girls saw what she was carrying.
"'Can you give us some?' they shouted. I said 'No, I will be in jail.' They said: 'What do you want us to do – die?'" she said.
Even where condoms are acceptable they have a major drawback. They are controlled by men. Negotiating condom use is difficult for women – and often impossible.
The female condom was supposed to hand control to women. But it must be inserted 10 to 15 minutes before sex to "warm up" or it is noisy – a key weakness for sex workers. Some have left a single one in place while having sex with different clients – transforming a protective device into a potentially lethal one.
Many in government and charity organisations I spoke to complained they had wasted thousands of dollars on female condoms which they could not give away. Its defenders, on the other hand, claimed the problem lay not with the product but with the marketing. It hasn't had any. Male condoms are promoted on billboards, in bars and offices throughout Africa.
Regular users say the female condom improves pleasure for both partners, because the man moves inside it and the woman is stimulated by the external ring. In the Kenyan district of Makwene, 200km from Nairobi, men have begun asking for it after it was popularised by the District Aids Officer. "The message was sold right," said Jane Thiomi.
To overcome these problems researchers have sought alternatives. Tests with microbicidal gels inserted in the vagina to kill HIV have yielded mixed results. While one study found a 39 per cent reduction in HIV infection another, in which women were required to insert the gel daily, showed no effect. Women claimed to be using it in order to get the regular medical check-ups but instead threw it away.
Deborah Baron, the manager of the latest and biggest study at the University of Wiwatersrand called Facts, involving almost 3,000 women at nine sites across South Africa, said: "We know these products work biologically. We have got to find a way to help women use them. I know sunscreen works – but when I go on holiday I get burnt."
Researchers expected the women to use the gel secretly. In practice eight out of 10 told their partners. Some complained about the quantity they had to insert – 4mls – and said it leaked into their pants.
Dorcas, 28, a shop assistant from Daveyton in Johannesburg, with painted nails, a pink blouse, and gold earrings, who participated in an earlier study, said: "It was so uncomfortable. With lubricant you use a little but with this you had to put the whole thing. I was using it in the morning so when I had sex it had dried out. I was living with my boyfriend – it would have been impossible to keep secret."
Catherine, 28, a saleswoman, and Khesani, 26, mother of a 20-month-old boy, said they would prefer a daily pill to the gel, which would be easier to use secretly, even though it would mean taking a higher dose of the drug. "You can hide them in the house, take them to work and swallow them," said Catherine.
The greatest hopes now rest on the vaginal ring, a device made of soft silicone that slow-releases microbicide into the vagina and can be left in place for a month. It is being tested in 5,000 women in five countries across southern Africa (in two separate trials) and the results are due in 2015.
"You put it in and forget about it. Most women say they love it," said Krina Reddy, one of the trial co-ordinators. "The staff are excited. We do have faith this will work."
Dr Thesla Panalee, the international co-chair of the Microbicides Trials Network, said: "We have our fingers crossed. It has been a long time coming. We do need women-controlled methods against HIV."
Western jazz: Madam C's battle
In the battle against HIV, understanding the detail is critical.
In Uganda, Vastha Kibirige has held the position of condom czar for more than a decade. Madam C, as she is known, enjoys her job.
As she settled herself on the sofa at the Karibu Hotel in Entebbe she explained the difficulty the female condom poses for aficionados of "western jazz".
"It is the name we use for foreplay – when the man uses the tip of his penis to play with the woman's labia. But the labia is covered by the female condom – so it wasn't popular."
Only by attending to such human peccadilloes are lives saved – or lost.
The male condom remains the bedrock of the defence against the virus. But supply has been erratic.
"The moment we run out, people go back to BBC – body to body contact," Ms Kibirige said. "Once they get used to BBC they stick to that. If you want people to use condoms you have to keep the flow going."
Tomorrow: Children – a new approach to protecting the next generation - if the fathers agree.
Join our commenting forum
Join thought-provoking conversations, follow other Independent readers and see their replies