The environmental impact of our hunger for Valentine's roses
70 per cent of the roses sold in the UK market come from Kenya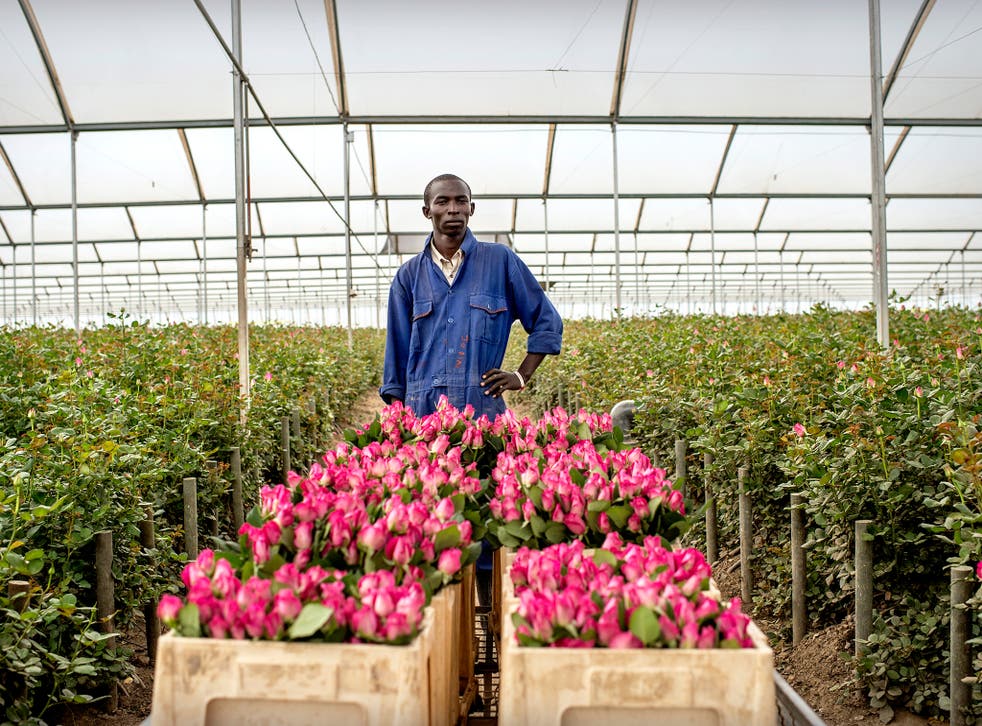 This time of year, the florists are flooded with red roses - long-stemmed, luscious and delicate, each one as perfect as the next. Roses are synonymous with love and passion, beloved by many, and even seen as quintessentially British.
Our very British roses, however, are not a product of a beautiful royal garden in Kent - or even a hothouse in Holland. We never stop to think about how we can enjoy such quantities in February, but of course it is because, along with many of our luxuries, they are imported, flown thousands of miles so that you can stay in the good books on Valentine's Day.
Some 70 per cent of the roses sold in the UK market come from Kenya. Roses are a cash crop vital to the economy and livelihood of many farmers and workers - especially women. But a single rose stem requires 10 litres of fresh water to reach its full size, so the industry is a huge drain on the country's scant water resources, an issue that causes tension and even violence in the country.
Peace blooms: Cattle, conflict and the roses of Lake Naivasha

Show all 5
This year, the charity International Alert is holding a Valentine's exhibition, "Peace blooms: Cattle, conflict and the roses of Lake Naivasha" to highlight some of the issues surrounding Kenya's rose trade. Visitors will be invited to explore the stories and concerns of both pastoralists and flower growers and leave their own comments about how the situation should be managed.
The exhibition marks the launch of Peace Audit: Kenya – the first in a series of International Alert's peace assessments, giving the public - and in turn governments and big business - the opportunity to immerse themselves in the lessons and cultural narratives of communities affected by conflict.
"For us in the UK, roses represent something beautiful and loving. We are encouraged - even expected - to buy them, but we take them for granted," says Dan Smith, the secretary general of International Alert. "We wanted to highlight some of the complexities behind it, so that people can think a bit more about where their daily comforts - even flowers - are coming from."
The main industry in the area around Lake Naivasha, about two hours west of Nairobi, is agriculture, and, along with tea and tourism, the flower industry is one of the three biggest sources of income. There are more than 60 flower farms in the lake basin, employing 50,000 workers.
There are many positives emerging from the flower industry too. Most of the employees are women, as they are seen as more hard-working. This affords women more financial independence and equality. The bigger farms now have creches, and give the women three months' maternity leave. But on other farms, the employees can be overworked and underpaid, as well as suffering health problems due to the harsh chemicals.
And with the influx of workers to the area, so too came problems. The population in the region swelled from 300,000 20 years ago to a projected one million in 2019. A shanty town has developed in the area, and those who cannot find work often turn to crime or prostitution. Illegal water use, pollution and deforestation are putting existing resources under even more pressure.
Conflict over water and other resources is common in Kenya. During the 2009 drought, flower farms built canals to irrigate the crops. Two children died falling into the canals, and Masai herder's cattle were injured. This led to fighting between local pastoralists and the farms, with three deaths.
Smith is quick to point out that International Alert is not calling for any kind of boycott on Kenyan roses: "That would be devastating for so many, and there are some producers of flowers who are very careful with water and ensuring workers are treated fairly."
International Alert hopes that in the future, the Kenyan government and farm owners will take steps to distribute natural resources more fairly, increase trust within communities and take steps to counter climate change. And, Smith points out, we as UK consumers have a part to play. "It can seem like a remote problem, but we are closely linked to this. We are using Kenya's water and need to take steps to do that responsibly."
'Peace blooms: Cattle, conflict and the roses of Lake Naivasha' is showing at the Hoxton Gallery, London, until Sunday.
Register for free to continue reading
Registration is a free and easy way to support our truly independent journalism
By registering, you will also enjoy limited access to Premium articles, exclusive newsletters, commenting, and virtual events with our leading journalists
Already have an account? sign in
Register for free to continue reading
Registration is a free and easy way to support our truly independent journalism
By registering, you will also enjoy limited access to Premium articles, exclusive newsletters, commenting, and virtual events with our leading journalists
Already have an account? sign in
Join our new commenting forum
Join thought-provoking conversations, follow other Independent readers and see their replies