The other Mugabe who is lining up for the Zimbabwean presidency
Chosen to lead the women's wing of the ruling Zanu-PF, the wife of President Robert Mugabe appears to have her sights set on succeeding the 90-year old
Farai Mutsaka
Sunday 31 August 2014 01:00 Comments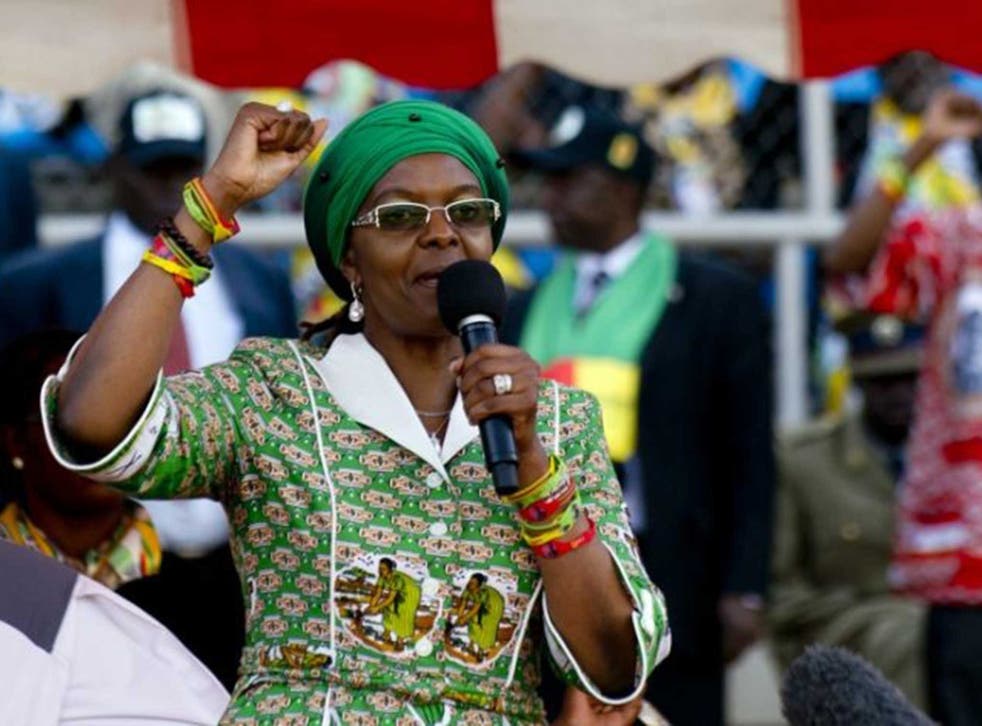 She has expensive tastes, owns a lot of land in Zimbabwe and is now entering politics, a move that is causing much controversy in the southern African nation that has known only one leader since independence in 1980: President Robert Mugabe, who is 90 years old.
But this newcomer is no innocent being cast into the wolves' lair: she is Mugabe's 49-year-old wife, Grace, who accepted a nomination last month to lead the ruling Zanu-PF party's women's wing, triggering accusations that Mugabe aims to set a political dynasty in place. Her nomination has already caused infighting in Zanu-PF, with some claiming they've been intimidated.
The Zanu-PF Women's League said it hoped Mrs Mugabe could advance women's issues and help heal "factionalism", because she has "the president's ear". But, like her husband, she has a knack for making fiery, hostile speeches.
Last month, during her acceptance speech for the Zanu-PF post, she all but threatened the deputy justice minister and parliament member Fortune Chasi who, she said, has frustrated her efforts to acquire more land and a conservancy near her farm, which is an animal sanctuary with gold deposits. Some villagers now live there and pan for gold.
"I might have a small fist but when it comes to fighting I will put stones inside to enlarge it, or even put on gloves to make it bigger. Do not doubt my capabilities," said Mrs Mugabe at the farm in the Mazowe area northwest of Harare.
Robert Mugabe, who has ruled for 34 years and won re-election in a disputed poll in July last year, has already accepted a proposal by the women's wing to be the party's candidate for the 2018 election, when he will be 94. Politicians have been jockeying to succeed him.
Once a secretary in Mugabe's office, Grace Mugabe entered the limelight after news broke that she had had a child with Mugabe while his first wife, Sally, lay bedridden.
Sally, a Ghanaian, died in 1992 from kidney failure. Robert Mugabe has since said that Sally knew about and approved of Grace, since they were childless and he wanted to have children.
After a Catholic wedding in 1996, Mrs Mugabe made headlines for alleged expensive shopping trips, a fiery temper, and the acquisition of huge tracts of land under her husband's controversial land-reform programme.
The couple have three children, and Mrs Mugabe has another son from an earlier marriage to a retired air force officer.
She joined Mugabe on the political campaign trail in 2008 after he lost the first round of voting to opposition leader and main rival Morgan Tsvangirai. Mugabe won the subsequent runoff. Last year, during the election campaign she attracted attention for comments such as her description of Tsvangirai as "ugly".
Now rival factions have begun openly attacking each other's credentials. Vice President Joice Mujuru and Justice Minister Emmerson Mnangagwa – both veterans of the country's 1970s liberation war – have been long-time front-runners to replace Mugabe.
A member of the Zanu-PF Youth League from Harare lodged a police report last week, alleging he had been assaulted by fellow party members for backing Mrs Mugabe.
On Monday, Mugabe's close nephew and Zanu-PF politician Patrick Zhuwawo claimed there was a plot to "push" Mrs Mugabe from Harare by disgruntled party members who want to "relegate the First Family to the Zvimba [Mugabe's home village]".
Other Youth League members also claim they are being targeted. Godfrey Gomwe told the state-run Herald newspaper that soon after a provincial youth committee, which he led, had endorsed Mrs Mugabe, his committee was slapped with a no-confidence vote.
Such "turf fights" were normal before party leadership congresses, and the "fuss" over Mrs Mugabe would not affect party cohesion, said Zanu-PF spokesman Rugare Gumbo.
"This phase will pass after the congress," he said, referring to December's congress, in which the president will have the final word on his wife's appointment as Secretary of the Women's League of Zanu-PF.
But Eldred Masunungure, a political science professor at the University of Zimbabwe, believes Mrs Mugabe lacks the experience to be head of the Zanu-PF women's league, much less for the presidency, if that ever becomes her aim. "Her entry into politics is part and parcel of her desire to protect her interests," said Professor Masunungure.
At a public debate at a Harare hotel on Thursday night, a Zanu-PF panellist, Goodson Nguni, defended Mrs Mugabe's entry into politics after several people accused her husband of creating a dynasty. "It is our right as Zanu-PF to choose President Mugabe to lead the country and the First Lady to lead the Women's League," Nguni said.
Human rights advocate Gabriel Shumba complained that the ruling party seems more concerned with succession than fixing the economy. Zimbabwe has severe economic problems. The government has cut economic growth forecasts for 2014 by half, to three per cent, while the World Bank predicts economic growth of only two per cent.
Hundreds of companies have closed in the past year. Tens of thousands of Zimbabwean families have fled economic hardships in recent years, settling mainly in former colonial power Britain and neighbouring South Africa.
But there is one family that appears set to stay for the foreseeable future: that of Mr and Mrs Mugabe.
AP
Register for free to continue reading
Registration is a free and easy way to support our truly independent journalism
By registering, you will also enjoy limited access to Premium articles, exclusive newsletters, commenting, and virtual events with our leading journalists
Already have an account? sign in
Join our new commenting forum
Join thought-provoking conversations, follow other Independent readers and see their replies