The pirate who fell into a movie trap: Kingpin Mohamed 'Big Mouth' Abdi Hassan arrested in Belgium after being tricked into thinking he was going to appear in a documentary
The ringleader had been lured to Europe over promises to work as an expert adviser on a documentary about high-seas crime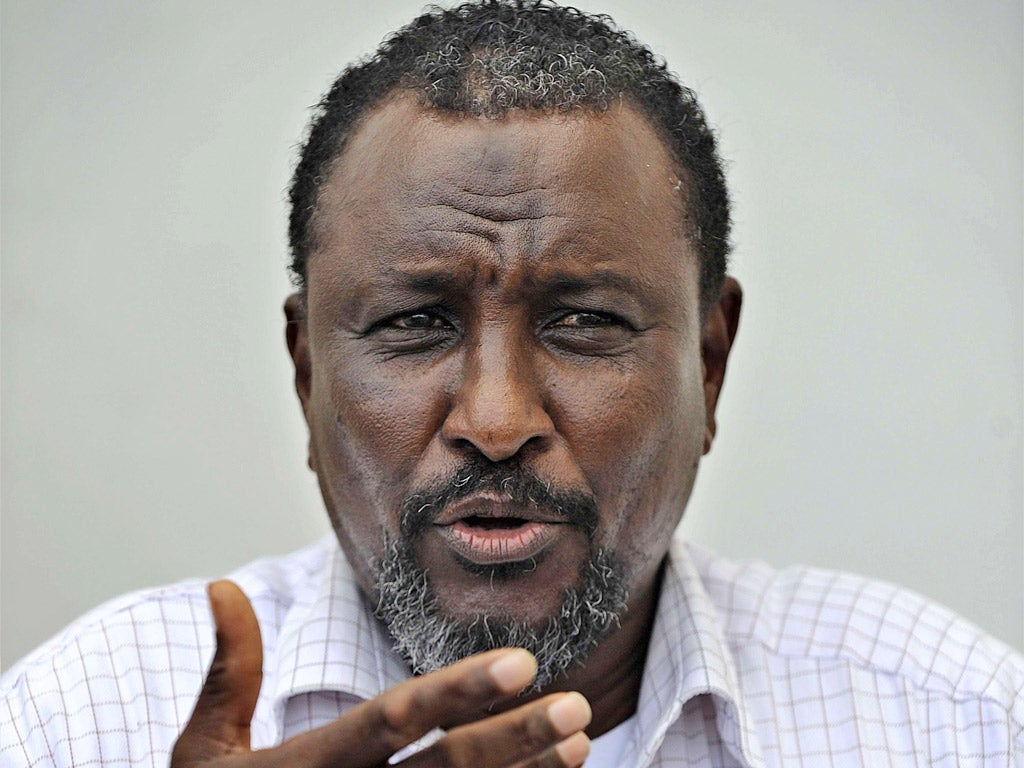 During a decade spent terrorising the high seas, Mohamed Abdi Hassan is alleged to have hijacked, kidnapped and ransomed with impunity, with the mere mention of the Somali pirate widely known by his nickname "Big Mouth" inspiring fear among seafarers. But in the end, it appears it was not his big mouth which caused Hassan's downfall: it was his big head.
When he touched down in Brussels airport on Saturday with an alleged accomplice named Tiiceey, Hassan thought he would be whisked off to meet documentary film producers keen to draw on his swashbuckling experiences for a project based on his life.
But it was all a ruse: prosecutors seeking justice for the hijacking of a Belgian dredger in 2009 had set the whole scenario up.
Fearing that an international arrest warrant for the hijacking and kidnapping of The Pompeii's nine crew would be ignored by the Somali government, Belgian authorities decided to try a different approach.
Undercover agents contacted Tiiceey in the guise of film-makers and asked him to put them in touch with Hassan. After months of persuasion, Big Mouth – "Afweyne" in Somali – was won over with the promise of a starring role as chief adviser.
"After patiently starting a relationship of trust with Tiiceey, and through him with Afweyne, which took several months, both were prepared to participate in this project," federal prosecutor Johan Delmulle said.
As soon as the pair disembarked from their flight from Kenya, they were arrested and sent to Bruges, where they will face charges of kidnapping and membership of a criminal organisation. "Too often, these people remain beyond reach while they let others do the dirty work," Mr Delmulle said. "(He's) one of the most important and infamous kingpin pirate leaders, responsible for the hijacking of dozens of commercial vessels from 2008 to 2013."
It seems unlikely that money lured Hassan, who is in his 50s, into the hands of Belgian police. A United Nations report in 2010 said that he commanded dozens of bandits in the Arabian Sea and operated for almost a decade. Rory Lamrock, an analyst specialising in maritime security with risk management firm AKE, said successful hijacks could net its perpetrators between $5m (£3.1m) and $13.5m. And Big Mouth was the alleged mastermind behind many such attacks.
"He had a reputation as a feared character… there is no question he made a substantial amount of money during the heyday of Somali piracy," Mr Lamrock told The Independent. "A lot of the masterminds behind the Somali piracy attacks I would consider as opportunists, and him travelling all the way to Belgium is telling of that side of his personality."
The irony is that Hassan now claimed to be on the side of the good guys, after announcing his retirement from international piracy this year. At a press conference dressed in a black suit and thick-rimmed spectacles, he Hassan looked more like a businessman announcing he was stepping down from the firm's board than a feared criminal.
He called piracy "a dirty business" and said he would start working with disadvantaged Somali youths to try and dissuade them from following in his footsteps. "I have given up piracy and succeeded in encouraging more youths to give up piracy," Mr Hassan told Reuters. "This came as a result of my efforts for a long period. The boys also took the decision like me. It was not due to fear from warships, it was just a decision."
Security analysts were not convinced. "I don't think anyone took that particularly seriously," says Mr Lamrock. "I think he probably retired mainly because Somali piracy turned from being a very lucrative criminal investment model to a really inefficient criminal business model."
Hassan is reported to have entered the piracy business in the early 1990s, when the civil war gripping Somalia left his fishing company in ruins. Early on in his career he is believed to have taken an active role in the raids, later organising the financing and logistics. And he created a family business: his son also went into piracy, and now styles himself as an international mediator on the issue.
But business, says Mr Lamrock, is no longer good for illicit seafarers. Attacks on commercial vessels and the occasional tourist boat in the Arabian Sea and Indian Ocean peaked around 2010. Pirate assaults in the busy shipping lanes earned the criminal gangs around $160m, at a cost to the global economy of around €7bn. Crews were held for months, even years, in dire conditions as the pirates negotiated with shipping companies for massive ransoms.
In the last few years, shipping companies have fought back, installing surveillance on vessels and employing armed guards on ships. The European Union, Nato and national governments, meanwhile, have been working together to patrol the waters and try and bring pirates to justice.
Prosecuting pirates, however, raises a whole separate set of issues. A vessel at the centre of a hijacking could be in international or territorial waters. The crew could consist of many different nationalities, serving on a vessel registered in one country but carrying the cargo of another, leading to questions over who will be bringing the charges. Arresting, holding and trying pirates proves such a headache that some nations simply let them go.
Apprehending Hassan had the added complexity of alleged obstruction by the Somali government. The UN monitoring group had accused the previous Somali president of protecting Hassan, even suggesting the government gave him a diplomatic passport. Tiiceey is a former governor of the Somali region of Himan and Heeb, Mr Delmulle said.
So Belgium's innovative approach to the conundrum has impressed many. "We welcome the news that Belgian authorities found a clever way to arrest a pirate kingpin," a Nato official said. "It has never been easy to bring these criminals to justice."
Join our commenting forum
Join thought-provoking conversations, follow other Independent readers and see their replies