Tomb of ancient Egyptian queen uncovered by archaeologists
30 utensils made of limestone and copper were also found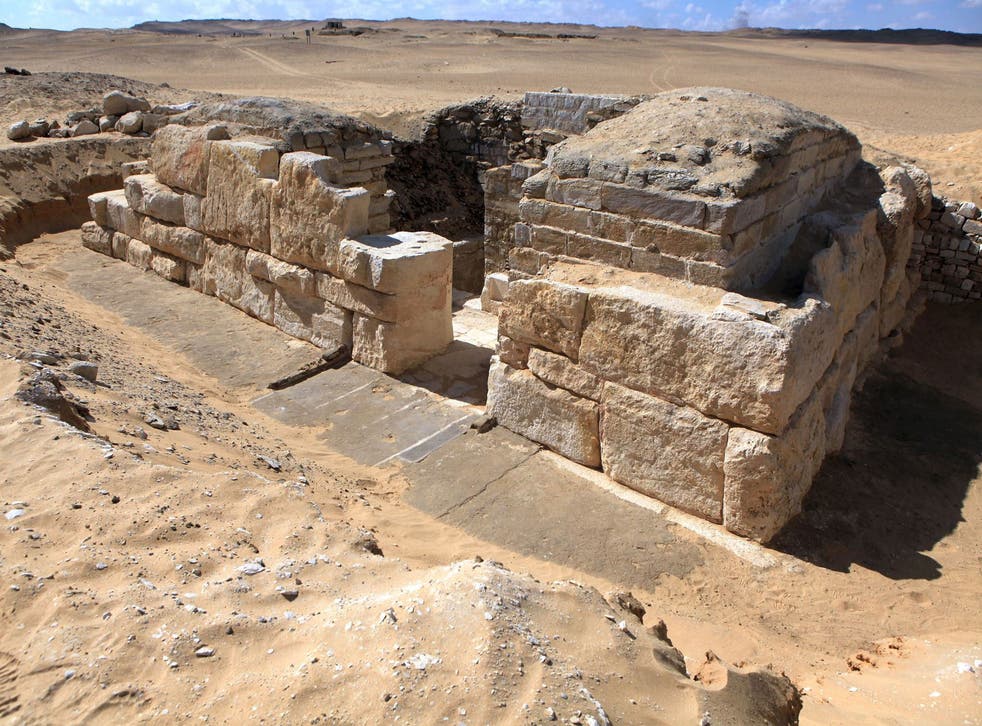 Archaeologists in Egypt have unearthed a tomb and artefacts linked to a previously unknown queen, officials have said.
Found south-west of Cairo in Abusir, the tomb is believed to belong to the wife or mother of Pharaoh Neferefre, who ruled briefly during the 5th Dynasty of the Old Kingdom 4,500 years ago. His short reign is believed to be the reason why his pyramid – today known as "the unfinished pyramid" – was never completed.
Egyptian Antiquities Minister Mamdouh el-Damaty said in a statement that the queen's name, Khentakawess or Khentkaus, was inscribed on a wall in the necropolis and added that this would make her Khentakawess III.
Miroslav Barta, head of the Czech Institute of Egyptology mission which made the discovery, told the EFE news agency that the location of the queen's tomb made them believe that she was the wife of the pharaoh.
The Czech archaeologists also found around 30 utensils made of limestone and copper.
Mr el-Damaty explained that the discovery would "help shed light on certain unknown aspects of the Fifth Dynasty, which along with the Fourth Dynasty, witnessed the construction of the first pyramids".
Register for free to continue reading
Registration is a free and easy way to support our truly independent journalism
By registering, you will also enjoy limited access to Premium articles, exclusive newsletters, commenting, and virtual events with our leading journalists
Already have an account? sign in
Register for free to continue reading
Registration is a free and easy way to support our truly independent journalism
By registering, you will also enjoy limited access to Premium articles, exclusive newsletters, commenting, and virtual events with our leading journalists
Already have an account? sign in
Join our new commenting forum
Join thought-provoking conversations, follow other Independent readers and see their replies