Tunisia attack: Isis-affiliated group sent tweet threatening Western tourists with massacre
'If you insist on coming then beware because we are planning for you something that will make you forget the Bardo attack,' it said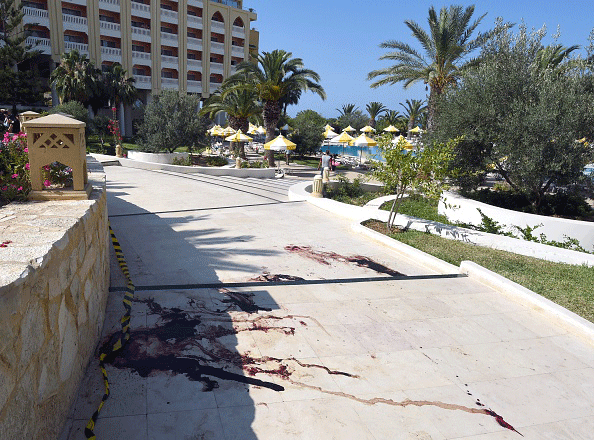 A Tunisian terrorist group affiliated with Isis threatened Western tourists planning to holiday in the country months before Friday's beach massacre, it has emerged.
Ajnad al-Khilafa, which emerged earlier this year as the so-called Islamic State's influence continued to grow in the region, claimed extremists were "planning something" to outstrip the Bardo museum shooting.
"To the Christians planning their summer vacations in Tunisia, we cant accept u in our land while your jets keep killing our Muslim Brothers in Iraq & Sham (Greater Syria)," a tweet read.
"But if u insist on coming then beware because we are planning for u something that will make you forget #Bardoattack (all sic)."
Britain and France are part of the international coalition targeting Isis in Iraq and Syria and have been repeatedly named in Isis propaganda urging followers to launch attacks around the world.
The threat came after two militants gunned down 22 people at the famous Bardo National Museum in March.
Isis claimed responsibility for the attack aimed at Western tourists and claimed it was only the "first drop of the rain".
Tunisian authorities originally attributed it to the Okba Ibn Nafaa Brigade, a splinter group of the previously dominant al-Qaeda in the Islamic Maghreb.
But one of the country's top security officials claimed today that the gunmen in the Bardo attack and hotel massacre trained at the same Libyan terror camp.
Rafik Chelli said Seifeddine Rezgui, 23, was coached at the same time as Yassine Labidi and Saber Khachnaoui near the western Libyan town of Sabratha in January.
That would suggest they were part of the same group and possibly the same cell, along with an unknown number of extremists preparing for attacks on Tunisia.
Ajnad al-Khilafa is reportedly based in the holy city of Kairouan, where Rezgui was studying at university.
King's College's International Centre for the Study of Radicalisation (ICSR) reported last month it was one of the groups spawned as Isis was attempting to increase its power in Tunisia by establishing a new subsidiary called Wilayat Ifriqiya, using a medieval name for the region.
ICSR said the now-suspended Ajnad al-Khilafah bi-Ifriqiya (Soldiers of the Caliphate in Ifriqiya) Twitter account was set up in April, announcing Isis claims on insurgent attacks on Tunisian soldiers later that month and at the start of May.
The name has been associated with established group Ansar al-Sharia, which had been affiliated to al-Qaeda but has reportedly seen waves of defections to Isis following the group's rise to prominence last year.
A man who knew Rezgui at university claimed he trained in Libya with Ansar al-Sharia.
Wassim Bel-a-Del told Sky News that he was an Isis "sleeper" agent and that the group co-ordinated his attack on Friday.
In pictures: Tunisia hotel attack
Show all 32
Ansar al-Sharia in Tunisia is led by Saifullah ben Hassine, who reportedly became a disciple of deported Jordanian cleric Abu Qatada after moving to London in the 1990s.
Isis, which is fighting rival militants, governments and a US-led international coalition on numerous fronts in Iraq and Syria, has also claimed responsibility for the assassination of two secular Tunisian politicians in 2013 and urged Tunisians to travel to Libya for terror training.
In the aftermath of the Bardo attack, its supporters on Twitter hijacked the #IWillComeToTunisiaThisSummer hashtag supporting of the country's threatened tourism industry to post pictures posing with bullets and weapons to threaten Western tourists.
Rezgui was shot dead by police on Friday after shooting 38 mostly British tourists dead as he stalked the Imperial Marhaba hotel targeting Western holidaymakers.
He reportedly told Tunisian staff to get out the way as he took aim during a rampage lasting nearly half an hour.
Join our commenting forum
Join thought-provoking conversations, follow other Independent readers and see their replies