Tunisia hotel attack: Locals form 'human shield' to protect hotel from gunman Seifeddine Rezgui
Survivors say locals formed a human shield forcing the shooter away from another hotel, and that they 'saved many lives' with their actions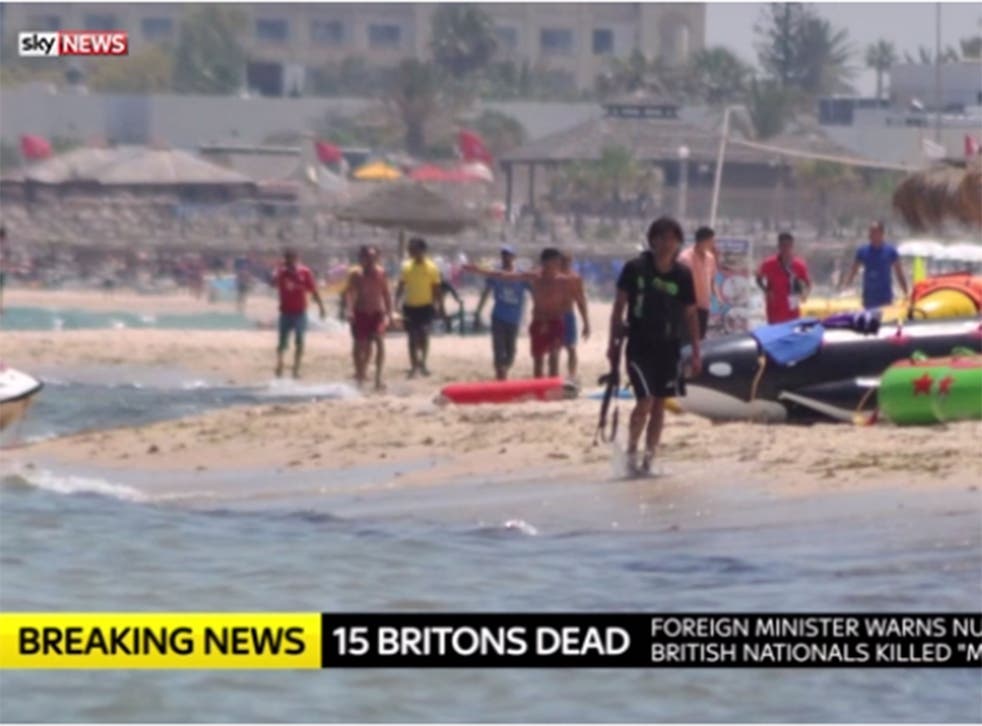 British survivors of the Tunisia beach massacre have praised the actions of locals who formed a human shield to protect tourists and "saved many lives".
Images obtained by Sky News showed gunman Seifeddine Rezgui shortly after he began shooting, walking through the surf at Sousse with a Kalashnikov rifle at his side.
Some have been critical of the men shown standing on the beach behind the gunman, described as "horrified onlookers" by the Mail Online, with one commentator saying: "I count nine men standing or walking behind him why didn't they all attack him?"
But John Yeoman, who was on holiday with his wife at a neighbouring resort when the shooting began, tweeted: "Those in the background formed a human shield to protect another hotel they are not watching they saved many lives."
When they flew into Manchester to be repatriated, Mr Yeoman's wife met another holidaymaker who had been on the beach during the shootings.
This man told her that he and his girlfriend were on the beach on Friday when the attack started. A hotel chef came running towards them, telling them to run for their lives.
"He was the one who told them that the line of people they could see ahead of them were staff from the hotel," Mrs Yeoman said.
"He said to this couple that they were telling the gunman 'you'll have to get past us and we're Muslims'. Obviously I don't know the exact words but that was pretty much what they were saying.
"They'd actually made a human barricade – 'you're not going to get past us, you'll have to kill us.'"
She said when she then saw the picture in media reports, it seemed obvious that the photographer had captured the moment described by the other holidaymaker.
Mrs Yeoman said the extreme bravery of the staff "makes you have a little more faith in humanity" and disproves any suggestion that Muslims are all violent extremists.
"Everyone seems to think 'it's the Muslims, it's the Muslims', but it is not, it is not their way," she said. "There are no words to express how grateful we are to them [the staff]."
Another Briton, Ian Symes, wrote to Mr Yeoman: "I'm with you - was on beach at Palm marina - whilst we were running to hide, hotel staff were running out to help, very brave."
The attack on Sousse is being seen as part of a very deliberate attempt to destroy Tunisia's tourist industry, the biggest revenue earners and the biggest source of employment, in the country.
Rezgui, who proclaimed his support for the Isis militant group in video and image postings before the attack, was extraordinarily careful in his choice of victims, picking out obvious foreigners.
Speaking to Reuters, a waiter identified as Wadia said: "I was on the beach when he started shooting. We got everyone back towards the hotel, but he followed us. He targeted the foreigners but not the Tunisians.
"When he saw a Tunisian he shouted out 'Get out of the way' and shot at foreigners."
Join our new commenting forum
Join thought-provoking conversations, follow other Independent readers and see their replies