Turkish mayor sued over giant 'Transformer' robot statue
The mayor has asked people to respect the robot
Roisin O'Connor
Saturday 11 April 2015 23:26 Comments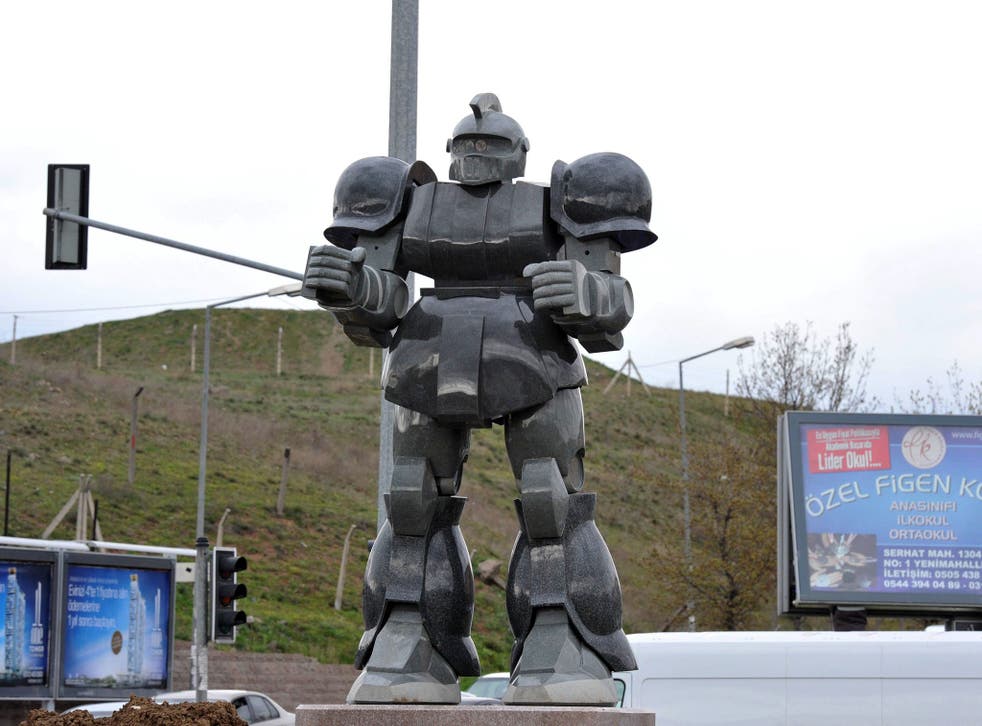 A Turkish mayor is being sued for using public money to build a 6-metre statue of a robot in the capital of Ankara.
Turkey's Chamber of Architects and Engineers (TMMOB) filed a criminal complaint against Mayor Melih Gökçek over his controversial decision to erect a giant statue of a robot, local media reported.
At first it was believed that the statue was an April Fool's joke, but bemusement quickly turned to anger when it was revealed how it had been paid for.
The statue, which resembles a Transformer but cannot be named as such due to copyright issues, was erected at a crossroads to promote the city's new themepark, which has been described as a "prestige project" by the mayor.
It is just a few kilometres away from President Recep Tayyip Erdoğan's new palace.
A total of 20 robots will be included at the new theme park when completed, according to broadcaster CNNTürk.
The robot at the centre of the row has been described by TMMOB representatives as a "monstrosity" who have attacked the perceived waste of taxpayers money.
Gökçek himself has defended the decision. After a row broke out following reports he said: "Respect the robot."
Register for free to continue reading
Registration is a free and easy way to support our truly independent journalism
By registering, you will also enjoy limited access to Premium articles, exclusive newsletters, commenting, and virtual events with our leading journalists
Already have an account? sign in
Join our new commenting forum
Join thought-provoking conversations, follow other Independent readers and see their replies