Ugandan activist detained for calling president 'a pair of buttocks'
Stella Nyanzi, who campaigns on issues such as gay rights, is a divisive figure in a country where homosexual acts are illegal 
Chloe Farand
Thursday 13 April 2017 14:10 Comments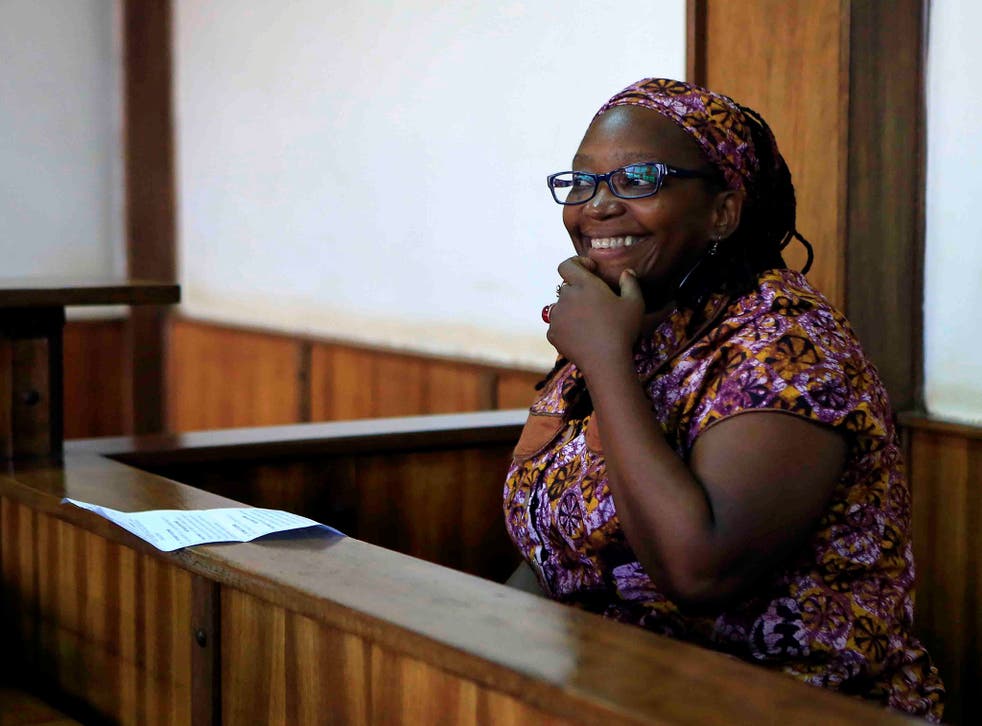 Human rights groups have strongly condemned the detention of a prominent feminist, who was arrested after calling the Ugandan President "a pair of buttocks".
Stella Nyanzi, a controversial academic and activist, was charged with "cyber harassment" after comparing Yoweri Museveni to buttocks and calling his wife Janet Museveni "empty brained" in two different Facebook posts.
Her campaigns on issues such as demanding sanitary pads for schoolgirls and gay rights have made her a divisive figure in a country where homosexual acts are illegal.
She has repeatedly criticised President Museveni, who has been in power for more than three decades, and the First Lady. Critics say the 72-year-old president has failed to tackle corruption, human rights abuses and dysfunction in public services.
Ms Nyanzi social media comments intensified after the Minister of Education said the government could not fulfil a campaign promise to provide sanitary pads for schoolgirls because of economic reasons.
The activist then launched her own fundraising campaign #PadsForUganda following the announcement.
Ms Nyanzi pleaded not guilty to allegations her Facebook posts, described as "obscene or indecent", breached the Computer Misuse Act.
She was banned from travelling abroad last month and Makerere University, where she works as a researcher, has began procedures to fire her, Reuters reports.
Ms Nyanzi was denied bail and she is being held in a maximum security prison until she is due to appear court on April 25.
Prosecutors also demanded a psychiatric examination to assess her state of mind but her lawyers say they will oppose the test, which is usually reserved for people accused of crimes such as rape. They say this is an attempt to "delegitimise a legitimate form of expression, and send her away to a mental health hospital".
Human rights groups have also hit back at the detention of the activist saying the charges are an attack on freedom of expression.
Campaigners took to social media using the hashtag #FreeStellaNyanzi to demand her release.
Amnesty International in East Africa called Ms Nyanzi's detention "a travesty" and a violation of the country's constitution.
Muthoni Wanyeki, Amnesty International's regional director for East Africa, said: "The state should stop wasting resources on pointless and politically-motivated prosecutions, immediately drop all charges against her and release her unconditionally."
World news in pictures

Show all 50
In a statement, the African Centre for Media Excellence (ACME) in Kampala also "condemned the move by the state to criminalise recent expression by Dr Stella Nyanzi".
It read: "In any case, the harassment that she has been accused of engaging in via the computer would perhaps have made sense if the target of her speech were some powerless citizen and not the most powerful person in the land."
Dr Peter Mwesige, the centre's executive director, said he recognised Ms Nyanzi's use of "colourful language could offend sections of the population" but he called on the authorities "to take a broader view of protected speech".
Maria Burnett, associate director of the Africa division of Human Rights Watch, told the Guardian: "What's most troubling here is that she has lost her liberty when all government officials should expect to face criticism in their roles as leaders."
She also said that her arrest by plainclothes officers late on Friday night was an attempt to "intimidate and terrify" her supporters, who are "largely drawn from Uganda's human rights, women's and LGBTI movements".
Ms Nyanzi, a mother of three, describes herself as a "medical anthropologist", who specialises in sexuality studies in Africa.
On her Twitter account, she calls herself "A queer laughist, writer and critique from the non-core academia" and on Facebook as "a die-hard Facebooker who loudly speaks my mind based on my banal experiences of life".
Register for free to continue reading
Registration is a free and easy way to support our truly independent journalism
By registering, you will also enjoy limited access to Premium articles, exclusive newsletters, commenting, and virtual events with our leading journalists
Already have an account? sign in
Join our new commenting forum
Join thought-provoking conversations, follow other Independent readers and see their replies