Uganda election: Challenger Kizza Besigye gaining support - and livestock gifts - from rural population
With eight candidates battling it out for the presidency, the election campaign has triggered a revival of interest among voters who have defied claimed intimidation tactics
Catrina Stewart
Masindi
Tuesday 16 February 2016 18:53 Comments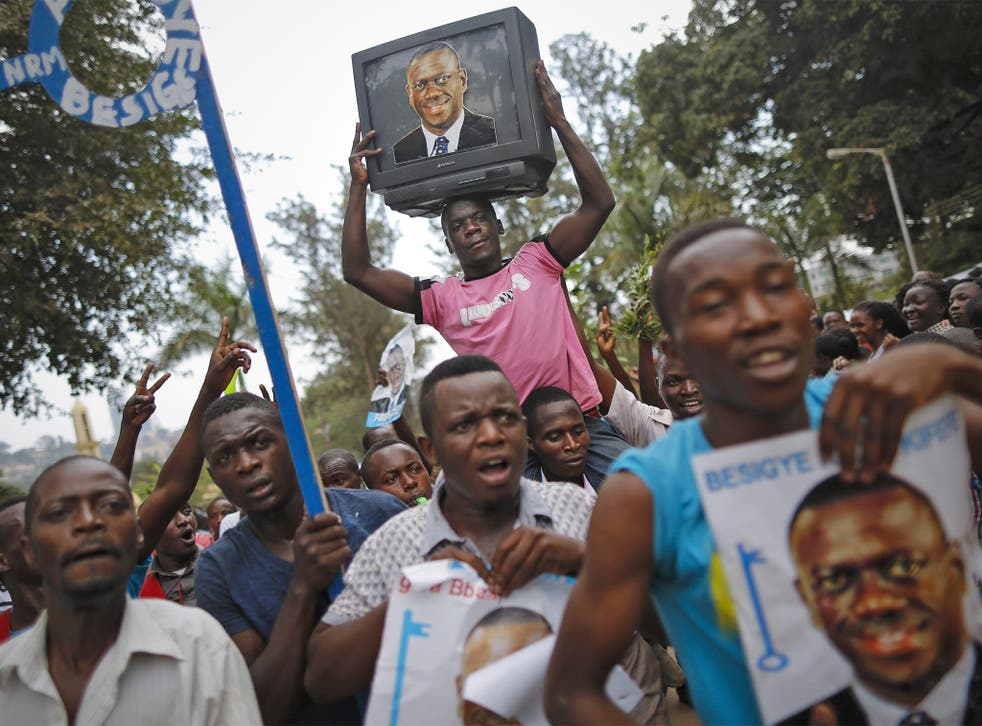 Kizza Besigye, vying for the presidency in Uganda's forthcoming elections, was midway through a party speech last summer when the public address system went silent.
Had it occurred in his presidential campaign, some might have suspected a plot to silence one of President Yoweri Museveni's most vociferous critics. The real reason was more mundane: the generator powering up the loudspeakers had run out of fuel.
Mr Besigye's supporters clubbed together for the cash needed to get the generator going again, setting the tone for a campaign that has been remarkable for the willingness of his supporters to shower their candidate with money and livestock – a reversal of the traditional wisdom that the candidate with the deepest pockets wins.
With eight candidates battling it out for the presidency, including Mr Museveni, now 30 years in power, Uganda's election campaign has triggered a revival of interest among voters, defying the claimed intimidation tactics.
Mr Museveni, who lifted presidential term limits more than a decade ago, is widely expected to win elections on Thursday, but fissures in his rule are beginning to show. It is Mr Besigye – who has been tear-gassed, shot with rubber bullets, beaten by police and arrested on numerous occasions – who appears to be winning the sympathy vote.
The loser in each of the three elections he has contested, Mr Besigye, a charismatic politician who was Mr Museveni's personal doctor during the guerrilla war that brought the President to power, has every time alleged ballot-rigging and intimidation.
Violent clashes stir tensions ahead of Uganda elections
In rural areas, where most Ugandans either live below or hover just above the poverty line, Mr Besigye's supporters have traipsed miles to his rallies, and pushed through the crowds to present him with a little cash or give him goats, chickens, turkeys or rabbits.
At a rally, Simon Amodoi, a struggling farmer, squeezed past supporters to hand the presidential candidate a sheep. "I gave the sheep to say 'thank you' for the suffering he had endured while standing up for us ordinary people," he told a local newspaper.
It is a reversal of what critics describe as the creeping commercialisation of elections, with candidates buying votes, particularly in poor rural areas, for as little as 2,000 Ugandan shillings (£0.40), a kilo of salt or a bar of soap. Mr Museveni, in particular, woos people to rallies with free T-shirts and other handouts.
Lavish pre-election spending contributed to rapid inflation after the 2011 elections, galvanising support for Mr Besigye's "walk to work" demonstrations, a campaign of civil disobedience that was met with lethal force from the government. The opposition candidate has capitalised on the phenomenon, citing his swelling number of farm animals as a sign that voters want Mr Museveni to go. "I've never seen poor Ugandans give money to aspiring candidates, but I think this is a sign that enough is enough," he said recently. "In Mbarara, I was given five cows and 14 goats and in Kasese, I received 12 goats."
While some of the goats may have ended up in the pot, it was not before they were daubed in party colours or dressed in coloured coats, prompting one regional official from the ruling party to ban the presenting of goats at rallies because "it violates the rights of animals".
Mr Museveni's message, that only he can keep peace in the country once ravaged by the murderous regimes of Milton Obote and Idi Amin, resonates most with the older population. In an effort to widen his youth appeal, he recorded a rap track last summer, singing the lyrics himself, that Uganda's Daily Monitor described as "more of a rendition of a nursery rhyme than an original composition". Meanwhile, he was so tickled by the song "Tubonga Naawe" ("We Stand with You"), released at the outset of his campaign, that he rewarded the entertainment industry with a 400 million shilling (£79,600) donation – although it never became a hit.
Register for free to continue reading
Registration is a free and easy way to support our truly independent journalism
By registering, you will also enjoy limited access to Premium articles, exclusive newsletters, commenting, and virtual events with our leading journalists
Already have an account? sign in
Join our new commenting forum
Join thought-provoking conversations, follow other Independent readers and see their replies