Waves for Change: How surf therapy is helping South Africa's most deprived children
Many of the children growing up amid disorder and violence in some of Cape Town's most deprived areas can't even swim. So what's one Brit expat doing taking them into the surf? Lena Corner reports
Lena Corner
Friday 21 August 2015 20:48 Comments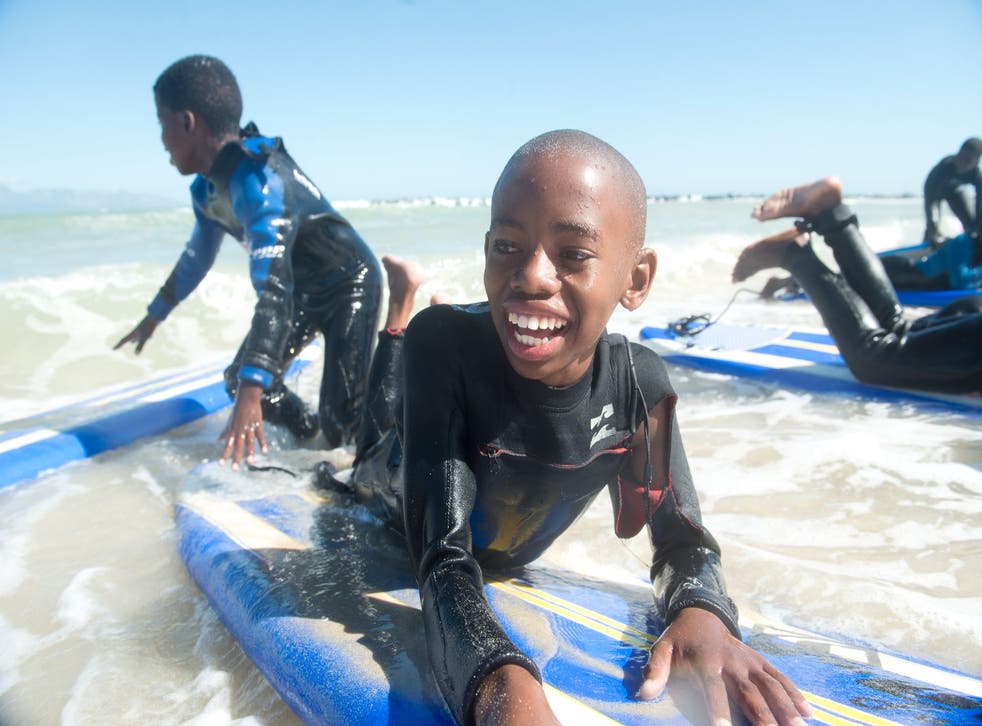 When Tim Conibear signed up for an internship at a South African vineyard shortly after graduating from Bristol University, he quickly realised he wouldn't be learning much about the wine trade beyond how to scrub the floor. So the young Englishman decided to make the most of another of South Africa's famous virtues – the surf. Every spare moment, he would grab his board and head for Muizenberg, a wide suburban beach on the western side of False Bay in Cape Town, considered by many to be the birthplace of surfing in South Africa.
Occasionally, a couple of kids from the local townships would tag along – sons and daughters of the labourers who were doing the hard graft alongside him at the vineyard. "I'd stick the kids in the back of a crappy old car I'd borrowed and drive them out to the beach," says Conibear. "Muizenberg may be one of the most [racially] integrated beaches in South Africa, but children from the townships don't get to go."
One of those kids was Sean, who was around 14 at the time. He was born in Nyanga, one of the oldest, poorest and most violent townships in Cape Town. Chaos had dominated his short life. After his dad walked out, Sean's elder brother left school and turned to crime to help feed the family. One day, as they sat watching TV together, a group of gunmen entered their shack and shot and killed Sean's brother at point-blank range.
Sean struggled to come to terms with his brother's murder. He started dabbling in "tik" – South Africa's low-grade crystal meth. He quickly became addicted and was eventually kicked out of school. "When I met Sean, it all felt so helpless," says Conibear. "There was nothing for him. In surfing, he found a space to breathe. In me, he found a supporter."
Each weekend, more kids just like Sean would turn up at Conibear's door. Unwittingly, he seemed to have reached into the depths of the most dysfunctional parts of South Africa and given the kids there something to cling to. This merry band of surfers soon outgrew the borrowed car, and Conibear persuaded a vehicle-hire company to donate an old van which was about to be scrapped. He cut off its roof so even more kids could squeeze inside. "They kept coming," says Conibear. "More and more kids would turn up each weekend. There was nothing like this for them in the townships. Nothing."
Sometimes he felt a little out of his depth. After all, these kids clearly needed more than just a lesson in how to ride a wave. The statistics for under-18s in South Africa's townships say it all: 45 per cent of them have witnessed a killing; 56 per cent have been a victim of violence and most display signs of post-traumatic stress.
"As time progressed, so our relationships changed," Conibear says. "The barriers that stood in the way of these young South Africans growing up in townships became apparent. My role as a friend altered. I was called into various situations for which I was in no way prepared, operating in an environment that was entirely foreign and at times highly uncomfortable."
Realising the impact of what he was doing, in 2011 Conibear set up Waves for Change, an organisation which uses surfing and surf therapy as a way of reaching out to these damaged children and ending the cycle of violence. He cobbled together about £5,000 in sponsorship money (Vimto soft drinks was one of his early supporters) and started speaking to professionals – doctors and psychologists, who advised him on devising a programme to work with the children.
He recruited a couple of locals, Apish, 22, and Bongani, 19, both township kids, and trained them to be surf coaches and lifeguards When Conibear first met them, neither even knew how to swim; they became the first two surf coaches from a South African township ever. Within its first year, Waves for Change had been shortlisted in the Best New Project category by the Beyond London 2012 Awards, set up post-Olympics to continue the Games' ethos and legacy.
"Apish and Bongani essentially became guardians and mentors. They were father figures to all these kids who had grown up without dads, or were hooked on drugs, or who'd lost parents to HIV. They were looking after them. It had moved far beyond surf coaching."
Conibear himself first learnt to surf in the gentler climes of Harlyn Bay surf school near Padstow, while studying social sciences at Bristol University. The school's founder, Chris Rea, was involved in pioneering surf therapy with autistic children, with which Conibear got involved.
"We used to take kids who were on the spectrum out into the surf," says Conibear. "The whole thing centred on your relationship with the child. If you took your time and nurtured that relationship, it worked. If you didn't, it wouldn't. It's called the Wave Project and is now funded by the NHS and running all across the UK."
Conibear found that in South Africa, the kids were similarly instinctively drawn to the surf. "It had a natural appeal. A lot of them couldn't even swim, so they loved the element of danger.These are kids who weren't being reached by football or cricket or anything like that. They were a very difficult bunch of kids to reach."
Many of the Waves for Change methods are based on cognitive behavioural therapy techniques. "There are lots of little lessons in surfing that relate to coping mechanisms in real life," says Conibear. "For example, when a kid goes through a traumatic event, they lose trust in people. We focus first on reconnecting kids to each other – so they teach each other to float and to swim, which is a very healing process. And then we help reconnect them to adults and build coping strategies so they can regulate their behaviour in tricky real-life situations."
There are now 16 surf coaches at Waves for Change, all drawn from the local townships, working with around 250 girls and boys a week. Earlier this year, Comic Relief came on board. The two shipping containers which stand proudly on Muizenberg beach, and another two across the bay on Monwabisi beach – which play host to the Waves for Change surf schools – are testament to how far they have come. Conibear is now in talks about taking his project global.
Meanwhile, Apish runs his own surf school at Muizenberg, sponsored by Reef, the wetsuit company; Bongani won a scholarship to the University of Western Cape, where he is studying business management; and Sean is back at night school at the age of 21.
"I saw Sean recently for the first time in a while," says Conibear, now 33. "He had a scrapbook full of faded pictures from surfing magazines and certificates he'd won. He used to say the closest he came to the high from tik was the feeling of dropping into a wave – standing tall, strong and proud, the power of the ocean driving him forward. He spoke of a freedom unlike any other, a total escape from the moment.
"We created something kids want to come to. It's exciting. And it's really working."
For more: waves-for-change.org
Register for free to continue reading
Registration is a free and easy way to support our truly independent journalism
By registering, you will also enjoy limited access to Premium articles, exclusive newsletters, commenting, and virtual events with our leading journalists
Already have an account? sign in
Join our new commenting forum
Join thought-provoking conversations, follow other Independent readers and see their replies