West faces nervous wait as Uhuru Kenyatta edges closer to victory
Local media agree to avoid speculation in bid to avoid repeat of 2007 post-election violence
Daniel Howden
Saturday 09 March 2013 01:00 Comments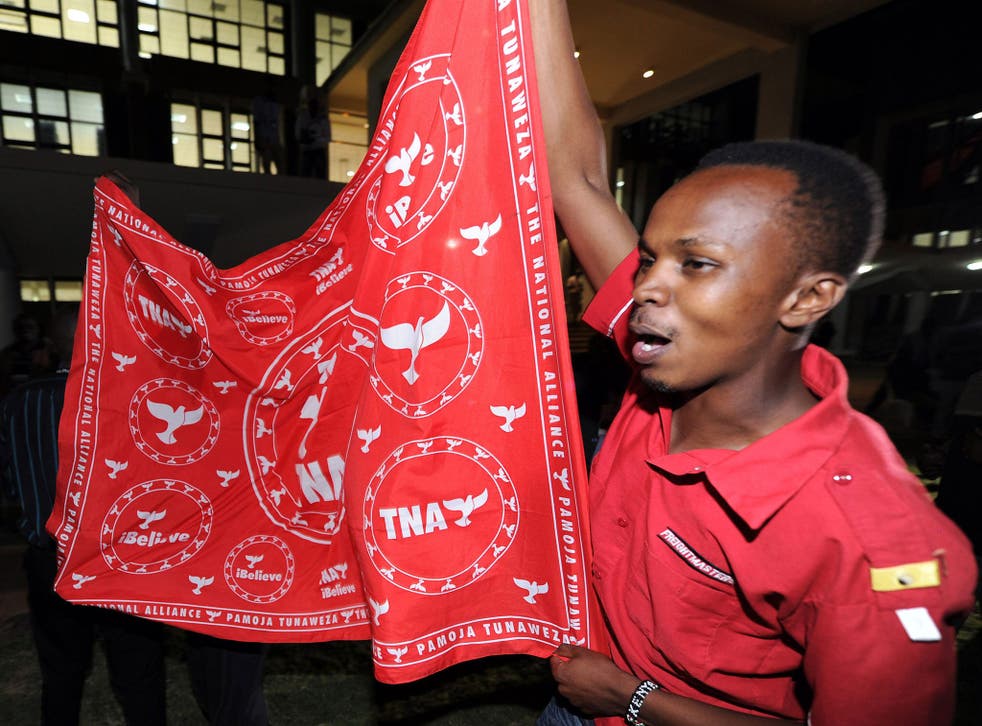 Kenya will find out this morning whether it has elected a man indicted of crimes against humanity, as Uhuru Kenyatta led the presidential election with more than 90 per cent of the vote counted.
Mr Kenyatta, who is due to stand trial at the International Criminal Court in July, was leading his nearest rival, Prime Minister Raila Odinga, by 50-43 per cent. The son of Kenya's first post-independence president needed 50 per cent plus one vote to secure a first round win.
For much of the day his share of the vote bobbed above and below the half-way threshold raising the possibility of a run-off against Mr Odinga which would be held next month pending any legal challenges.
With final results expected, Kenya's election authority, the IEBC, delayed confirmation of the first round win while disputed results from 11 constituencies were audited by rival political parties. It has been a fractious five days in a country still haunted by the post-election violence of the last poll and delayed results have drained credibility from the process.
On election day the expensively procured biometric voter identification kits failed in many polling stations due to power shortages; then an electronic results transmission system meant to safeguard against fraud also broke down.
Mr Odinga, a political veteran whose father clashed with Mr Kenyatta's in the wake of independence, had been due to speak last night but cancelled after being informed that results would be held over until the morning. The 68 year old's Cord coalition has already denounced the count as "doctored" and claimed that more than 250,000 of its votes have gone missing. A first round win for Mr Kenyatta would create a dilemma for Western governments due to his indictment by the ICC. The former deputy prime minister is accused of financing and commanding criminal gangs who took part in the ethnic clashes in 2007-2008 that killed at least 1,300 people. Britain has said it will not have any "non-essential" contact with a Kenyatta presidency, or his running mate, William Ruto, who is also indicted. Mr Ruto's case will begin at The Hague in May.
Remarkably, the country's most dramatic week in the last five years has not translated into drama in the local media. Even last night as the results marathon staggered on and activists heckled tongue-tied officials, local media hosted no speculation on the final outcome.
The ceasefire was part of a "gentleman's agreement" by the Kenyan media owners' association to try and avoid inciting a repeat of the violence that haunted the country five years ago. The result has often been hard to watch. Almost all of Kenya's television networks have switched to 24-hour coverage but confined themselves to relaying the results from the electoral authority and avoided making any projections – as is commonplace in most election coverage.
When the running mate of second-placed Mr Odinga called a press conference on Thursday to complain that results were being "doctored" no networks relayed it live. In place of news there have been recorded peace messages or reporters listing actual results one constituency at a time.
At the last election the media houses, many of which are owned by or linked to leading politicians, had acted as cheerleaders for rival candidates. Some were blamed for inciting the violence at the last outing.
When protests and fighting broke out after the incumbent, Mwai Kibaki, was accused of stealing the vote, members of ethnic groups were sacked from newspapers and TV stations owned by members of rival communities.
There have been complaints from some quarters that the Kenyan media has too far in the opposite direction.
"The self censorship has gone too far," said political analyst Ken Opalo who complained that the public was being denied sensible analysis or interrogation of partial results.
Others like Tom Rhodes from the watchdog, the Committee to Protect Journalists were concerned.
"While it is commendable that the Kenyan media is taking precautions this time around to ensure not to incite any violence through sensational reporting, many local journalists that I have spoken to express their frustrations over their editors who cull their stories in the name of maintaining peace," he said.
Register for free to continue reading
Registration is a free and easy way to support our truly independent journalism
By registering, you will also enjoy limited access to Premium articles, exclusive newsletters, commenting, and virtual events with our leading journalists
Already have an account? sign in
Join our new commenting forum
Join thought-provoking conversations, follow other Independent readers and see their replies