Winnie Mandela funeral: 30 years on, murdered schoolboy remains at heart of battle for her legacy
State funeral for 'Mother of the Nation' Mandela will see South Africa come together to sing her praises. But difficult questions about Winnie's past refuse to go away
Paul Martin
Saturday 14 April 2018 10:45 Comments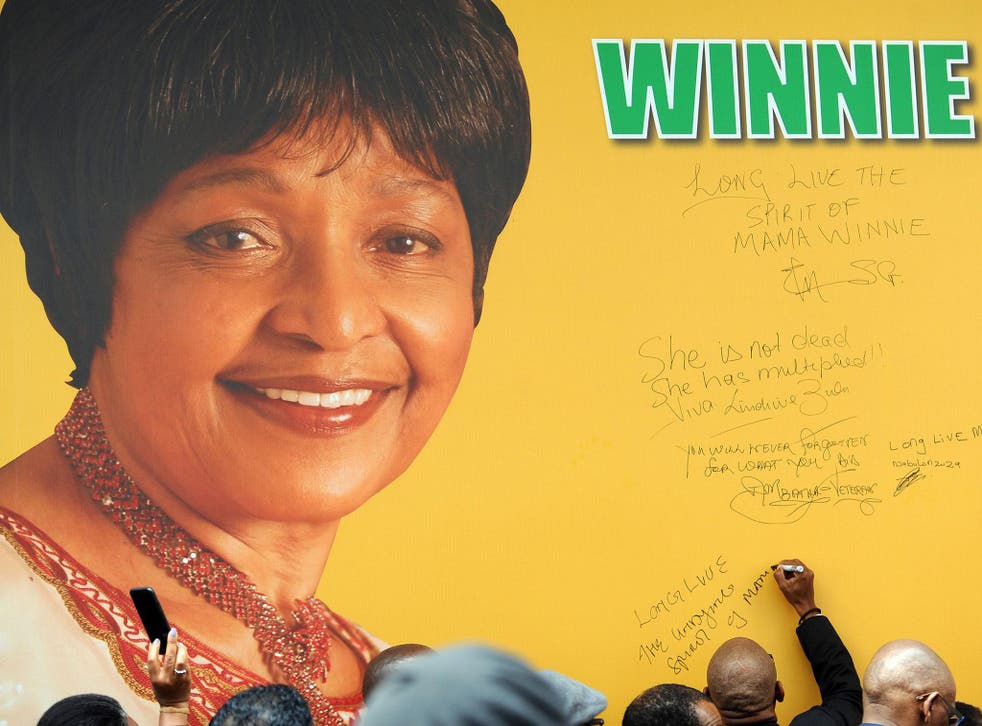 Stompie Seipei was 14 when he was dumped, lifeless, on wasteground near Winnie Madikizela-Mandela's home, after being abused and tortured.
Despite Madikizela-Mandela's conviction in 1991 for kidnapping the boy and for her involvement in his assault, Stompie's mother will be a special guest of the African National Congress at Mandela's funeral today.
"Winnie asked me to forgive her and I have forgiven her," said Joyce Seipei, speaking to The Independent at her home in a black township. "I don't know who killed my son; once I had forgiven all who were said to be involved, I felt free."
She added: "I asked God to help me find a way to forgive – because otherwise, this thing is going to consume me. Then an amazing sign came from God."
She recounted that, at the Johannesburg hearing of the Truth and Reconciliation Commission in 1997, she had gone to the toilet to find her three-year-old daughter Martha, who had wandered off to wash her hands.
The next thing, coming out of the toilet, she saw Madikizela-Mandela and her daughter Zindzi were holding her hands.
"The first thing Winnie said to me was: 'This child looks exactly like Stompie. May God forgive me.'
"Right then I decided I had to forgive Mama Winnie. Because only God knows who did it."
There may be a more prosaic explanation for Ms Seipei's refusal to blame Madikizela-Mandela for her son's murder. She also revealed that, poverty-stricken and deeply distressed by the murder, she was offered financial support for her children's schooling.
"She asked us how we were surviving at home," said Ms Seipei. "I was a poor domestic worker at the time. She gave me money to buy some things for the house and, as it was towards Christmas time, some new clothes for the children.
"Several times since then, Winnie gave me money to help support my children. I am a diabetic so cannot work."
The life of Winnie Mandela – in pictures

Show all 8
The ANC bought all the furniture in her house, including the black-and-white couch on which ANC officials have been keen to sit with her and be filmed live on national television.
Since she announced her intention to go to the funeral, Ms Seipei has been whisked off to visit Madikizela-Mandela's dilapidated home, to which she had been banished by the apartheid regime for 10 years. Then on Wednesday, accompanied by the ANC Women's League leader, she visited the mansion in Soweto known locally as "Winnie's palace" and signed a book of condolences.
Originally it had been suggested that "the Mother of the Nation" and her gang of so-called Mandela United Football Team members killed Stompie because he was an apartheid spy.
But this week the ANC's secretary general, Ace Magashule, said on SAC television that Stompie, as a young militant, had been given shelter in Soweto at the underground resistance's behest. It was, he said, to protect him from the apartheid police. "In our struggle, many innocent people died," he said.
Some commentators have interpreted this statement as truthful, but politically timed as an effort to rehabilitate Stompie's reputation in return for his mother's refusal to condemn Madikizela-Mandela.
Supporters of the former wife of Nelson Mandela are using Ms Seipei's presence as proof that Madikizela-Mandela did not kill Stompie, and therefore that all accusations against her of involvement in 15 other deaths in the late 1980s must also have been untrue.
In the febrile atmosphere of the coming funeral, Madikizela-Mandela, lionised as the greatest "Icon of The Struggle" against apartheid, is being displayed as more-sinned-against-than-sinning model of the battle to produce a radical alternative to apartheid.
It is all part of an elaborate political charade that has followed her death, aged 81, played out by rival and contending parts of the ANC. The party has ruled South Africa since the first fully democratic election in 1994 swept it to power under Nelson Mandela, but is riven by bitter rivalry that has been exacerbated by the demise of President Jacob Zuma and the succession battles.
Many on the left of the ANC, and in the hardline opposition, are claiming that Madikizela-Mandela represents them in their battle to destroy a political system hijacked by a greedy black elite in cahoots with white capitalists.
"Anyone who accuses Mama Winnie of any crime is guilty of treason," declared Julius Malema, an MP and former ANC youth leader who founded the militant Economic Freedom Fighters. Despite ANC qualms, the firebrand is due to speak at the funeral tomorrow.
During a memorial service for Madikizela-Mandela at a football stadium in Johannesburg on Wednesday, ANC executive member Jessie Duarte warned critics of the former politician: "Sit down and shut up. This is our hero. This is our heroine. She gave everything to us."
Further support for her reputation has come from a seemingly unlikely source: a former security branch policeman for 16 years until he resigned in 1993, whose job was to provide disinformation about Madikizela-Mandela and other radicals to the local and world press.
"My job was to discredit her," said Paul Erasmus, now 62. This week he claimed on Radio 702 and in a television interview that "90 per cent" of what he disseminated to the media was "the product of my fertile imagination or an escalation of what I received from our intelligence-gatherers at the Soweto (security police) branch".
This "confession", though made initially a decade or more ago, has been seized on by Madikizela-Mandela's supporters to show that the police, not she, may have been behind some or all of the murders blamed on her.
The evidence of this former policeman is somewhat compromised by his having become a very close friend of the woman on whom he was spying, though he ridicules suggestions he had a sexual relationship with her.
Madikizela-Mandela literally and figuratively embraced him and his family, providing financial support and even giving him a wedding ring intended for his daughter.
There is no doubt that a unit was established inside the apartheid police called the Stratcom, to besmirch the reputations of ANC leaders considered by the ruling National party white government as too radical to negotiate with.
World news in pictures

Show all 50
But it was only set up in 1990, well after the spate of killings in Soweto in which the Mandela United Football Club played a prominent part. 16 witnesses, including parents of the dead boys or young men, told Archbishop Desmond Tutu's Truth and reconciliation Commission apparently convincing accounts of Mandela's personal role in their children's deaths.
The mother of one victim, Lolo Sono, pleaded: "Winnie, just give us our son's body back or tell us where it is now. Then we can bury him with dignity." She declined to provide any information.
Lolo's father said he twice pleaded directly with her, in the back of a van, not to kill his son, who he was told was a traitor and spy. She would not relent. Lolo's body, along with another victim, was found a couple of years ago in a pauper's grave. Their bodies had been found by police but were left unidentified.
However, Madikizela-Mandela did eventually admit that "things went horribly wrong" in regard to Stompie, and, even more tellingly, in the case of the killing of a popular local doctor. During the last climactic day of the hearings, Winnie Mandela was begged by Archbishop Tutu to "enhance your greatness" by admitting errors.
By saying she apologised to the family of Dr Abdel-Kader Asvat, Madikizela-Mandela was in effect confessing to ordering a pre-planned killing. Two men carrying a revolver, which they said she provided, entered his surgery, went into his room and shot him dead, then ran away in front of shocked patients. Both confessed to his murder.
Was she the "Mother of the Nation" or the "Mugger of the Nation"? Dead and buried though she will be, the ghosts of killings past will, it seems, continue to haunt her.
Register for free to continue reading
Registration is a free and easy way to support our truly independent journalism
By registering, you will also enjoy limited access to Premium articles, exclusive newsletters, commenting, and virtual events with our leading journalists
Already have an account? sign in
Join our new commenting forum
Join thought-provoking conversations, follow other Independent readers and see their replies