World Food Programme responds as refugees from Ethiopia's Tigray region seek sanctuary in Sudan
2020 Nobel Peace Prize laureate calls for funds – and peace – to avert a deepening humanitarian crisis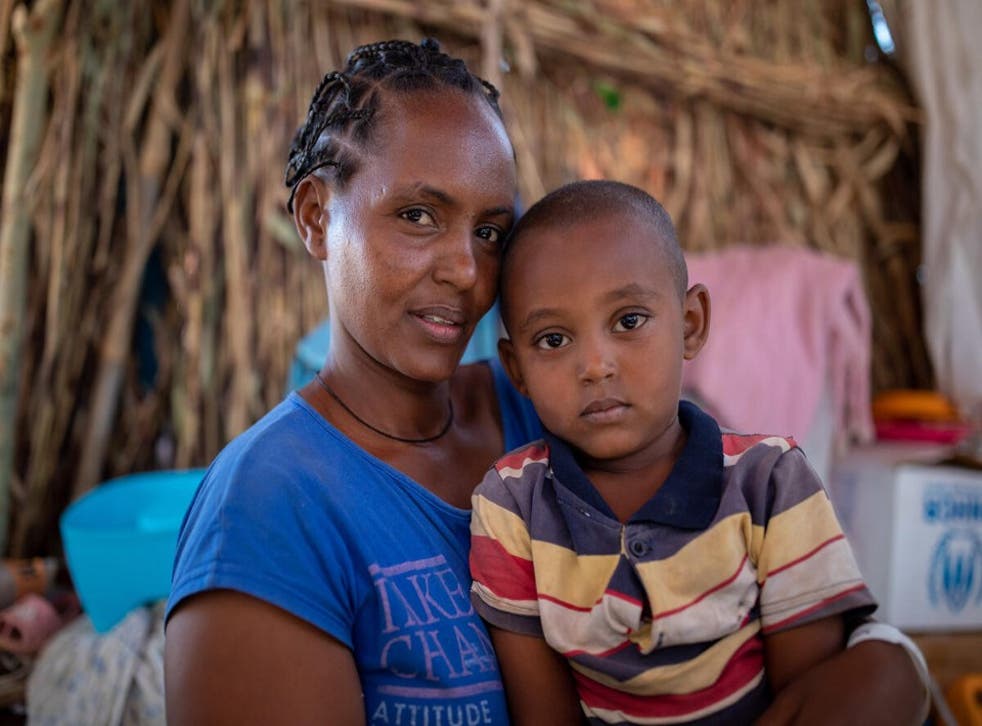 As conflict continues in the Tigray region of Ethiopia, thousands of people are at risk of hunger and peace is critical to stop the situation deteriorating, says Michael Dunford, the World Food Programme's regional director for eastern Africa.
Dunford has just returned to WFP's regional base in Nairobi after a visit to Sudan where the organisation – which on Thursday received the 2020 Nobel Peace Prize in Rome – is scaling up to feed new refugees.
"Harvests need to come in now – this is a critical time for farmers in Ethiopia," says Dunford, who toured the Sudan border where Tigrayans are entering from Ethiopia seeking refuge from fighting. "If people in Tigray region miss their harvest, they will not have the resources to sustain themselves for the next year."
Since 4 November, thousands of people are feared killed by the conflict in northwest Ethiopia. Some 100,000 people have fled their homes in Tigray, including over 48,000 who fled westwards and crossed the border into eastern Sudan, often with little more than the clothes that they fled in.
Thousands are at risk of hunger, and peace is vital to stop the situation in Tigray from worsening.
In Sudan, WFP has a shortfall of $153 million (£115m) over the next six months to meet the food needs of the most vulnerable across the country, including $14.8m for the new refugees, $3.8m to increase the number of flights by the WFP-managed UN Humanitarian Air Service, and $750,000 for road repairs so assistance can reach remote refugee camps that are growing.
As well as erecting portable warehouses, WFP is moving essential supplies such as tents, pots, pans, and anything else that is needed including emergency telecommunications staff to support the response by WFP and partners to the now slowing influx of refugees from Ethiopia to eastern Sudan.
The Ethiopian government has agreed with the UN to guarantee humanitarian access to areas closed since early November, when the conflict in Tigray started. UN assessment missions including WFP are under way both to check access to affected areas and to estimate the scale of humanitarian needs.
"Our biggest fear is that this conflict spreads and becomes a regional issue," Dunford says. "It's vital that peace takes hold now in Ethiopia otherwise humanitarian needs will increase radically."
He stresses the need for peace to stop hunger increasing so WFP can resume providing support to vulnerable people in Tigray – as it did before the conflict. That means regaining access to 50,000 Eritrean refugees who received WFP food assistance in Shire in Tigray; 42,000 women and children in nutrition programmes and 200,000 people supported by smallholder farmer insurance schemes.
Dunford recently visited Um Rakuba camp in Sudan's Gedaref state where WFP has just completed a distribution of food at the camp to more than 11,500 refugees.
"Fifty per cent of the population in Rakuba are women and children," he says. "There's also a very high proportion of young men in the camp. They say that they're escaping Tigray because of fears that either they could be conscripted in Ethiopia or alternatively targeted because of their profiles.
"We have the supply chain in place. We have the warehousing in place. We have our partner in place. And we're now extending our support to other agencies to help them mobilise.
"What's important now is that UN agencies come together under the leadership of the UN High Commissioner for Refugees to address issues regarding water, sanitation, shelter and protection.
"WFP is rolling out activities in conjunction with UNICEF to protect the nutrition status of women and children nutrition because we are concerned about the vulnerability of the refugees. Any incidents of disease or outbreaks of illness could deteriorate very quickly in these circumstances."
Dunford says that a lot depends on how quickly the fighting inside Ethiopia ceases so that assistance can be provided and how soon people are able to resume their livelihoods, so they support themselves.
Praising the Sudanese authorities for their support for the refugees, he stresses how WFP and the United Nations in general must be completely impartial in any conflict, including the one in Ethiopia. "We do not take sides in a conflict," he says. "What we are focusing on is meeting humanitarian needs, irrespective of where the people come from".
Find out more about the World Food Programme here
Join our new commenting forum
Join thought-provoking conversations, follow other Independent readers and see their replies