Young children detained and tortured after protests in Egypt
Activists speak out over 'unprecedented level of institutional abuse of children'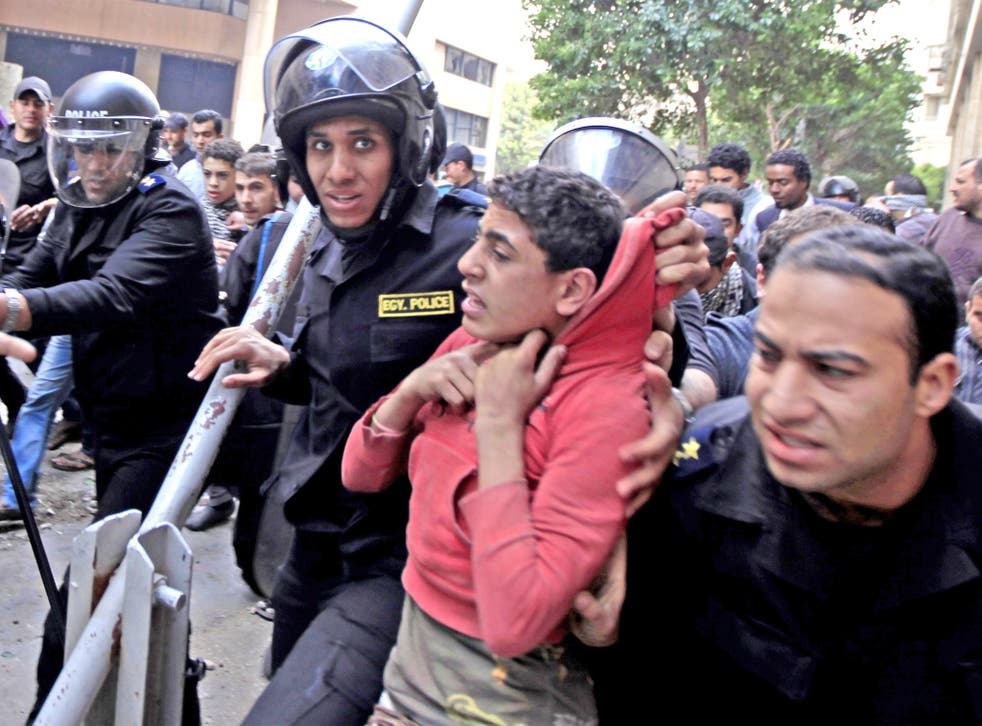 Hundreds of children – some as young as nine – have been illegally detained and in many cases tortured by the Egyptian police following the protests which erupted after the second anniversary of the 2011 uprising.
In what lawyers and activists say is a retrenchment of state brutality akin to the worst abuses of power during Hosni Mubarak's regime, large numbers of children have been unlawfully imprisoned in camps used by Egypt's central security forces.
Rights groups say that many of those detained have been subjected to cruel mistreatment, including beatings, electrocution and "hanging" torture. Others were forced by their tormentors to strip naked before being drenched with cold water.
One lawyer said he believed that up to 400 children, many of them barely teenagers, may have been rounded up during police operations following the outbreak of street clashes on 25 January, the anniversary of Egypt's rebellion two years ago.
Some of those arrested were taken to the notorious Gabal Ahmar camp in eastern Cairo – a compound whose name is bleakly familiar to many Egyptians for its association with the detention and abuse of political detainees during the rule of Hosni Mubarak.
Other camps, such as El-Salam beyond the fringes of the capital, were also used. Such detentions are illegal under Egyptian law.
"This is a new trend," said Karim Ennarah from the Egyptian Initiative for Personal Rights, a Cairo-based NGO. "This level of institutional abuse of children is unprecedented."
Mahmoud Bilal, a lawyer who has been working on cases involving detained children, said that many of those jailed were systematically tortured by their police captors.
He said some were electrocuted, often using Tazer-style devices, while others were subjected to excruciating "hanging techniques" – a favoured method of the Mubarak-era security services, whereby detainees have their hands bound before being trussed up by their arms to the cell wall.
"Almost all the children I know of who were arrested after 25 January have been tortured," said Mr Bilal. He added that in one camp the detainees were forced to drink a foul "soup" consisting of salt dissolved in water.
An activist who spent more than a week in detention earlier this month told The Independent how he shared a cell block with 47 children who had been arrested by the police.
"All of them had injuries on their bodies," said Mohamed el-Maligi, a 26-year-old who was arrested following a demonstration outside a Cairo courtroom last month.
He added that just before he was released, one of the children, a 14-year-old called Ramadan, had come to him sporting a bulging black eye after being beaten by the police.
"He was worried that after I left the beatings would get worse," he said. "He looked at me and said, 'after you leave, we will be finished'."
Many of those arrested claim to have been caught up in random detention swoops, despite being nowhere near the scene of any street clashes.
Mr el-Maligi said that one of the children he was detained with, a 13-year-old, was a street seller who said he was arrested in Cairo's Ramses Square, far away from any of the rioting.
"The police never arrest people during the clashes because it's too dangerous," he said. "They arrest people when they are walking in the streets.
"They are doing it because they don't want people to think they have been beaten."
Over the past year the profile of anti-government demonstrators has morphed considerably, with many of the protesters seen goading riot police during street clashes barely beyond the age of primary school.
"A lot of the younger youth have been empowered by this revolution," said Ragia Omran, a lawyer who has been documenting cases of child detention. "They feel they want to have a role and so are also wanting to participate."
But coupled with the issue of Egypt's street children – the hundreds of thousands of school age youngsters plying a hand-to-mouth living in the cities every day – the resulting police crackdown, often involving swoops on innocent children, has helped swell the population of detained minors.
There are also political factors at play. The unlawful processing of child detainees has highlighted the considerable turmoil inside many of the country's key state institutions.
Critics have accused Talaat Ibrahim Abdullah, the general prosecutor appointed by presidential decree in November, of spearheading a drive to circumvent due legal process in his pursuit of the Muslim Brotherhood's political opponents.
Prosecutors staged a rally outside the Cairo high court in December to protest against the perceived politicisation of Egypt's legal system, temporarily forcing Mr Abdullah's resignation.
"The office of general prosecutor has become very politicised," said Karim Ennarah. "It was clear from day one that Talaat Abdullah was a tool of government."
A victims story
According to his father, 12 year-old Omar Salah Omran was selling sweet potatoes from a cart close to Cairo's Tahrir Square on 3 February when a policeman approached him. Witnesses said the officer asked the boy to serve him, a brief altercation ensued, and he shot the boy in the chest.
Security officials who brought Omar's body to a nearby hospital reportedly told medical staff not to register his death, despite requests from doctor for an investigation to take place. Omar's father, who is illiterate, was not given a forensic report, and was reportedly told to waive his right to redress, accepting the incident had been "unintentional".
A picture of Omar's body has since gone viral online, and his case has sparked protests that have called for justice for victims of police brutality.
Lucy Provan
Register for free to continue reading
Registration is a free and easy way to support our truly independent journalism
By registering, you will also enjoy limited access to Premium articles, exclusive newsletters, commenting, and virtual events with our leading journalists
Already have an account? sign in
Register for free to continue reading
Registration is a free and easy way to support our truly independent journalism
By registering, you will also enjoy limited access to Premium articles, exclusive newsletters, commenting, and virtual events with our leading journalists
Already have an account? sign in
Join our new commenting forum
Join thought-provoking conversations, follow other Independent readers and see their replies