Young Somali activist sentenced to death for being a lesbian
How a young Somali activist for women's rights fled her homeland after she was outed as gay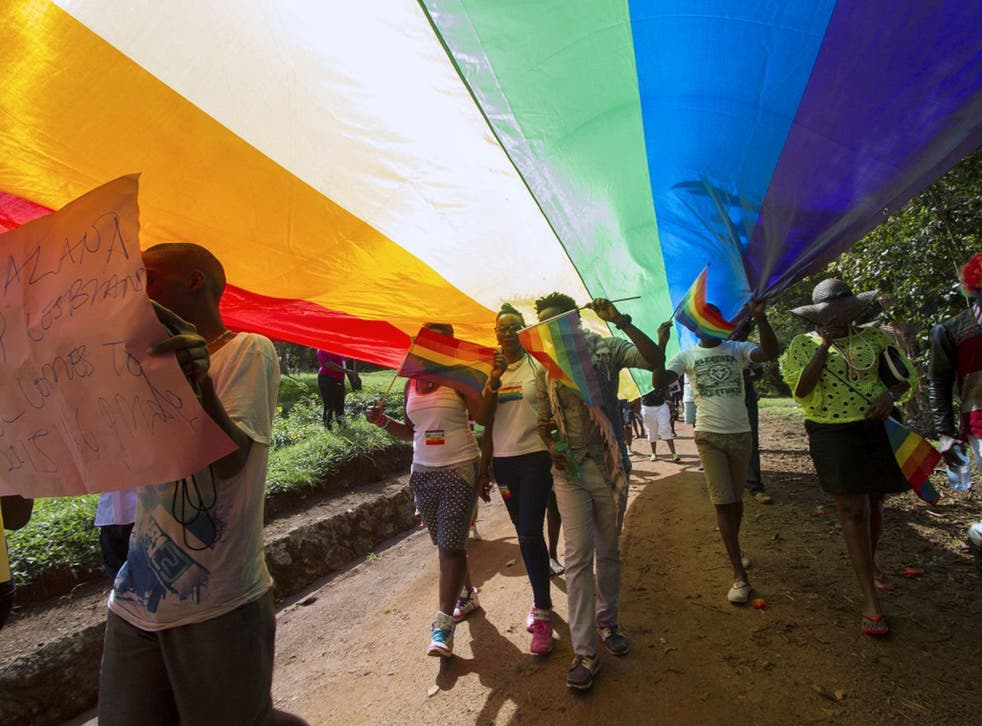 When the boy came into the room, his eyes brimmed with tears. The news he brought was devastating. "They are talking about killing you," he told his older cousin.
Using a phone smuggled into her room, Sahra (whose name has been changed here over concerns for her safety) sent a despairing plea for help to friends on the outside. Although she didn't know it then, her killing was thought to have been scheduled to take place after Friday prayers two days later, and time was running out.
Sahra, a 22-year-old Somali woman, remembers swaying with shock as she received the news. "I felt like I couldn't breathe. One day they were looking for a guy for me to marry, the next they were looking to take my life," she recalls. "It was horrible."
In the eyes of her extended family, Sahra had brought shame on them all. From her family's self-imposed exile in Uganda, she had long courted controversy as an outspoken advocate for women's rights. But her personal safety took a turn for the worse when she was outed as a lesbian, setting in motion events that caused her to move to Mogadishu in Somalia, leaving her open to the wrath of her relatives.
Thousands of homosexual men and women in Somalia keep their sexual orientation a closely guarded secret in the knowledge that bringing it out into the open would attract potential retribution from al-Shabaab, the Islamist terror group, or armed gangs.
At the age of 12, Sahra was already campaigning for Somali women's rights through poetry, attacking the practice of female genital mutilation. She quickly became a target, and one day was abducted close to her home and taken to a house where she was beaten. She still bears the scars. After her release, her parents whisked Sahra and her brother off to Kampala in Uganda, where they were to spend the next decade. She continued to campaign against taboo issues such as FGM through rap music. Her dream was to become a hip-hop artist.
But everything changed late last year when an acquaintance publicly revealed that Sahra was gay. She started to receive threatening calls, but going to the police was difficult, as they are often openly hostile towards the LGBT community. In the wake of a draconian new anti-homosexuality law passed two years ago, many gay people fled to neighbouring Kenya for refuge after the act triggered a wave of house burnings and violence. That law was later annulled on a technicality.
Others, like Sahra, tried not to draw attention to their sexual orientation. But as she returned home from college one day, she found her way home blocked by four men. "I was attacked," she says. "They beat me, and told me: 'This is not done here.'"
World news in pictures

Show all 50
In New York, Jason Jeremias, an activist and theatre producer who had struck up a friendship with Sahra during workshops in Uganda, learned of the attack, and started to look at ways of getting the rapper out of the East African country.
Sahra's mother, meanwhile, confronted her daughter. "Mum asked me if I was a lesbian. I said, 'What makes you think I am one?'" she says from North America, where she now lives. "My mum said: 'Prove me right or prove me wrong. You have to go to Somalia.'"
As an activist, Sahra was only too aware of the attitudes towards homosexuality in Somalia, where many women moved behind the veil as the country became more religiously conservative in the 25 years since the overthrow of the military regime of Siad Barre.
Homosexuality is officially punishable with a three-year prison sentence, but in areas where the government does not hold sway, the killing of the few people suspected of being gay is a probability, with victims sometimes stoned to death.
Being gay in Somalia is "just not acceptable", says Leyla Hussein, the London-based Somali founder of women's rights group Daughters of Eve. "There are a lot of gay Somali women, but they will never come out. They don't even come out to their own families."
Sahra was flown to Mogadishu, taken to her grandmother's house, and told that she would marry. Later, elders from Sahra's ancestral village came to the house to discuss her fate. Sahra, confined upstairs, was unaware of the discussions, but a female family friend told Mr Jeremias that they had decided to kill Sahra.
In her room, Sahra – who had discovered her apparent fate from her young cousin – was sunk in despair. "The pressure was building up. I was really freaked out, and the thought of getting away didn't even occur to me," she says. She was told to prepare for a journey to her home village the following day after Friday prayers. She believed – as did those on the outside – that she was being taken to her death.
Unknown to Sahra, her friends were finalising an escape plan, brought forward from Saturday to Friday. They got word to her, telling her to look for the family friend from her window while the men were at prayers. A car then took her to a rendezvous point with the people – who cannot be named for security reasons – who would eventually get her out of the country. She escaped probable death with only hours to spare.
Since her escape, Sahra has yet to speak to her mother. "I will not blame my mum," Sahra says. "To her thinking, she was doing the best she could for me."
Sahra is still trying to make sense of what happened to her, dazed by the fact that her life could alter so dramatically in a matter of weeks. "My life was great in Uganda," she says. "I had a lovely family. Never did it cross my mind that something like this could happen to me."
Join our new commenting forum
Join thought-provoking conversations, follow other Independent readers and see their replies