YouTube refuses Egypt's request to remove footage of Tahrir Square sexual assault
The naked woman was seen being dragged through crowds in Cairo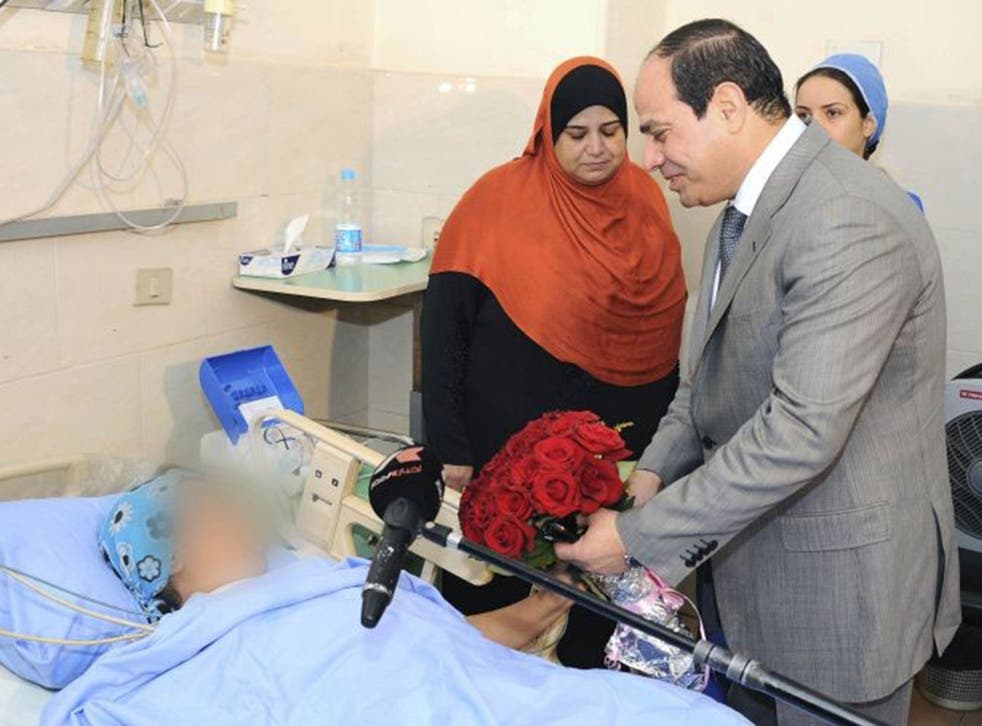 YouTube has refused a request from the Egyptian government to remove footage of a violent sexual assault in Cairo.
The video of a naked and bloodied woman being dragged out of Tahrir Square after being attacked during celebrations for the inauguration of President Abdel Fattah al-Sisi caused international outrage.
The new leader visited the woman in hospital last week, "apologising to every Egyptian woman" for sexual violence in the country in the televised meeting.
A spokesman for the President said the victim asked for the footage, which had gone viral on social media, to be taken down.
"The Egyptian embassy in Washington DC and a number of Egyptian authorities, at the direction of President Abdel Fattah al-Sisi, have requested the YouTube administration to remove the video of the sexual assault victim," the spokesman said.
"This came in response to her wish, which she expressed during the president's visit to her yesterday at the hospital to check on her condition."
YouTube has removed copies of the video where the woman can be identified but is allowing versions that blur her image to remain on the site because the company considers them to be newsworthy.
Viewers must vouch that they are at least 18 years old on the site.
"We respect an individual's right to privacy and have always removed videos entirely where there is a privacy complaint and an individual is clearly identifiable," YouTube said in a statement.
Seven men aged between 15 and 49 have been arrested in connection with attacks on at least five women on Sunday night.
Mohamed al-Habibi, a volunteer with the "I Saw Harassment" monitoring group who witnessed the incident, said it was impossible to tell who was part of the assault and who was trying to help the woman.
"I saw hundreds of people grabbing a woman. The police were there, shooting in the air, it took them 20 minutes to get her out. She was unable to speak," he said.
The latest violent assault sparked protests by women calling for harsher penalties for attackers.
Egypt has approved a new law that punishes sexual harassment with at least six months in jail or fines of at least 3,000 Egyptian pounds (£248).
Tahrir Square has seen numerous sexual assaults by mobs at demonstrations since the 2011 uprising that ousted Hosni Mubarak.
President al-Sisi, Egypt's former army chief who led a coup against Mohamed Morsi last July, has made speeches on women and their importance to society.
But many campaigners are wary after he made defending an army practice - later denied by a military court - of conducting "virginity tests" on female protesters who complained of abuse.
Sexual harassment, high rates of female genital mutilation and a surge in violence after the Arab Spring uprisings have made Egypt the worst country in the Arab world to be a woman, according to a Thomson Reuters Foundation survey.
Additional reporting by Reuters and AP
Join our new commenting forum
Join thought-provoking conversations, follow other Independent readers and see their replies