New project aims to prevent deforestation in Zambia by turning women into entrepreneurs
While Zambia is one of the most foliage rich countries on earth - with 60 per cent of its land mass covered in forest – it is also one of world's most prolific deforesters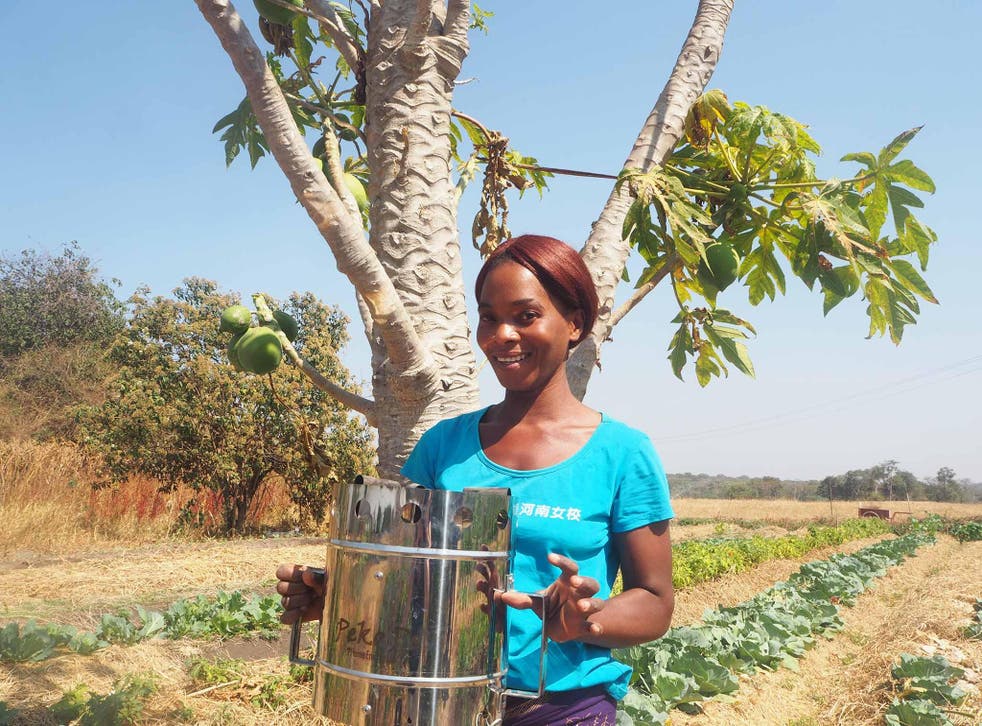 A group of young volunteers have discovered an inventive way to prevent deforestation in remote areas of Zambia – by encouraging women to become entrepreneurs.
Project Optima, based in Kitwe, Northern Zambia, aims to curb charcoal use by producing cleaner, safer wood chip stoves, which consume less wood than charcoal alternatives. The project provides women with franchising packs, allowing them to sell stoves and the wood chips required to use them in their local communities at a small profit.
Edgar Chaloba and Naomi Chiluba, who are Zambian Challenges Worldwide International Citizen Service (ICS) volunteers, and their British counterparts Hannah Chen-Smart and Ryan Pugh devised the project as a way to switch charcoal using households to using sustainably harvested sticks of wood.
"It will save the local people money in the long run. There is a huge burden on the poorer people to buy charcoal in Zambia, they live day to day and don't see future investment in cheaper and cleaner energy sources," said Ryan. "This is why we turned to micro-franchising – It uses the spirit of salesmanship and entrepreneurship that are already present in Zambian culture as a conduit – encouraging local development. If the stove is on a shelf no one will buy it, when you have a salesman explaining what the stoves are and why they are so beneficial, people are really interested."
While Zambia is one of the most foliage rich countries on earth – with 60 per cent of its land mass covered in forest – it is also one of world's most prolific deforesters. According to recent data from the Centre for International Forestry Research (CIFOR), the deforestation rate in Zambia is currently around 250-300 thousand hectares a year – leaving experts concerned that Zambia's trees could be gone completely by the year 2030.
One of the main causes of deforestation in Zambia is the use of charcoal. 90 per cent of the population use charcoal related sources of energy and about 75 per cent of households rely on it, according to the Stockholm Environment Institute – making charcoal a lucrative business venture and major source of livelihood for many people.
Due to inefficient kilns used in production, farmers can only rear around 10kg of charcoal for every 100kg of wood burnt, leading to large areas of forest being cleared in order to produce large amounts of charcoal – and increasing demand is resulting in replacement trees not being planted fast enough and large areas of land being cleared completely of all forest. Female life expectancy is also affected in Zambia by charcoal use due to large amounts of carbon dioxide released when cooking.
There have been a number of projects in recent years to combat Zambia's charcoal usage such as the UN's Global Alliance for Clean Cook Stoves – supported by Hillary Clinton and Barack Obama – and in Zambia there is the Lusaka Sustainable Energy project providing households with cook stoves financed by German power utility RWE Power AG. However, as Challenges Worldwide CEO Eoghan Mackie points out, promoting an entrepreneurial approach, instead of providing aid, encourages local growth as well as protects the environment.
"The enterprise-led approach not only creates jobs, but extends the reach of the new technology as more communities are able to be involved in the distribution chain. In many cases we have seen those resellers begin to deliver access to other forms of clean energy; such as solar power and water filtration systems. We have seen recent success with companies such as Vitalite and SunnyMoney in Zambia and Translight Solar and Solar now in Ghana. Challenges Worldwide are committed to delivering truly sustainable economic development through an enterprise first approach."
Ryan, Hannah, Naomi and Edgar are currently volunteers for Challenges worldwide ICS at Rainland's Timber, a Sawmill located outside Kitwe on the Copperbelt in Northern Zambia. Owner Nick O'Connor employs local people and is allied with WeForest to help stop deforestation.
WeForest run a project where local farmers sign a contract to stop producing charcoal and section off an area of their land for Assisted Natural Regeneration (ANR), where they let the natural bush grow back. Rainland's has adopted selling "Peko Pe" stoves on the sidelines for around 3 years – in order to recycle up waste wood from their own production and from local farmers. However, sales of the stoves have so far been limited to trade fares and specialist stores in the urban areas of Zambia where charcoal usage is much lower.
However, the stove has a lot of benefits within small communities on the Copperbelt, according to Zambia's Sustainable Agriculture Programme's (SAP) director Mpenza K. Mwanza: "The improved brazier is a vital tool in reducing women's care work burden associated with the collection of firewood, and health implications derived from other known traditional heat energy sources. Additionally, the brazier alleviates the problem of environmental mismanagement by reducing deforestation."
Volunteer Edgar insists that there has been steady interest in the product and believes that the one thing left to do is getting them out there: "I went to an Oxfam fair and you have so many local vendors asking if they can sell the stoves. There's an appetite for the product, people really want to get involved."
The volunteers were inspired by existing micro-franchising within Zambia – with the already successful examples of phone companies MTN, Airtel, Zesco who enlist vendors to sell "air time" (data and minutes for mobile phones) on the streets. "Word of mouth is really important in Zambia"confirms Ryan. "Street vending is completely legal so people see it as a good thing – people in Zambia trust each other more than larger businesses, usually preferring to buy things from local markets than massive conglomerates. The business environment is full of SMEs (small and medium-sized enterprises). People will tell you 'don't buy it through the company buy it through some guy.'"
"Essentially just selling the stoves wouldn't really work; so its worth getting the Zambian people to run their own businesses and make profit and a steady income."
The steady income comes through first selling a wood stove and then continuing to provide wood chips in local church and women's groups. The project aims to take advantage of what it calls the most lucrative agents for this kind of selling – local women. "People like to do as their neighbours or family do, and women have very strong social connections to their local communities through groups. We can see the value women have in this country, we want to do it the way the Zambians like to do it and make a real difference".
To support Project Optima head to their crowdfunding page: www.crowdfunder.co.uk/optima. Ryan, Edgar and Hannah are volunteers for Challenges Worldwide ICS, a social enterprise supporting 1,500 small businesses in 40 countries. It is open to 18-25 year olds and is fully funded by the UK government. For more information or to apply to take part head to challengesworldwide.com
Register for free to continue reading
Registration is a free and easy way to support our truly independent journalism
By registering, you will also enjoy limited access to Premium articles, exclusive newsletters, commenting, and virtual events with our leading journalists
Already have an account? sign in
Register for free to continue reading
Registration is a free and easy way to support our truly independent journalism
By registering, you will also enjoy limited access to Premium articles, exclusive newsletters, commenting, and virtual events with our leading journalists
Already have an account? sign in
Join our new commenting forum
Join thought-provoking conversations, follow other Independent readers and see their replies