Zambian foreign affairs minister resigns over 'swelling' corruption within country
Harry Kalaba is seen as a potential presidential candidate in 2021
Jon Sharman
Wednesday 03 January 2018 17:43 Comments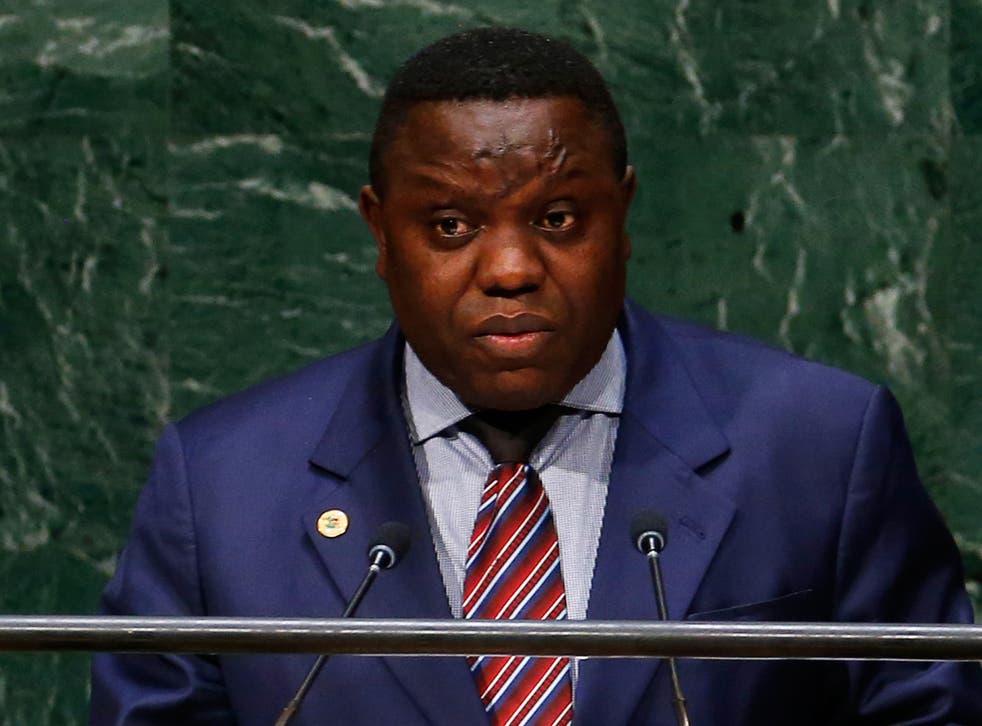 Harry Kalaba, Zambia's foreign affairs minister, has resigned over what he claimed were "swelling" levels of corruption in the southern African nation.
He posted his resignation letter on Facebook as a struggle in the ruling Patriotic Front (PF) over President Edgar Lungu's ambitions to run for another term in office intensifies.
Mr Kalaba is seen as a potential PF candidate in a 2021 presidential election. But analysts suggested his chances of winning the PF nomination could stall if Mr Lungu won a court battle allowing him to run for a third term.
"We cannot proceed to manage national affairs with cold indifference when the levels of corruption are swelling and being perpetrated by those who are expected to be the solution," Mr Kalaba wrote.
Mr Kalaba will not step down as a member of parliament and will remain in PF, according to the news website Lusaka Times.
Experts said Mr Kalaba's resignation was intended to apply pressure on Mr Lungu, who is accused by his opponents of chasing an unconstitutional third term.
"People have started realising that they will not get nominated as long as Lungu insists on standing," Lee Habasonda, an analyst from the University of Zambia, said.
Zambia's constitution limits presidents to two terms but Mr Lungu argues that his first period as leader doesn't count because he did not serve a full term after he assumed power following the death of predecessor Michael Sata in 2014.
Mr Lungu was then elected for a five-year term in 2016.
He warned constitutional court judges in November not to stop him running again and his allies have asked the Supreme Court to confirm that he will be eligible to stand.
Zambia's former first lady, Charlotte Scott, said in a tweet: "Harry Kalaba may have woken up, but he's got an awful lot of explaining to do.
"He had no regard for the Republican constitution or for the PF constitution either. Where did he think that approach would take us?"
National assembly member Sylvia Masebo, who ran on the PF ticket in 2011, said in a statement: "The levels of looting and gross mismanagement of state resources that we are currently witnessing under Edgar Lungu's regime is disheartening and unprecedented and threatens national security and unity.
"The decision to resign by [Mr] Kalaba is noble and should be commended by all patriotic Zambians regardless of political affiliation."
World news in pictures

Show all 50
On its own Facebook page PF decried "ridiculous" calls from the opposition UPND for Mr Lungu to step down.
The party acknowledged Mr Kalaba's resignation by saying "democracy provides for such individual decisions".
It added in a statement that its "firm foundation as an institution and movement of the people" had not been shaken.
PF was committed to its pledge "to leave no citizen behind", it said.
Additional reporting by agencies
Register for free to continue reading
Registration is a free and easy way to support our truly independent journalism
By registering, you will also enjoy limited access to Premium articles, exclusive newsletters, commenting, and virtual events with our leading journalists
Already have an account? sign in
Join our new commenting forum
Join thought-provoking conversations, follow other Independent readers and see their replies