Zimbabwe elections: Opposition politician arrested amid allegations of voting fraud
Senior official in MDC is seeking political asylum after claiming poll results were rigged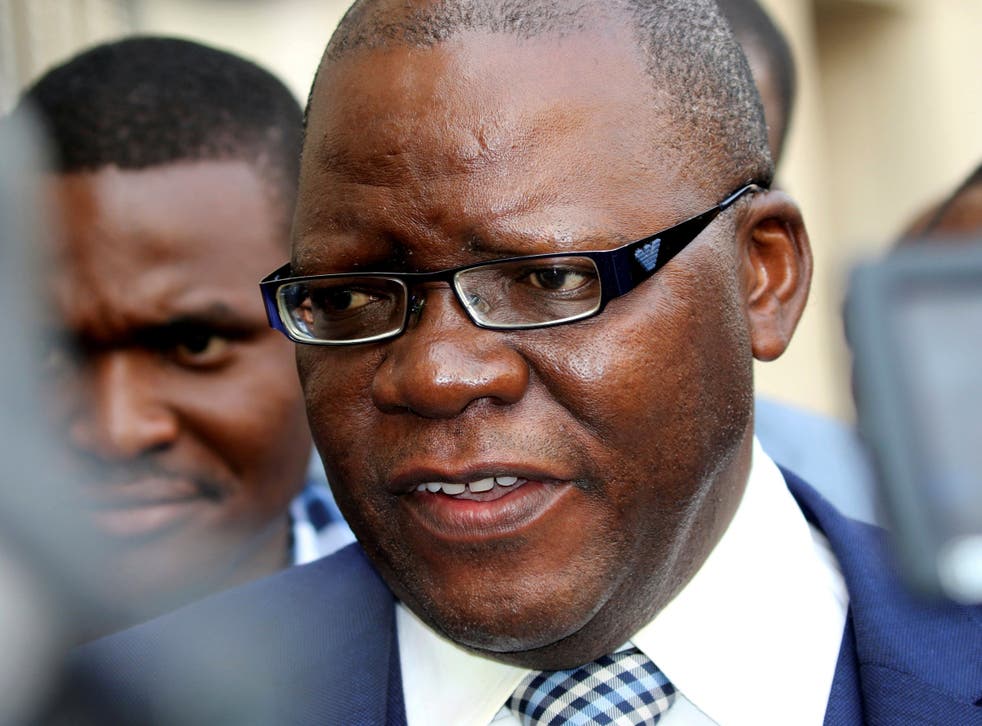 A leading member of Zimbabwe's opposition was arrested as he tried to flee the country to escape the brutal crackdown which has followed the bitterly contested election and its violent aftermath.
However, Emmerson Mnangagwa's government was later forced to free Tendai Biti, a senior official in the Movement for Democratic Change (MDC), because he had already crossed into the territory of Zambia, where he is seeking political asylum, when Zimbabwean soldiers detained him.
Arrests and assaults, meanwhile, continue in the African country, with hundreds of opposition supporters and MDC members disappearing.
Some have gone into hiding, but others are missing after being taken away by soldiers or armed men in civilian clothes wearing balaclavas.
Mr Biti had been among those claiming the poll results awarding victory to Emmerson Mnangagwa and the ruling Zanu-PF party vwere rigged. The security forces have been carrying out a number of raids in efforts to hunt him down over the last few days.
A police report requesting an arrest warrant for Mr Biti, seen by The Independent, states that his claim – made at a press conference – that Nelson Chamisa, the opposition presidential candidate, was the true winner on votes cast constituted a crime and justified detention.
The document says: "I received information from a reliable source to the effect that Luxton Tendayi (sic) Biti, on 31 July 2018 at an unknown place and in Harare held a press conference where he unlawfully and unofficially declared Nelson Chamisa of MDC Alliance as the duly elected Presidential Candidate for the Zimbabwe 2018, Harmonised Elections. He CONTRAVENED SECTION 66A (1) (b) OF THE ELECTORAL ACT CHARTER (sic) 2:13 "UNOFFICIAL OR FALSE DECLARATION OF RESULTS PROHIBITED."
In pictures: Zimbabwe votes in historic election

Show all 55
The document also accuses Mr Biti of inciting violence and possession of arms. It continues: "Further information received indicates that Luxton Tendayi (sic) Biti on 1 August 2018 and at the Zanu-PF Harare Provincial Headquarters committed the offence of PUBLIC VIOLENCE AS DEFINED IN SECTION 36 OF THE CRIMINAL LAW (CODIFICATION AND REFORM) ACT, whereby he was acting if in consent with his accomplices still at large while armed with firearms, ammunition, stones alleged to having committed acts of violence and preceded to burn vehicles and one bus at the Zanu-PF Harare Provincial Headquarters."
The MDC headquarters in Harare were raided last week by soldiers and police claiming they were searching for weapons. Paperwork and computers were seized and 16 party officials detained.
They were subsequently charged with inciting violence. MDC officials maintained that the real motive for the search was to find material proving electoral fraud. "But don't worry, they are in a safe place," said Nelson Chamisa.
The apparent focus of the security forces on open press conferences as venues of sedition was in evidence in a raid on a hotel, The Bronte, where the international media was waiting for a briefing with Mr Chamisa.
Zimbabwe election: Shots fired at protesting crowds in Harare as violence escalates
Armed riot police ordered the journalists present to leave, but withdrew themselves after a confrontation pursued by the media.
The incident ended after the senior officer who had led the raid asked photographers and cameramen to stop chasing his men.
The government has accused MDC supporters of starting the violence on Wednesday last week in which six people died and 25 more were injured, after the troops appeared on the streets and opened fire with live rounds. President Mnangagwa expressed regrets over the deaths and announced the setting up of an investigation.
A senior western diplomat who was with Mr Mnangagwa when the violence was unfolding said he seemed unaware that the military had been deployed.
There have been a number of reports about a power struggle taking place between the president and the vice president, General Constantino Chiwenga, the former head of the army.
Register for free to continue reading
Registration is a free and easy way to support our truly independent journalism
By registering, you will also enjoy limited access to Premium articles, exclusive newsletters, commenting, and virtual events with our leading journalists
Already have an account? sign in
Register for free to continue reading
Registration is a free and easy way to support our truly independent journalism
By registering, you will also enjoy limited access to Premium articles, exclusive newsletters, commenting, and virtual events with our leading journalists
Already have an account? sign in
Join our new commenting forum
Join thought-provoking conversations, follow other Independent readers and see their replies