Zimbabwe military allows Robert Mugabe to lead graduation as it works to replace him, insisting 'this is not a coup'
In bizarre scenes in a rainy suburb of Harare, the under-fire President is allowed to conduct a graduation ceremony to a muted reception from the public. But all eyes are now turning to who will replace him once this slow-motion putsch is complete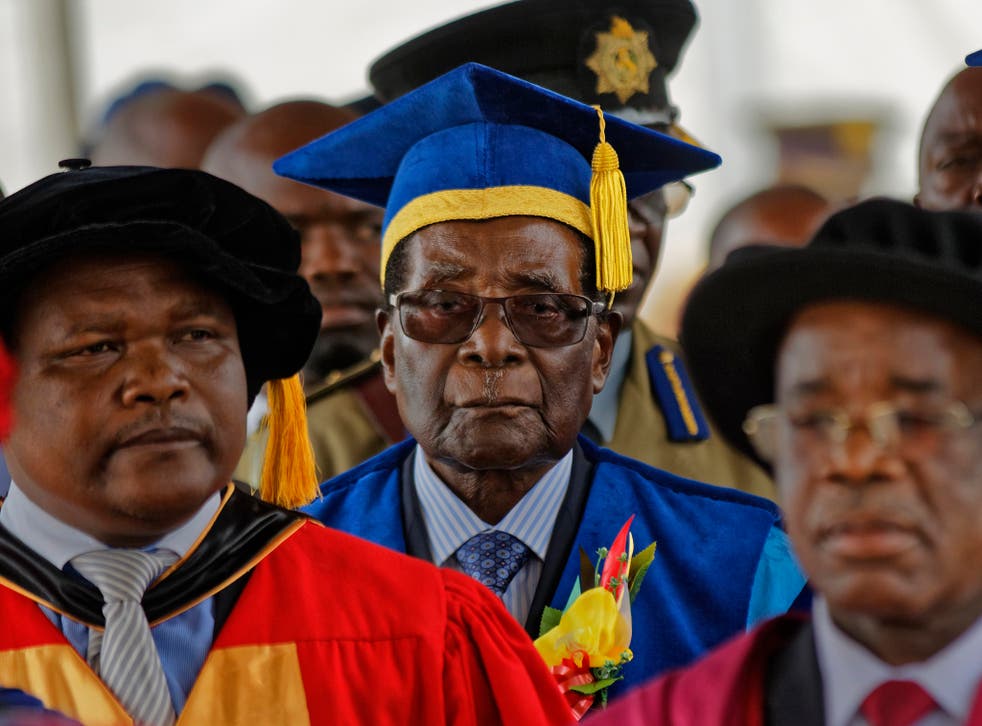 Regional branches of the ruling party have begun to pass motions of no-confidence in Robert Mugabe and the military insists that progress is being made in forcing him from office. But Africa's longest-serving head of state is continuing as if he is still in power, attending a university graduation ceremony just as he had done in years past.
Confusion surrounds Zimbabwe's "slow-motion coup" with Mr Mugabe, supposedly deposed and under house arrest, driving through Harare in a motorcade with a security escort. But there is growing anger too, with veterans of the country's war against white rule demanding that the President depart immediately and that those considered to be his corrupt cohort – led by his wife, Grace Mugabe – face prosecution.
In what is seen as the first official step in forcing Mr Mugabe out, Zanu-PF branches in Harare, Midlands, Masvingo and Mashonaland East have passed votes of no-confidence in him with 10 more provinces said to be following soon. Parliament, which is supposed to sit next Tuesday, could begin a formal process of impeachment of the President with the support of opposition parties at that time.
The crisis, meanwhile, is becoming increasingly internalised, with ministers and officials from other African states arriving in the Zimbabwean capital to help negotiations between the President, the military that has taken over, and opposition politicians.
But instead of holding talks, 93-year-old Mr Mugabe spent half the day at the Open University campus around 15 kilometres outside the centre of Harare, in a blue-and-gold gown and mortarboard, taking his place on a red carpet while surprised-looking students clapped and a band played. One of the students on whom the President conferred a degree, after singing the national anthem, was Marry Chiwenga, the wife of General Constantino Chiwenga, who detained Mr Mugabe on Tuesday as tanks began rolling through the streets.
However, while there had been impromptu music and women dancing on the streets on Mr Mugabe's previous visit to the university, The Independent found just a handful of people gathered this morning. There was no rush to express support and many, like Shabani Matema, said they had come out of curiosity. "We don't really understand," the 34-year-old carpenter said. "We thought that he was under arrest, so why is he here? Even if he had to come, shouldn't there be security guarding him?" The security presence was notable for its lightness, with a small number of police and troops, some sitting with their backs against a wall. The presidential convoy left a little later, in the rain, with no cheers from what was left of the crowd by then, and no presidential waves from Mr Mugabe.
The military presence was also light on the streets of Borrowdale, the affluent suburb where Robert and Grace Mugabe were held under house arrest at their lavish mansion, Blue Roof, when the army takeover started. Two ministers, Jonathan Mayo and Saviour Kasukuwere, had sought refuge there after fleeing their homes, the front doors of which were blown in by troops. They were later said to have been handed over to the military, and taken away to be detained in barracks. As education secretary, Mr Mayo was supposed to accompany Mr Mugabe to the degree ceremony.
The military, and in particular its chief General Chiwenga, were making efforts to appear respectful towards Mr Mugabe. The main reason for this is to avoid censure by the African Union, which has strict policies against military coups, a reaction to the perennial army takeovers that plagued newly independent states of the continent in the past. Egypt's membership was suspended for a time after General Abdel-Fattah el-Sisi's putsch against the Muslim Brotherhood government of Mohamed Morsi in 2013.
The military are also keen not to alienate Western powers. The US Secretary of State Rex Tillerson stressed today that there must be a return to civilian rule. Speaking at a meeting of African foreign ministers, he said that whoever replaces Mr Mugabe must respect democracy and human rights.
The plan remains, according to officials, for Mr Mugabe to step down and Emmerson Mnangagwa, the vice president he sacked earlier this month at the behest, supposedly, of Grace Mugabe, to head an interim administration with opposition politicians like Morgan Tsvangirai, who returned to Zimbabwe on Thursday and has demanded that Mr Mugabe step down immediately.
That call has been repeated by Christopher Mutsvangwa, the secretary-general of the powerful Zimbabwe National Liberation War Veterans Association. He announced that a massive rally would be held on Saturday to ensure Mr Mugabe's removal. "We want to restore our pride and tomorrow is the day, we can finish the job the army started," Mr Mutsvangwa declared. "There is no going back for Mugabe. He must leave; if he doesn't leave, we will settle scores tomorrow."
Mugabe's first public appearance since Zimbabwe military takeover

Show all 9
Mr Mutsvangwa claimed that Mr Mugabe had pleaded for "just a few more days" to stay in power. But one official familiar with the talks said: "Mugabe continues to insist that he is the President and is entitled to serve his full term. He is also aware that other countries would not want a military coup and he knows that Emmerson Mnangagwa is not all that popular."
Mr Mutsvangwa, an ally of Mr Mnangagwa, maintained that the former vice president would be welcomed by the populace. Mr Mugabe, on the other hand, he dismissed as "a senile old man who has lost control of his wife". An immunity of prosecution for Grace Mugabe is another one of the President's demands.
But 75-year-old Mr Mnangagwa, nicknamed "The Crocodile", has his share of critics. His career has been linked to Zanu-PF hierarchy and the accusation of graft which surrounds it. Rony Mlotshwa, a 23-year-old student, said: "The people being put forward now are all from the same background, all made a lot of money from this country. These are all old tired names. But the name we should be focusing on is Mugabe, we need to start by getting rid of him and then we look at the future."
Join our new commenting forum
Join thought-provoking conversations, follow other Independent readers and see their replies