President-elect Emmerson Mnangagwa hails 'new democracy' for Zimbabwe - but doubts remain over Robert Mugabe links
Mr Mnangagwa promises 'jobs, jobs, jobs' for all as he returns from exile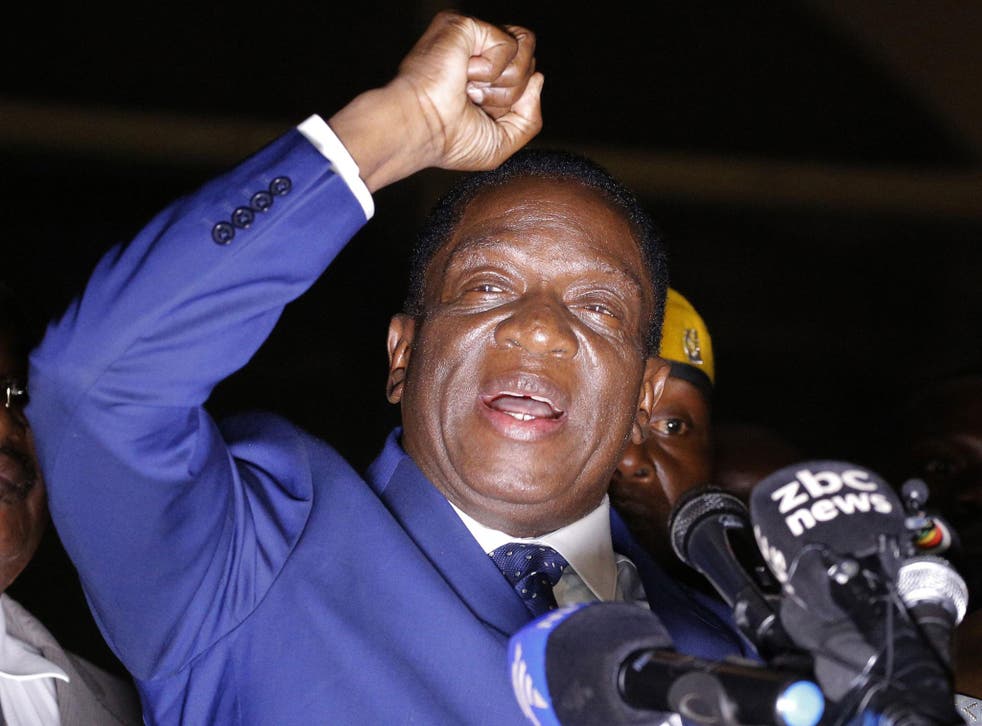 Zimbabwe's new leader has returned from exile to be greeted by a vast and enthusiastic crowd hoping for a better future, after the dark past of Robert Mugabe's 37-year rule which left the country traumatised and internationally isolated.
Whether 75-year-old Emmerson Mnangagwa – who was an ally of 93-year-old Mr Mugabe during years in which the government was accused of abuse and corruption – is the right choice to lead the nation from its troubles, is open to question.
But "The Crocodile" – as he is known – is the man of the moment amid the euphoria which has followed the demise of Mr Mugabe. He will be inaugurated as President on Friday, staying in position until elections due next year.
Speaking to a crowd which had been waiting for him at the headquarters of the ruling Zanu-PF party, Mr Mnangagwa began by reminding people that he had been sacked by Mr Mugabe and had fled to South Africa because of threats to his life, including an alleged poisoning three months ago.
As he was being introduced, the President in waiting spoke with his wife Auxilla beside him and a semi-circle of bodyguards. He also danced a little to the music around him, before continuing to address the crowd.
"The people have spoken. The voice of the people is the voice of God. Today we are witnessing the beginning of a new and unfolding democracy," he said.
Mr Mnangagwa declared that he would provide "jobs, jobs, jobs" for everyone, the pledge greeted with roared approval. He also praised the military commander who had carried out the coup which removed Mr Mugabe from power, General Constantino Chiwenga, by saying "he had managed this process very peacefully".
There had been efforts to "sabotage the removal" of Mr Mugabe, but "the will of the people will always, always succeed".
World news in pictures

Show all 50
There was little by way of an olive branch offered to the opposition. Zanu-PF was the party of the nation and "down with our enemies," Mr Mnangagwa said. He continued: "Those who oppose us will bark and bark, but the Zanu-PF train will roll on, ruling while they bark."
The changing of the leader, beginning with the military coup, has charted a confusing and, at times, contradictory course – and this is set to continue. Mr Mnangagwa had effectively accused Mr Mugabe of plotting to murder him. But according to some officials of the ruling Zanu-PF party, one of his first meetings will be with the former President for a briefing.
Mr Mugabe, it has been claimed, had negotiated with the military high command immunity for himself and his wife Grace, who had allegedly instigated Mr Mnangagwa's dismissal and had been accused of corruption and profligacy. The couple were expected to go into exile and there was talk that land which was acquired by Ms Mugabe – nicknamed "Gucci Grace" and " DisGrace" because of her lavish spending – would be nationalised.
But Lovemore Matuke, the chief whip of Zanu-PF which had stripped Mr Mugabe of leadership, was remarkably emollient.
"Now that he has tendered his resignation, he has also saved his face. He is a man who did a lot for his country and needed to rest. He can be an advisor to the party," he said.
Mugabe resigns: Zimbabwean Parliament celebrates as decision is announced
Mr Mnangagwa met the South African president Jacob Zuma, before catching his flight back to Zimbabwe. After arriving at a military airbase in Harare, Mr Mnangagwa met with Zanu-PF officials to "discuss what has been going on in his absence". He was then driven in a motorcade to party HQ where a crowd had been waiting for more than five hours to see him.
There were placards saying "Welcome Home Our Hero", " Welcome Back Our President", " Thank You For Your Endurance and Fortitude". There was also a conga led by a man with a large toy crocodile.
Fortune Vushe, who had been blowing a klaxon, paused to cry out: "You are the crocodile, we are your tears." He explained that he meant that the people grieved for what had been done to him. "He has suffered and he is the man to save the suffering people here."
His friend Richardson Shoniwa was keen to continue the crocodile theme. "Gucci Grace likes wearing crocodile skin shoes, now Emmerson the Crocodile is going to make sure that she gets trampled," he said.
But others were more cautious about what may unfold. Franklin Rwizi, a 33-year-old engineer, believed that people now have the confidence to make more changes in the future. "It may be difficult for outsiders to understand, but getting rid of Mugabe was a big, big psychological thing. We got rid of him after 40 years.
"If Mnangagwa is a disappointment then we will get rid of him in the election next year. I am not blind to what he has done before."
Mr Mnangagwa joined the freedom movement in 1966 after military training in China and Egypt. He was captured, tried and sentenced to death, but this was later commuted to 10 years in prison. The guerilla commander lost some of his lustre; however, after independence when he was widely blamed for directing a vicious crackdown in Matabeleland and Midlands, during which the notorious Gukurahundi massacre took place. Mr Mnangagwa denies this.
Human rights activists warned that it will take more than replacing one man to correct the ills of Zimbabwe. "Mugabe the infrastructure, Mugabe the culture, Mugabe the ideology, Mugabe the system is still there, and we need to continue the fight," said local activist Maureen Kademauga. "That is important to remember."
Dewa Mayhinga of Human Rights Watch wanted to stress that the military "works to orders". She added: "I believe they were given a command to be nice, to smile for a while, but we should not make the mistake of believing that overnight this was a revolution and everything is over."
Join our new commenting forum
Join thought-provoking conversations, follow other Independent readers and see their replies