Zimbabwe leader Robert Mugabe accused of breaching constitution to promote his 'corrupt' wife Grace
In a judgement day on Tuesday, parliament will hear an impeachment motion that Mugabe became a 'source of instability' and showed 'disrespect for the law'. But Mugabe will also try to muster his own cabinet, in a bid to show he is still in control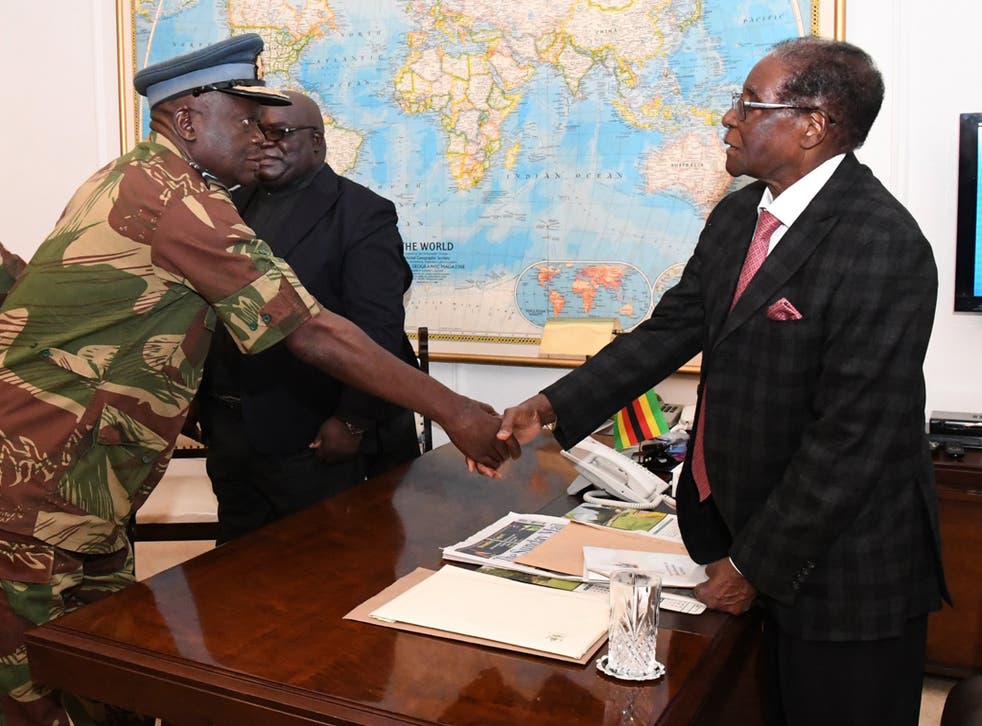 A concerted drive by parliament and the people, with the backing of the military, is due to take place on Tuesday to try and force Robert Mugabe to resign. MPs will start impeachment proceedings against the President while hundreds of thousands of protesters are expected to march on his mansion vowing to put it under siege until he leaves.
But there were also reports that Mr Mugabe has called for a cabinet meeting on Tuesday as well to show that he is still in charge. A notice from his chief secretary has instructed all members to attend at 9am. The President is nonetheless still under house arrest and many of his ministers have been detained following last week's military coup. The place where cabinet meetings are held, Munhumutapa Building in the centre of the capital, is now shut and guarded by soldiers and an armoured personnel carrier.
The moves come after an extraordinary and chaotic 24 hours in which Mr Mugabe apparently agreed to resign on state television but instead used the broadcast, sitting next to military commanders who are his captors, to vow that he will stay on in office to unify the nation and supervise reforms.
Mr Mugabe then ignored an ultimatum from his own party, Zanu-PF, which had stripped him of leadership, to resign by midday Monday or face impeachment. There are differing accounts of how long it will take to remove the President from office through the process, ranging from one day to more than a week.
Separately, the organisation of veterans who fought in the war against white minority rule has announced that it will take legal action at the High Court to force Mr Mugabe's resignation. Its head, Christopher Mutsvangwa, charged that the President had condemned himself out of his own mouth when making his speech on which he admitted failures by his government.
"He admitted to dereliction of duty during that non-event announcement of his on national television. As a result, we are going to file court papers seeking his removal," said Mr Mutsvangwa.
Various reasons have been offered as to why Mr Mugabe didn't resign during the speech on Sunday evening, ranging from claims that he swapped the agreed script for another, to suggestions that the ruling Zanu-PF party did not want the resignation to take place in the presence of army chiefs because that would look like a military takeover.
There has been widespread anger at what transpired but also trepidation among some that the longer Mr Mugabe stays in office, the more chance he will have to organise a counter coup. Around 100 MPs who support him did not turn up for the Zanu-PF meeting in which he was removed as leader and his wife Grace sacked as head of the party's women's section. There is also the recognition that the President retains support in some of rural areas.
The draft impeachment motion to be laid before parliament accuses Mr Mugabe of being "a source of instability" and of exhibiting a "disrespect for the law". He is blamed for the economic failure of the past 15 years and also of abrogating the mandate of his office to promote Grace Mugabe who, opponents claim, is guilty of abuse and corruption.
In theory, impeachment would need the joint sitting of the Senate and the National Assembly, a sitting of a nine-member Senate committee, then another joint sitting to confirm the verdict with a two-thirds majority.
Some Zanu-PF officials have said it will take a week for the impeachment process to be completed. Secretary for legal affairs Paul Mangawana thought it would "take a maximum of two days, the charges are so clear". The organisation Veritas, which provides legal and parliamentary information in Zimbabwe, said it will take "at least several days to complete". But the Southern African Parliamentary Support Trust maintained "they can fast-track it. It can be done in a matter of a day".
​Zanu-PF MPs say they have the required numbers to get to the two-thirds for impeachment. However, talks are being held with opposition parties to send an "unanimous and unified message to Mugabe: your time is up".
A massive rally took place against Mr Mugabe on Saturday. Activists say they are expecting an even bigger turnout for Tuesday's march to the Mugabe mansion, the Blue Roof, which will take place while the MPs debate the impeachment motion.
Mr Mutsvangwa, who had called for the crowds to turn out on Saturday, declared: "This time we will not leave Harare and the streets until we see the back of Mugabe. Tomorrow is the day, while parliament is doing its business and dispensing with him, we call upon Zimbabweans to come in numbers to send the message to Mugabe."
The protesters had gathered outside Mr Mugabe's official home in the capital, State House, on Saturday but dispersed after being asked to do so by the army. "This time it will be a sit-in. It will be a sit-in, surround the place, until he is gone."
Activists had called on the business community, trade unions and students to form a united front against Mr Mugabe. At the University of Zimbabwe students boycotted exams and demanded that a Phd awarded to Grace Mugabe should be revoked. The President's wife is said to have received her doctorate in two months when the minimum time to acquire one is normally four years.
At the campus, Innocent Kagodora, 23, said: "There has, of course, been much more serious abuse than Grace and her doctorate, but it is an example of how laws and regulations were so easily broken by these people. We want Mugabe to go. It was disgraceful that he didn't resign last night, so he will have to be forced."
Makoni Tinotenda, reading business studies and computer studies, said: "We want to see Grace Mugabe prosecuted, like any other criminal. But the first thing would be to get Mugabe to accept he is not wanted. We will be marching tomorrow, it'll be one of the best days of our lives."
Register for free to continue reading
Registration is a free and easy way to support our truly independent journalism
By registering, you will also enjoy limited access to Premium articles, exclusive newsletters, commenting, and virtual events with our leading journalists
Already have an account? sign in
Register for free to continue reading
Registration is a free and easy way to support our truly independent journalism
By registering, you will also enjoy limited access to Premium articles, exclusive newsletters, commenting, and virtual events with our leading journalists
Already have an account? sign in
Join our new commenting forum
Join thought-provoking conversations, follow other Independent readers and see their replies