16-year-old girl beaten and burned alive by lynch mob in Rio Bravo, Guatemala
A graphic video of the brutal attack has been shared widely in Guatemala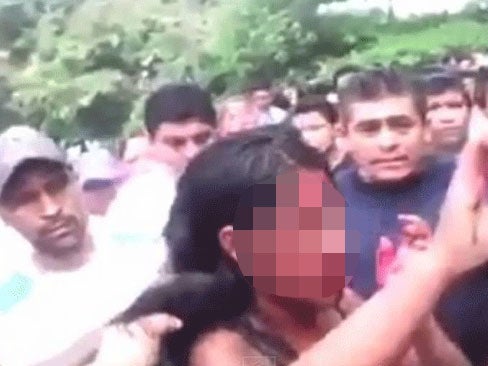 A 16 year old girl has been beaten and burned to death in Guatemala by a lynch mob, after she was accused of killing a taxi driver.
A horrifying video of the attack has been circulated widely in Guatemala, and shows images of the girl being punched and kicked by a large group of vigilantes.
After the beating, one of the mob covers the young girl in petrol and sets her on fire. After writhing in pain, the girl finally dies.
The incident took place in a village in the Rio Bravo municipality of Guatemala, in Central America.
According to Guatemalan news site Tiempo, the girl was accused of being part of a group that killed motorcycle taxi driver Carlos Enrique González Noriega, 68.
The group reportedly fled after attacking Noriega, but the girl was caught, and immediately set upon by the vigilantes.
What is most shocking about the video is the make-up of the crowd - as well as the men who beat and attack her, the video shows young children and elderly women looking on as the girl is murdered.
Police arrived to control the scene afterwards, and have not identified the murdered girl.
The video, which is far too graphic to publish here, has been shared widely in Guatemala and has provoked an outcry on social media - one Guatemalan Twitter user called the video "depressing".
Violent lynchings, which often involve the victims being burned alive, are a fact of life in Guatemala - in March, two men were lynched in the village of Saquiyá, around 100 miles away from Rio Bravo, after they were accused of stealing a car.
The mob of around 150 people burned one of the men alive, and hung the other from a tree.
Guatemala has a major problem with violent crime. Many powerful drug and human trafficking cartels operate in the nation, due to its central position between South and North America.
Huge numbers of street gangs and corrupt or incompetent police have ensured that the country has the sixth highest murder rate in the world - and less than four per cent of murders end in a conviction.
Join our commenting forum
Join thought-provoking conversations, follow other Independent readers and see their replies