4,500-year-old female mummy discovered in Peru
The find may unearth information about the most ancient city in south America inhabited between 2,600 BC and 2,000 BC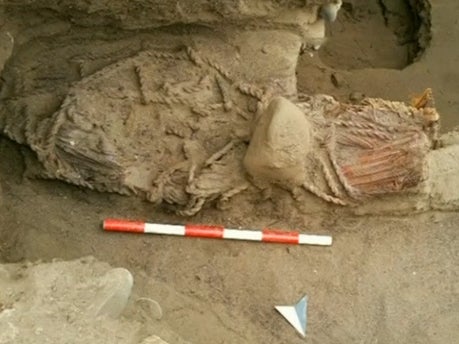 The remains of a 4,500-year-old mummified woman have been found by archaeologists in northern Peru.
The woman is believed to have been between 40 and 50 years old when she died, while the place and way she was buried indicate she was of important social status.
Archaeologists found four carved bone brooches with bird and monkey motifs in the woman's grave in Aspero – the Caral civilisation's ancient fishing town, Reuters reports.
A pot containing vegetable fragments and seeds, a shell-beaded necklace and a pendant made of Spondylus were also found buried with the woman.
Archaeologist Ruth Shady, the director of the Caral Archaeological Zone who found the ancient woman along with her research team, said the discovery could help historians better understand the ancient Caral civilisation.
She told Andina news service: "This find shows evidence of gender equality, that is, both women and men were able to play leading roles and attain high social status more than 1,000 years ago."
According to Ms Shady, the objects found at the grave were brought from different places suggesting trade between Aspero and the city of Caral – understood to be the most ancient city in south America inhabited between 2,600 BC and 2,000 BC, predating the Incas.
The findings also suggest music was an key aspect of Aspero inhabitants' daily life, following the discovery of eight flutes made of animal bones placed as offerings in front of a ceremonial enclosure at the archaeological site.
It is not understood what caused the woman's death and Ms Shady told Reuters human sacrifice was "very rare".
"In this case it's a woman between 40 and 50 years who was buried with evidence and objects which allow us to identify the woman of important social status," she said.
Join our commenting forum
Join thought-provoking conversations, follow other Independent readers and see their replies