9/11 White House photos: Never-seen-before pictures show George Bush and Dick Cheney moments after terror attacks
The US National Archives have released photographs from inside the White House in the aftermath of the 9/11 terrorist attacks
Alice Harrold
Saturday 25 July 2015 12:00 Comments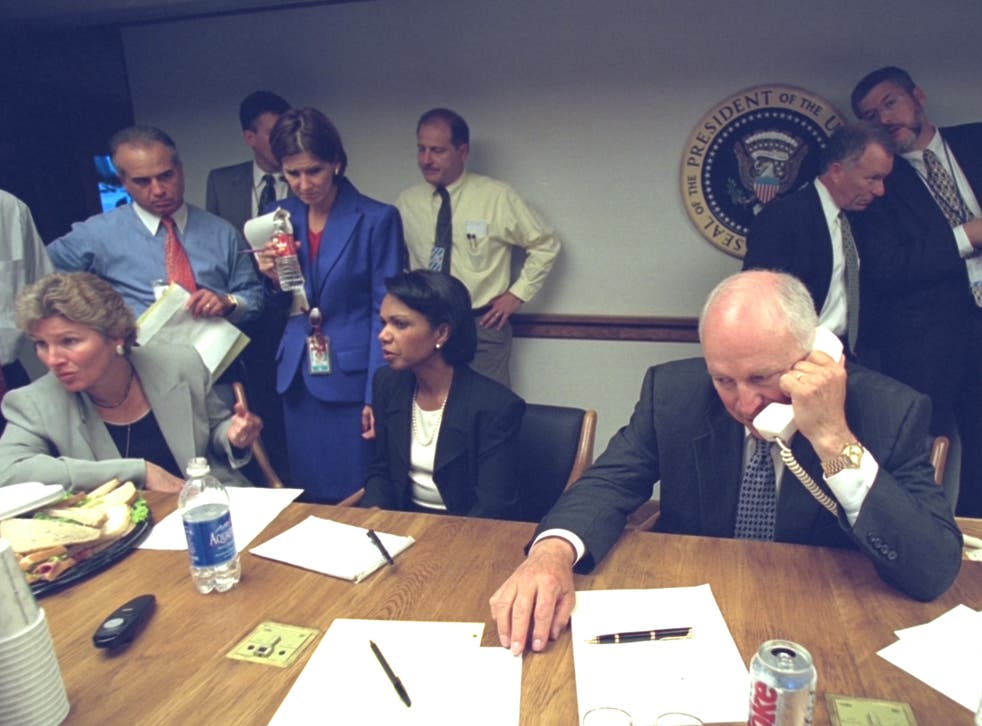 Newly released images show former President George Bush and his senior staff in the Emergency Operations Centre in Washington following the attacks on the Twin Towers and Pentagon in 2001.
The staff, including the former Secretary of State Colin Powell, National Security Advisor Condoleezza Rice, and vice-President Dick Cheney, are shown in the secure basement.
The Emergency Operations Centre is a bunker under the east wing of the White House which was built to withstand a nuclear attack.
Vice-President Cheney was in command when the four hijacked passenger planes crashed in New York, Virginia and Pennsylvania, killing 2,996 people.
President Bush was visiting a school in Florida at the time at the time of the attacks before being flown back to the White House.
Frontline filmmaker Colette Neirouz Hanna requested that the photos, taken by vice-President Cheney's photographer, be released by the National Archives under the Freedom of Information Act.
To see the full set, visit the National Archives' Flickr page.
Register for free to continue reading
Registration is a free and easy way to support our truly independent journalism
By registering, you will also enjoy limited access to Premium articles, exclusive newsletters, commenting, and virtual events with our leading journalists
Already have an account? sign in
Join our new commenting forum
Join thought-provoking conversations, follow other Independent readers and see their replies