A 9-year-old girl is building shelters for the homeless because she thinks 'everyone should have a place to live'
She hopes to have 11 homes built this year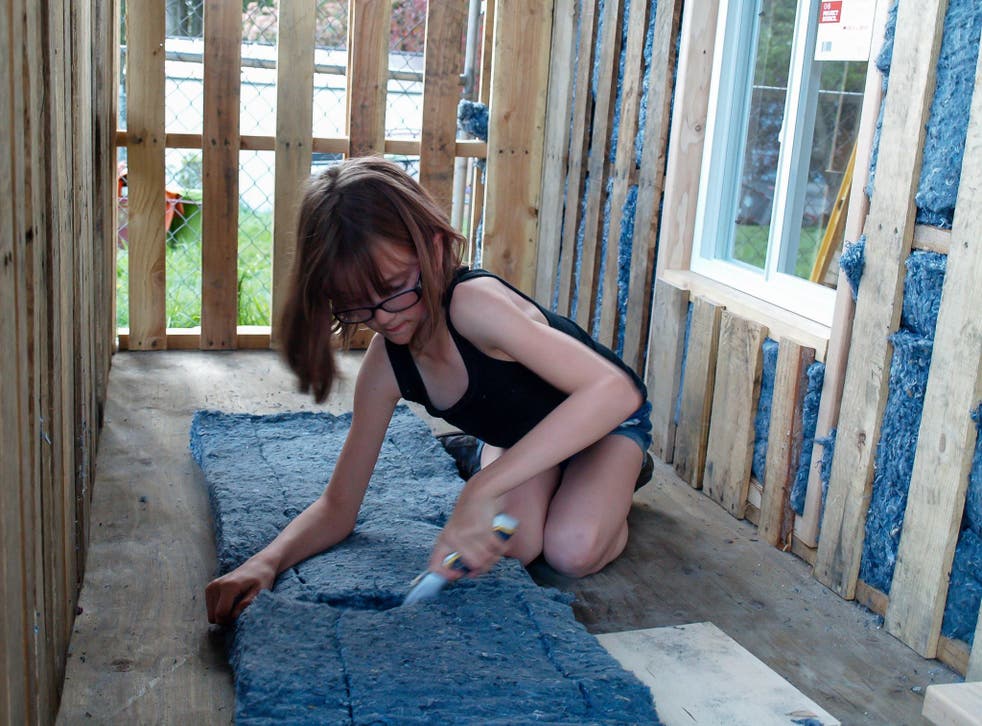 Hailey Ford, a 9-year-old girl from Bremerton, Washington, is hard at work building 11 small homes for the homeless.
She has been putting in weeks of work on the shelters, drilling down bases, installing windows and cutting insulation.
"It just doesn't seem right that there are homeless people," Hailey told KING 5 News. "I think everyone should have a place to live."
I started putting together the frame for the floor today. By tomorrow I hope to have the pallets up for the walls. The containers behind me are my carrots. I planted 6 dozen carrots today.

Posted by Hailey's Harvest on Friday, April 17, 2015
Hailey has received a grant for the homes, which will be put in the town's permanent Tent City and be open to the homeless later this year.
She got the idea after meeting a homeless man named Edward on the street while out shopping for groceries with her mother.
They gave the man a sandwich, but Hailey got to thinking about how she could do more and continue providing food to the needy, so she set up Hailey's Harvest, a garden with its own Facebook page, to grow vegetables.
"I said sure, thinking it would last a week. It's been four years and she still delivers veggies to the homeless every week," her mom, Miranda, told nonprofit Together Rising.
I got my pallets today from Lowe's. I set it up the way it will be put together. I didn't think it would be this big. I imagined it to be smaller. I am so happy with the size. I can't wait to get building.

Posted by Hailey's Harvest on Saturday, April 11, 2015
Hailey soon branched out into building, and has been providing updates on her progress with the shelters, along with photos of herself hard at work.
"One window got put in today," she wrote in one post. "I didn't get as much done as I wanted today, but one wall is in and done."
Together Rising, which helped fund her project, said: "We can't think of a better example than our Hailey, she's proof that no person - or act of kindness - is too small to change the world."
Register for free to continue reading
Registration is a free and easy way to support our truly independent journalism
By registering, you will also enjoy limited access to Premium articles, exclusive newsletters, commenting, and virtual events with our leading journalists
Already have an account? sign in
Register for free to continue reading
Registration is a free and easy way to support our truly independent journalism
By registering, you will also enjoy limited access to Premium articles, exclusive newsletters, commenting, and virtual events with our leading journalists
Already have an account? sign in
Join our new commenting forum
Join thought-provoking conversations, follow other Independent readers and see their replies