Why Satanic Temple's spokeswoman is blogging her own abortion
'There's not very much information about the abortion experience from the women's perspective out there'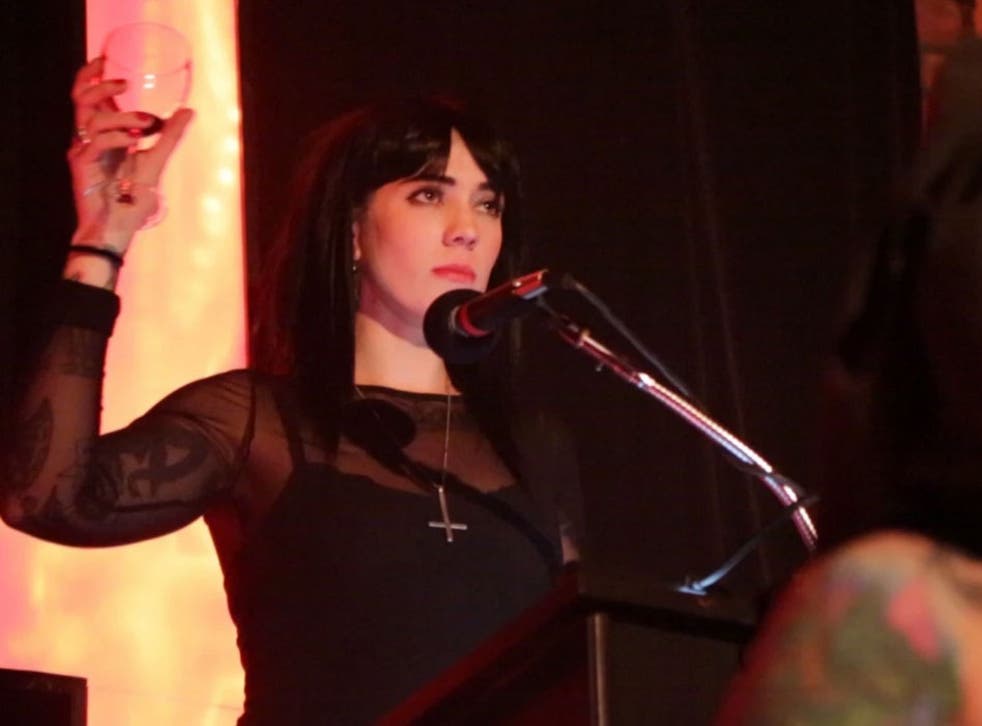 On November 18, Jex Blackmore, the national spokeswoman for the Satanic Temple, was pregnant. She felt nauseated and tired, but knew that she couldn't tell anyone why she was spotted throwing up in the bathroom at work. Blackmore planned to get an abortion days later, on Thanksgiving. Instead, she wrote down how she felt that day in her blog. "This is where I'm at," Blackmore wrote, "Both mother and unmother."
Blackmore is one of a growing number of women who have told the personal stories of their abortions online. The hashtag #ShoutYourAbortion became a collection point of many of those stories this fall, started in response to federal legislation seeking to defund Planned Parenthood after a series ofundercover videos accused the women's health organization of selling fetal tissues for profit in violation of federal law. Planned Parenthood has repeatedly denied any wrongdoing.
But Blackmore's blog is unusual for the conversation about abortion: While it, like #ShoutYourAbortion, directly addresses the social stigma directed at women who have abortions, her blog focuses on her pregnancy before undergoing the procedure, along with the physically painful and emotionally jarring reality of the abortion itself.
"They tell you every woman's experience is different," she wrote on the day of her abortion. "What a s— way of skirting around it. When a doctor prescribes you pain medication, you should find out why and then ask for more."
In an interview with The Post on Wednesday, Blackmore said that she decided to blog about her experience because she was "kind of taken aback and surprised by the complexity of what I was experiencing" even before having an abortion.
"There's not very much information about the abortion experience from the women's perspective out there," she said, "Even movements to discuss it have to do with the decision, not the experience."
Blackmore is a spokeswoman for the Satanic Temple and the director itsDetroit chapter. The temple has become known in recent years for a series of catchy stunts meant to draw attention to what the group sees as unconstitutional religious speech in public spaces. Those have included applying for permission to erect their own holiday displays in municipalities that have allowed nativity scenes on public land. The group came pretty close to installing a giant, goat-headed statue on the Oklahoma capitol lawn to accompany a Ten Commandments monument — until that scriptural display was declared unconstitutional by the state's high court.
Blackmore has been heavily involved in the Satanic Temple's abortion access advocacy: Earlier this year, the organization announced that a woman in Missouri would, as a member of the Satanic Temple, claim a religious exemption to the state's waiting period for abortions, as it violated her religious beliefs.
She was already in the process of putting together another project, intended to live at the URL that now hosts Unmother: crisispregnancymichigan.com. The URL is a play on the Christian "crisis pregnancy" movement, and Blackmore's plans for it included providing information to counter that distributed by crisis pregnancy centers, which generally oppose abortion. Unlike many of the Satanic Temple's projects, the site wasn't going to feature the group's name in any prominent way for fear that the association with satanists would "tarnish good research," Blackmore said.
When Blackmore found out that she was pregnant herself, after months of researching and participating in advocacy for abortion access as a policy question, she knew that she had "unexpectedly become the theoretical woman I've thought so much about." And her short term plans for the site changed. The issue was now very personal.
Here's part of what Blackmore wrote a few days after her abortion, on the day she returned to work:
"It was time to return to work today after the holiday weekend. I feel like such a liar. Telling everyone my Thanksgiving was nice and quiet, I spent it at home. Apple pie was great, very relaxing, and so on – bleeding throughout every conversation. I wish I felt as refreshed as everyone looks. I can't exercise, can't drink, can't have sex, can't sleep, and I've also developed a cold. I'm obviously very grumpy."
Some antiabortion writers who have noticed and read Unmother have responded by pointing out that sharing personal stories about the experience of abortion is a pretty common advocacy tool in the "pro life" movement. There are well-known campaigns like Silent No More that host a searchable database of abortion testimonies — some describing the details of an experience with abortion — meant to dissuade women who are thinking about the procedure from going through with it. The stories are framed as those of "regret," both of women who have had abortions and of men who feel that an abortion robbed them of fatherhood. Many of the stories are also testimonies in the Christian sense, pairing regret for an abortion with a religious conversion.
Unmother is a personal project, Blackmore said, and one that she's not intending as a tool for debating the morality of abortion: For her, the choice to have the procedure was simple and without doubt. But she was surprised by the intensity of the social stigma she instinctively felt while pregnant and planning an abortion, and the lack of information available as she navigated the system. With the national conversation on abortion focusing intensely on the debate over choice and morality of the procedure itself, Blackmore felt, something else gets ignored.
"We're always talking about choice — the right of the mother, or of the fetus, the 'unborn child.' In that conversation, the woman almost gets forgotten. It's not part of the psyche of the argument," she said.
Michigan, like a growing number of states, has "counseling" laws that require women to read materials about abortion and pregnancy — laws that critics say are designed to dissuade women from having abortions. In Michigan, the counseling has to be completed 24 hours in advance — by either picking up the materials at a physical location or accessing them online. Those materials didn't contain answers to the questions about abortion that Blackmore, who wasn't doubting her decision to have an abortion, had ahead of time — and she had to push to get information on the details of the procedure and what she would experience from the clinic itself.
"I think overwhelmingly the results of me documenting this process have been that there is a greater need for a conversation and understanding and support for women who are pregnant and planning an abortion, from the community at large," Blackmore said. And that includes among the "pro-choice" movement.
"The abortion procedure for me was painful and kind of horrible for me personally," Blackmore said. "I think there's a fear of discussing that because people are afraid about feeding into the anti-choice rhetoric."
World news in pictures

Show all 50
Although projects like Silent No More emphasize the physical or emotional harm women might feel after an abortion, Blackmore doubts that many women feel "ashamed" after the procedure — one recent study indicated that 95 percent of women who have an abortion ultimately feel it was the right decision. Instead, Unmother had led Blackmore to believe that those who support abortion access need to do a better job of supporting women who have decided to have an abortion.
The response to Unmother, which will conclude Thursday after Blackmore's final doctor's appointment, have included some nasty messages from abortion access opponents, she said. But overall the response was overwhelmingly positive. Many have written to her with their own stories — both women and men — of their experiences with abortion, and said Blackmore's experience resonated with their own. Soon, she hopes to turn the website into a resource for people who have decided to have an abortion and need support.
Copyright: The Washington Post
Register for free to continue reading
Registration is a free and easy way to support our truly independent journalism
By registering, you will also enjoy limited access to Premium articles, exclusive newsletters, commenting, and virtual events with our leading journalists
Already have an account? sign in
Register for free to continue reading
Registration is a free and easy way to support our truly independent journalism
By registering, you will also enjoy limited access to Premium articles, exclusive newsletters, commenting, and virtual events with our leading journalists
Already have an account? sign in
Join our new commenting forum
Join thought-provoking conversations, follow other Independent readers and see their replies