Ex-NFL star Aaron Hernandez daubed Bible passage on walls of prison cell before suicide
Former New England Patriots player serving life sentence for murder when he wrote lines from John 3:16 on his forehead and room's interior in blood before hanging himself last month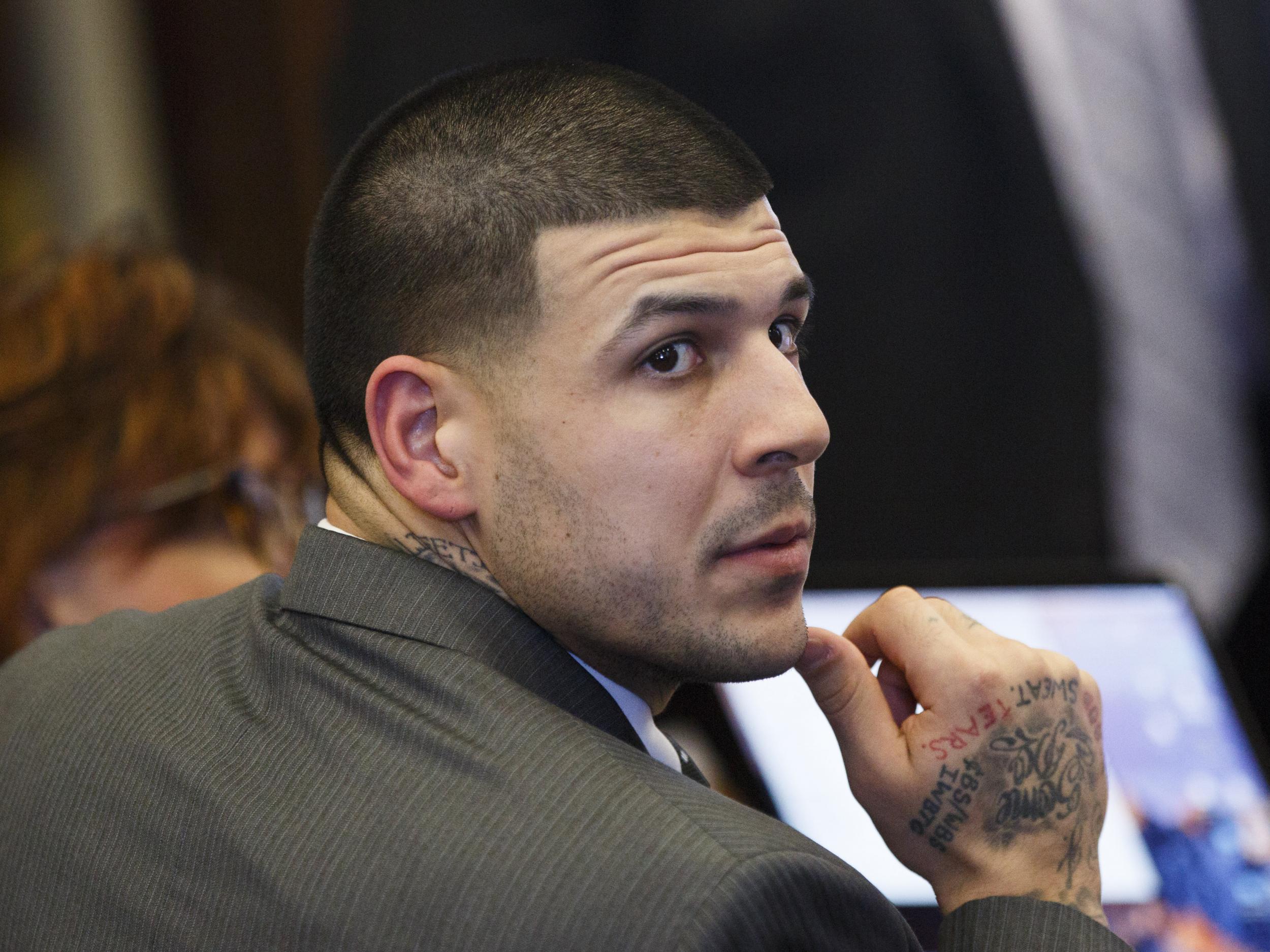 Former NFL star Aaron Hernandez wrote a reference to a biblical passage in ink on his forehead and in blood on the wall of his prison cell before he hanged himself with a bed sheet, state police said in an investigative report released Thursday.
The former New England Patriots tight end was found 19 April at the Souza-Baranowski prison, where he was serving a life sentence in the 2013 murder of a man who had been dating his fiancee's sister. His suicide came five days after he was acquitted in the 2012 gun slayings of two men in a car.
A report released by state police on Thursday says "John 3:16" was written on Hernandez's forehead and on the cell wall.
The Bible passage says: "For God so loved the world, that he gave his only begotten Son, that whosoever believeth in him should not perish, but have everlasting life."
The report, from a state police detective assigned to Worcester County District Attorney Joseph Early Jr.'s office, said a correction officer found Hernandez around 3am.
Correction officers found that cardboard had been shoved into the tracks of Hernandez's prison cell door to prevent the door from opening. Hernandez also had put a large amount of shampoo on the floor to make it slippery, the report states.
Once the correction officers got inside the cell, they found Hernandez hanging naked from a bed sheet tied around the window bars. The officers and medical staff performed CPR, but Hernandez never regained consciousness. He later was pronounced dead at a hospital.
State police said Hernandez's right middle finger had a fresh cut and there was blood on adjacent fingers. Besides the "John 3:16" written on his forehead, there also appeared to be a large circular blood mark on each of his feet.
On the wall of the cell were several drawings and "John 3:16" written in what appeared to be blood. Under the drawings was a Bible open to John 3:16, with the verse marked in blood. Three handwritten notes were found next to the bible. A description of the notes was redacted from the state police report.
Correction officers told police that Hernandez had been locked in his cell just before 8pm on April 18. One officer said he last saw Hernandez around 1am on 19 April.
About two hours later, the officer saw a sheet hanging in front of the door to Hernandez's cell. The officer said he asked Hernandez to remove the sheet or sound off. As the officer poked at the sheet it fell, and he saw Hernandez hanging from the window, according to the report.
After that officer and others opened the door, they tried to lift Hernandez to relieve pressure. After Hernandez was cut down, officers began performing chest compressions.
State police said a review of video surveillance shows Hernandez was on the phone just before being locked in his cell. Police said they listened to the last five phone calls Hernandez made.
"Hernandez does not make any apparent indication of an intent to harm himself during any of the phone calls," the report states.
An autopsy performed by the state medical examiner's office determined the cause of Hernandez's death was asphyxia by hanging and the manner of death was suicide. The state police report said toxicology tests showed Hernandez's blood came back negative for all substances tested, including synthetic marijuana.
Hernandez's lead attorney in his recent double murder trial, Jose Baez, pledged to do an independent investigation into his death. Baez did not immediately respond to a message seeking comment on the state police report.
World news in pictures
Show all 50
Hernandez grew up in Bristol, Connecticut. His death came just hours before his former Patriots teammates visited the White House to celebrate their recent Super Bowl victory.
His suicide left friends, family and his legal team in disbelief as many searched for an explanation to the tragic end of a young man whose football skills earned him a five-year, $40 million contract extension with the NFL's top franchise.
Copyright Associated Press
Join our commenting forum
Join thought-provoking conversations, follow other Independent readers and see their replies