High school footballer stabs pregnant classmate to death: 'I took action'
Aaron Trejo confesses to planning to kill classmate after learning about pregnancy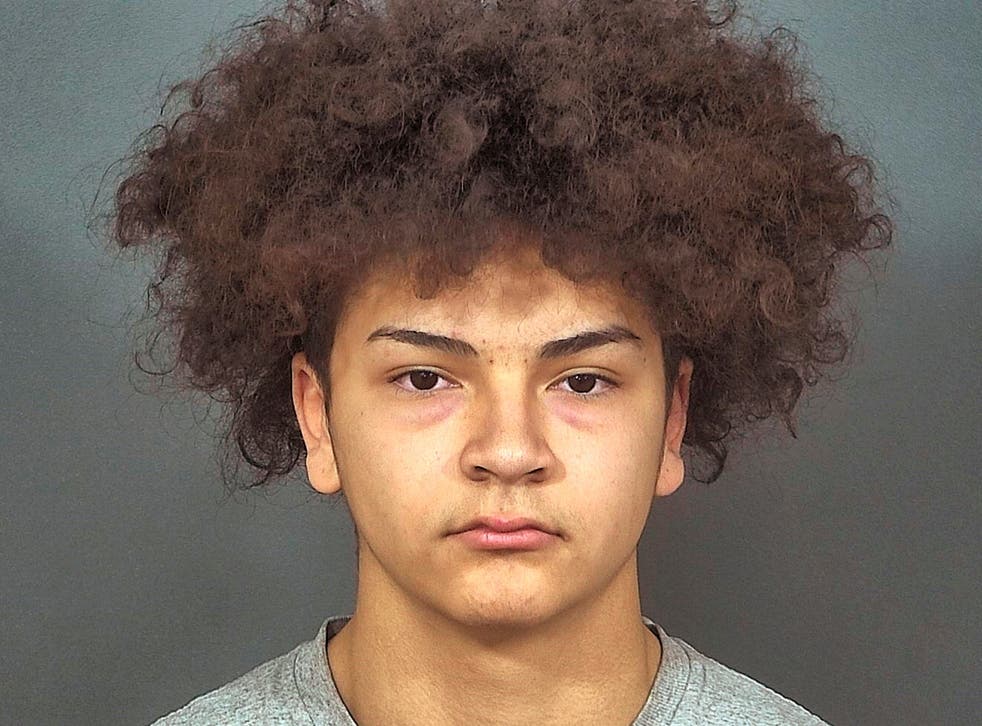 A high school football player in Indiana was charged with murder after the authorities said he fatally stabbed a 17-year-old classmate and former cheerleader who was six months pregnant with their child.
The football player, Aaron Trejo, 16, told authorities he had gotten into a fight with the girl, Breana Rouhselang, because she had waited too long to tell him about the pregnancy and it was too late to get an abortion.
"I took action," Trejo said, according to the police. "I took her life."
Trejo, who was charged as an adult, also faces one count of feticide. He was being held without bail at the St Joseph County Jail.
The case has gripped Mishawaka, Indiana, a city of about 50,000, and Mishawaka High School, where both students were in their junior year and where students walked out on Monday morning for a moment of silence to honour Rouhselang. She had played softball and served as a manager for the football team before she went missing over the weekend.
"These are the types of senseless tragedies that shake our small town community to its core," Mayor Dave Wood told WSBT, a local television station.
Rouhselang's mother reported her missing at about 4.30am on Sunday. She said her daughter had left to talk to the father of her child hours earlier, but did not return home.
When the police questioned Trejo, he initially told them he had gone to meet Rouhselang but she did not show up, according to a probable-cause affidavit.
The authorities found glasses and a bloody hat that belonged to Rouhselang in the alley behind her home. Her body was found on Sunday in a dumpster behind a nearby business, the affidavit said.
Eventually, Trejo confessed to the crime and was arrested on Sunday, according to the authorities.
He told police he had been thinking about killing Rouhselang and the baby for about a week, and had brought a knife and a black plastic bag on the night he met up with her, according to the affidavit.
He stabbed her in the chest "because he thought it would kill Breana quickly," the affidavit said. Trejo also confessed to putting a plastic bag over her and leaving her in the dumpster before going to the river to dispose of the knife and her mobile phone, the authorities said.
World news in pictures

Show all 50
An autopsy, which confirmed Rouhselang was pregnant, showed she had died from multiple stab wounds and was also strangled by a scarf around her neck, the affidavit said.
Court records did not list a lawyer for Trejo. Efforts to reach the families of Rouhselang and Trejo on Monday night were unsuccessful.
The Mishawaka High School football team had been scheduled to celebrate the season with an annual banquet on Sunday, according to WNDU 16, but postponed the party as it grappled with the news that one of its players had been arrested in the death of a team manager.
"The football team and all of the people that are associated with the football program obviously are grieving for the young lady — and they are also grieving for the young man because of his actions," Dean Speicher, superintendent for the Mishawaka school district, told the television station.
On Monday, during the moment of silence at Mishawaka High School, students wrapped their arms around each other.
"We're in a period of grieving now," Mr Speicher said.
The New York Times
Register for free to continue reading
Registration is a free and easy way to support our truly independent journalism
By registering, you will also enjoy limited access to Premium articles, exclusive newsletters, commenting, and virtual events with our leading journalists
Already have an account? sign in
Register for free to continue reading
Registration is a free and easy way to support our truly independent journalism
By registering, you will also enjoy limited access to Premium articles, exclusive newsletters, commenting, and virtual events with our leading journalists
Already have an account? sign in
Join our new commenting forum
Join thought-provoking conversations, follow other Independent readers and see their replies