Acrobats seriously injured in fall during 'hair hanging' stunt in US
Metal rigging dropped from 35 feet and fell on top of them
Lizzie Dearden Comments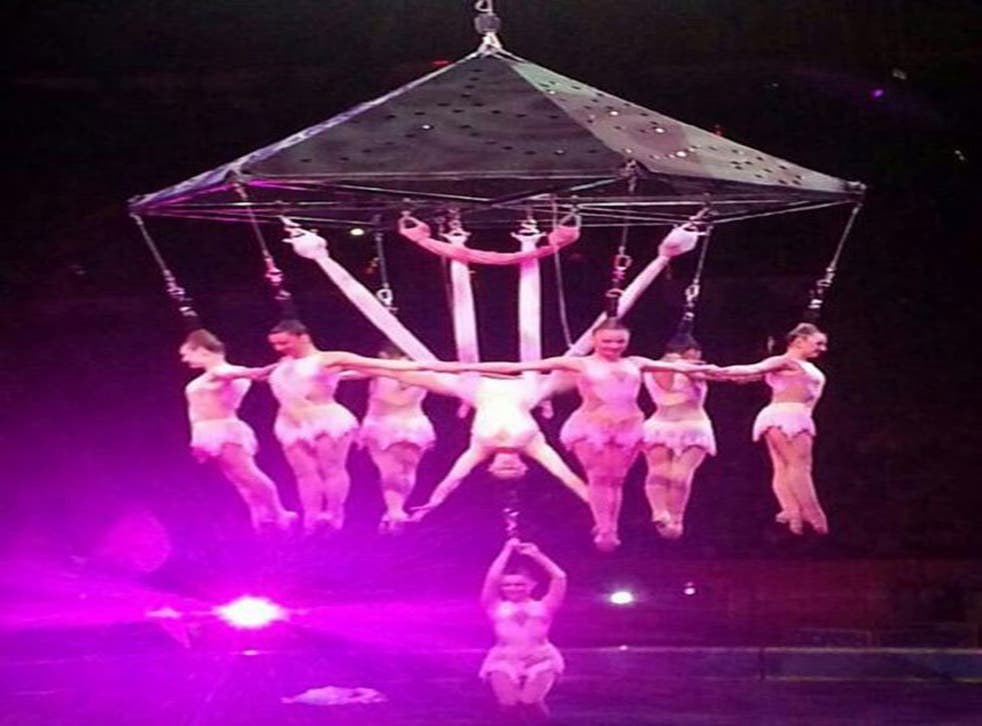 A group of acrobats have been seriously injured in an accident at a circus in the US.
Eight women plunged 35 feet to the ground and crushed a dancer when a piece of apparatus broke during a performance.
One person was in a critical condition after the accident at the Ringling Brothers and Barnum and Bailey Circus in Rhode Island and eight more were taken to hospital with serious injuries.
A full house of almost 4,000 onlookers, many of them children, saw the horrifying fall on Sunday.
The acrobats had been hanging from a metal frame by their hair in a "human chandelier" formation when the apparatus suddenly detached from the scaffolding above.
Footage showed audience members struggling to understand what had happened.
Roman Garcia, the general manager of the Legends show, asked people to pray for the performers.
"Everybody's doing fine, everybody's at the hospital, everybody's conscious, everybody's doing pretty well," he said.
Rhode Island Hospital in Providence admitted 11 patients with varying injuries, including one in critical condition, a spokesman said.
The hair-hanging stunt is described on the circus' website as a "larger-than-life act" where acrobats spin and hang from hoops.
It said: "In this hair-raising act, audiences will even see the weight of three girls held aloft by the locks of only one of these tangled beauties."
A curtain unveiled the suspended women but as they started to perform, the metal apparatus suddenly detached from the rigging landed on them.
"It just went crashing down," said Sydney Bragg, 14. "Everyone was freaking out. We heard this huge clatter and then we just heard the girls scream."
She said spotlights that were on the performers went out after the fall.
Rosa Viveiros said the acrobats had fallen on top of at least one other performer on the ground, a man who stood up with his face bloodied.
An aerial performer from the same circus was killed in 2004 in Minnesota when she was twirling 30 feet in the air on long scarves and the material gave way.
Authorities are investigating what caused the collapse at the matinée performance.
A statement on the Ringling Brothers website said the show was stopped and performances later that day and on Monday were cancelled.
It added: "All of us at Feld Entertainment appreciate everyone's thoughts and prayers for our performers, and we are sharing all of those with them as they recover."
Additional reporting by AP
Register for free to continue reading
Registration is a free and easy way to support our truly independent journalism
By registering, you will also enjoy limited access to Premium articles, exclusive newsletters, commenting, and virtual events with our leading journalists
Already have an account? sign in
Join our new commenting forum
Join thought-provoking conversations, follow other Independent readers and see their replies