Shoshana Roberts: Actress who highlighted street harassment receives rape threats online
Video: An actress highlights the unwanted attention she receives in New York City - she has now allegedly received rape threats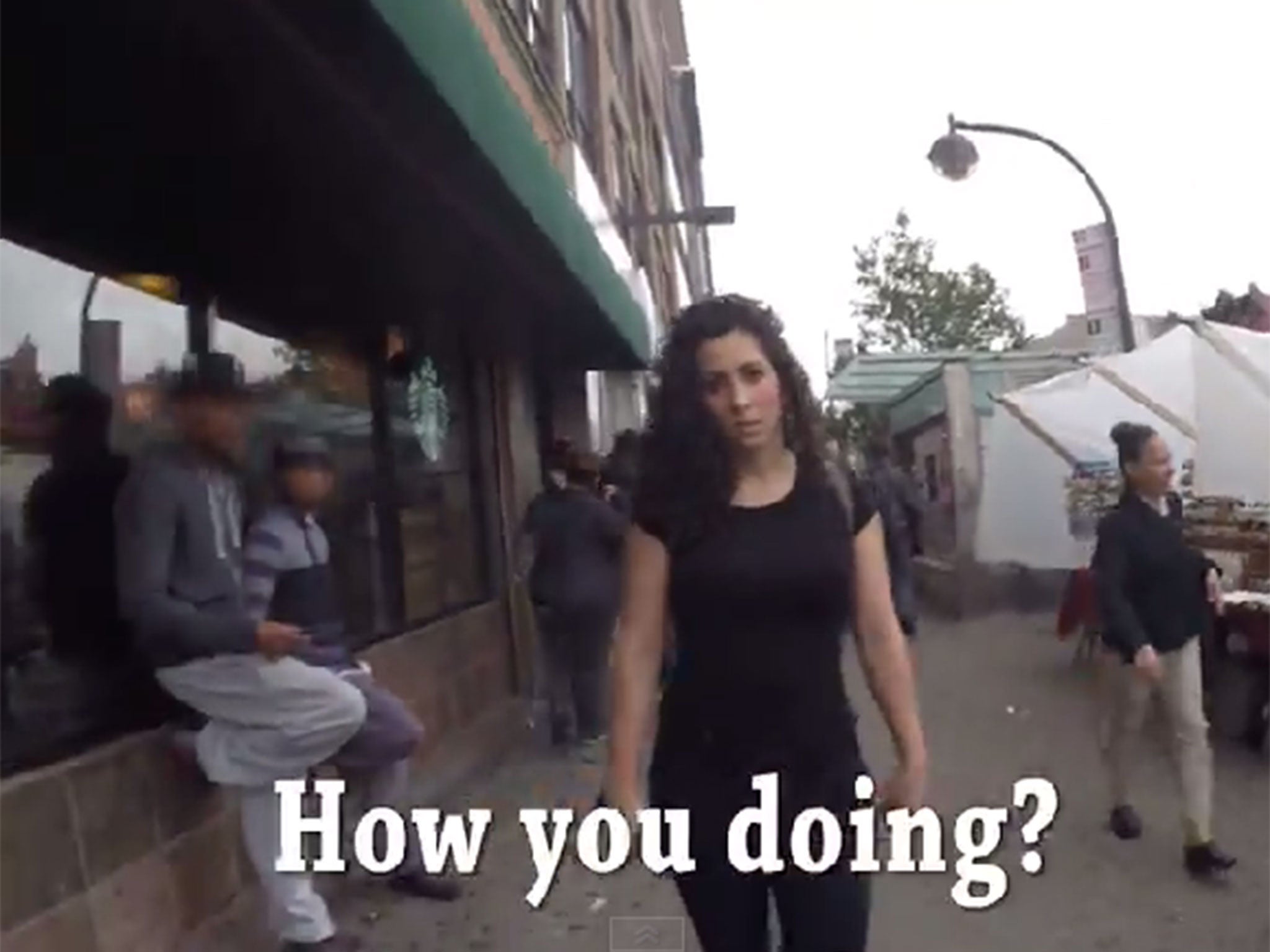 The actress who appeared in a video highlighting street harassment in New York City has received rape threats online, according to Hollaback, the organisation which commissioned the short film.
The video, '10 Hours of Walking in NYC as a Woman', was uploaded on Tuesday and has been viewed over a million times.
Shoshana B Roberts volunteered to be filmed secretly by a camera hidden in a backpack in front of her. The man carrying the backpack, Rob Bliss, came up with the idea after noticing the street harassment his girlfriend regularly faced.
Walking through the streets of the Big Apple in jeans and a crew-neck shirt, Roberts receives over 100 cat calls from various strangers she passes. Roberts does not respond to any of the men who shout at her. Many of them call "Nice", "Damn" or "Sweetie", while others hound Roberts to respond to them.
One guy keeps asking Roberts, "You don't wanna talk? We can't be friends, nothing? If I give you my number, would you talk to me?"
Another says, "Hey, what's up girl? How you doing? Somebody's acknowledging you for being beautiful. You should say thank you more!"
One man just walks alongside Roberts, occasionally staring at her and never saying a word for five minutes.
While the video was produced by Bliss and Roberts, it was commissioned by Hollaback, an organisation dedicated to ending street harassment across the world that mainly works with local activists.
Just a few hours after the video was published, Hollaback tweeted that Roberts had received rape threats on the comment board of the video's YouTube page.
Hollaback told Newsday that their community was now reporting the threats to YouTube and that they were being deleted.
Hollaback's director, Emily May, told Newsday: "The rape threats indicate that we are hitting a nerve. We want to do more than just hit a nerve though, we want New Yorkers to realize -- once and for all -- that street harassment isn't OK, and that as a city we refuse to tolerate it."
Hollaback state that street harassment disproportionately impacts women, people of color, LGBT individuals and young people.
Shoshana said on Hollaback's website, "I'm harassed when I smile and I'm harassed when I don't. I'm harassed by white men, black men, latino men. Not a day goes by when I don't experience this."
Join our commenting forum
Join thought-provoking conversations, follow other Independent readers and see their replies