Adidas is finally selling leftover Yeezy shoes and giving proceeds to anti-hate groups
Last October, sportswear giant Adidas cut ties with Ye, the rapper formerly known as Kanye West, due to his antisemitic comments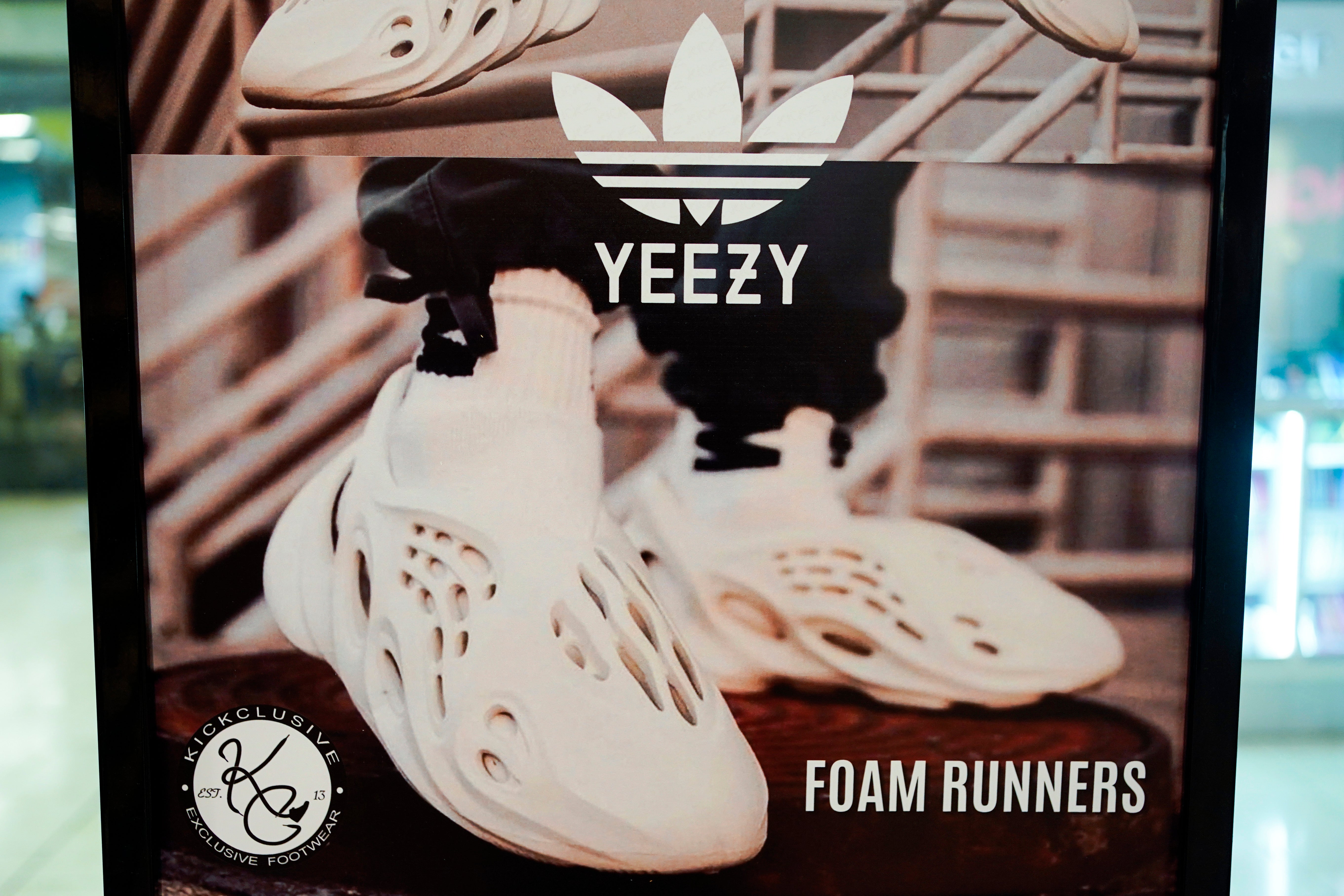 When Adidas cut ties with Ye, the rapper formerly known as Kanye West, due to his antisemitic comments, it was left with more than a billion dollars worth of high-end Yeezy sneakers. Now, Jewish Americans are evaluating the German company's plan to give some of the proceeds from the sneakers' sale to groups engaged in fighting antisemitism.
Like other Jewish civic leaders contacted by The Associated Press, Rabbi Bradley Shavit Artson said he wasn't planning to buy a pair of Yeezys himself, but he also doesn't see the value of wasting the labor and material that went into making them.
"Antisemitism, like all forms of bigotry and hate, must be actively resisted by us all," said Artson, dean of the Ziegler School of Rabbinic Studies of American Jewish University in Los Angeles. "This move will raise funds for that fight, without minimizing his vile words."
Rabbi Jill Jacobs, the CEO of T'ruah, a rabbinic human rights organization based in the U.S., said it was better than at least one alternative.
"We commend the decision to donate profits to the fight against antisemitism, which is certainly preferable to the shoes going to landfills," Jacobs said.
Adidas is releasing more Yeezy sneakers this week via an online sale, the second such drop since the company cut ties with Ye in October after he made antisemitic and other offensive statements online and in interviews. The divorce left Adidas searching for a responsible way to unload the inventory.
When asked previously if Ye would receive royalties from the sales, the company replied, "We will honor our contractual obligations and enforce our rights but will not share any more details."
Adidas hasn't said how many pairs it hopes to sell. And it says, without providing financial details, that part of the profits from the sneaker sales will go to the Anti-Defamation League, which is deeply engaged in combating antisemitism. Shoes sold directly by Adidas in North America will include blue square pins established by New England Patriots owner Robert Kraft's Foundation to Combat Anti-Semitism.
Both the ADL and Kraft's organization have thus far declined to give details of their financial arrangements with Adidas.
Kraft, in a statement to the AP, described the partnership with Adidas as "a unique opportunity to raise awareness about antisemitism and all hate to a community that might otherwise not be aware."
The Adidas plan drew nuanced reactions among Jews at the University of Georgia and the University of Florida. Last October, the phrase "Kanye is right about the jews" was projected onto the stadium in Jacksonville, Florida, where the Florida-Georgia football game was being played. Both schools put out statements condemning the hate speech.
"I would say it's the best way that they (Adidas) could have possibly handled it," said Jeremy Lichtig, campus director of the University of Georgia Hillel, which serves Jewish students. "To make an effort to benefit people hurt by what he said is what we hope good community members would do."
Rabbi Larry Sernovitz, CEO of Hillels of Georgia, said of Adidas, "When you make a mistake, you have to not only apologize and show remorse, but you also have to get to the point where you don't repeat the same mistakes again. In this way, we look at Adidas as doing that work. The question is: Will it work? Will it change the future? That remains to be seen."
Asked if people should now buy Yeezys, Lichtig replied, "I'm not stopping anybody from coming into our building that's wearing them. I don't think I can afford these shoes. I'm more of a sandals person."
Sernovitz also said he's not buying Yeezys.
"But I think that the awareness of it is important," he added. "We hope that people will change their ways and not just the sneakers they wear."
Hadassah Sternfeld, a sophomore at the University of Florida, is active in the Hillel branch there.
In addition to the incident at the Georgia-Florida game, she recalls that antisemitic live-streamers showed up on the Florida campus in February, wearing Yeezy merchandise and displaying a "Ye is right" banner.
"It was terrifying," she said. "Though I knew I was not physically in danger, I felt that my freedom to practice my beliefs was."
As for Adidas' sneaker-sales plan, she said, "Surprisingly, I am not cynical about this campaign."
"Given the circumstances of having a surplus, I believe that the actions taken by Adidas are substantial and will benefit the communities that Ye's statements affected," she said. "I would not personally buy these shoes … however, I do think that for those who decide to buy them, this becomes a learning opportunity."
In October, Michael Mack, whose mother survived the Holocaust, decided to sell at cost the Yeezy stock at Max Pawn Luxury, his high-end shop in Las Vegas, and give proceeds to the regional branch of the Anti-Defamation League.
"I was raised with the culture -- respect for what happened and what she went through -- and so when this came out, I had probably 40 pairs of Yeezys in our store and more in the back that were coming out for sale … and it just didn't feel good to support the brand at that time," Mack said.
He still has mixed feelings about the situation, but welcomed Adidas' plan to donate some of the proceeds from its latest Yeezy releases to organizations fighting hate.
"I'm on board," said Mack. He does not go out of his way to accept Yeezys from his customers, but he also doesn't want to punish those in need of short-term cash for what the rapper did.
Elliot Steinmetz, coach of the men's basketball team at the Jewish Orthodox Yeshiva University in New York City, told the AP that Adidas "is choosing the best way out of a tough situation."
"They have every right to try and avoid losses and by donating profits to help raise awareness in the fight against antisemitism, they are choosing an acceptable vehicle for minimizing those losses," said Steinmetz. "I'd say it's a high five to Adidas for finding a way to foster positivity out of a negative business condition."
Tamir Goodman, who played college basketball in the U.S. and competed professionally in Israel, said he hopes the harm caused by Ye's comments can be turned into positive opportunities.
"Hopefully all the negative things that have occurred can be flipped around and be used to bring new blessings, new unity, new compassion, new forgiveness," said Goodman, who is now a motivational speaker and coach who runs summer camps in Jerusalem and the U.S.